Story Progress
Back to home
Zucchini Wrapped Sole Recipe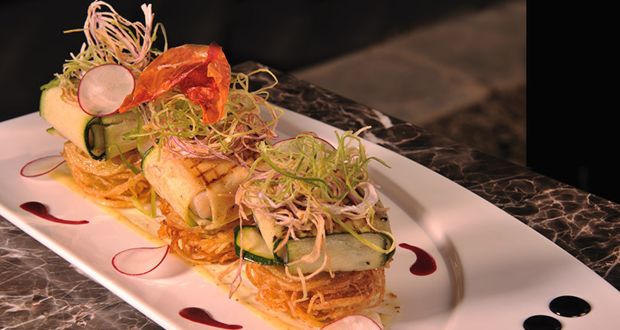 A healthy and soulful combination of zucchini, sole, fresh herbs with the kick of garlic and mustard.

Ingredients of Zucchini Wrapped Sole
120 gm sole fish
60 gm zucchini
40 gm thyme
4 gm garlic
Salt to taste
Crushed black pepper to taste
60 gm onion
20 gm Kasundi mustard
1.
Take the fish and cut it into cubes of 2X2 inches each.
2.
Take the thin slices of zucchini and grill them with salt and pepper.
3.
Once the zucchini is grilled, wrap it around the sole fish.
4.
Sprinkle it with thyme, salt and pepper.
5.
Then bake it in the oven at 180 degree Celsius for about 10 minutes, so that the fish is cooked through.
6.
Take a plate and brush it with Kasundi mustard and then place either fried potato or make potato spaghetti using a spaghetti maker.
7.
Once the bed is set, place your zucchini wrapped sole on top and garnish it with fried onion crisps.