If you're planning to squeeze juice into your diet, don't hesitate. An
occasional juice detox
can reboot your system, wash out dirty toxins and spring clean your body after a stint of unhealthy eating. Wondering where to begin? There's
fresh juice
and then there's cold-pressed juice. The newest trend in the juicing world is a technique where vegetables or fruits are first crushed and then pressed to get maximum yield. Thousands of kilos of pressure is applied on fruits and vegetables to extract every drop of juice. There are no
preservatives
, artificial chemicals or sugar added to these concoctions and that's why they have a shorter shelf life. It's pure juice. Each bottle of juice is made to float in high pressure water for about 80 seconds to restrict growth of pathogens. But the question remains:
Are Cold Pressed Juices Healthier?
"It is the closest you can come to a freshly squeezed home-made juice," says Dr. Rupali Datta, Chief Nutritionist, SmartCooky. Cold pressed converts will tell you that method of using high pressure for extracting the juice helps in retaining all essential vitamins, nutrients and living enzymes which may get destroyed on applying heat or due to the high-speed movements of the electric blender we use at home that causes friction and generates heat. We can somewhat agree on that. It is a known fact that some vitamins like Vitamin C are heat sensitive. But, then again, "Nothing beats fresh juice blended at home. It is loaded with pulp while most
store-bought juices
are strained to give the liquid or sometimes at such a high pressure the pulp gets diluted. The pulp contains
fiber
which is good for you.
Cold-pressed juice
is definitely a much better and healthier ready-made alternative to other carton juices," says Dr. Rupali.There is good reason to give cold-pressed juices a chance. The quality of the ingredients used is top-notch (since they are made the same day and delivered fresh), some suppliers only blend organic ingredients and the juice is extracted in its most natural form. Moreover, you may not like certain veggies or fruits and you may not know what to pair them with. Someone does that job for you by suggesting the right mix of fruits, greens and super foods that can fuel every need - whether its
weight loss
, detox, hydration or simply to add some variety to your life. Dr. Rupali puts it rightly, "It's simply convenience with health."

The Contenders
We selected 8 popular juicing companies that deliver across New Delhi and are easily available. Since every company offers unique flavours, we made sure that each variety contained a mix of apples, carrots and beetroot or at least two of these along with other ingredients.

Antidote
My Greens
Raw King
To Be Healthy
Juice Up
Shuddha
Just Pressed
Salad Days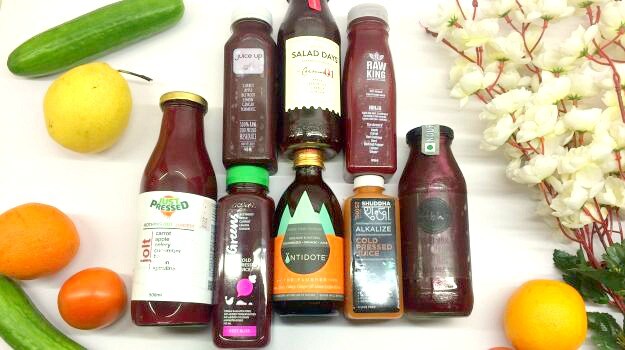 The Method
It was a blind taste test where all juices were sipped one after the other without knowing the brand or the company that produces it. Every bottle was scored by eleven team members individually on a scale of 10 and they also commented on each of the parameters. The juices were judged on the following parameters -

Flavour: A gentle balance of beetroot's characteristic flavour and/or sweetness from the apples and carrots. It should taste of real fruits and vegetables and not synthetic or overtly sweet.

Freshness: We were looking for juices that look noticeably fresher and more vibrant.

Nutrition Quotient: We set out to decode whether what's in the juice is on the label. We were on a lookout for any ingredients that would surprise us or jack up the calories. The label should tell you that it's 100% juice, natural, organic, unsweetened and preservative-free (and also mean it!). The juice is extracted from raw fruits and vegetables and no concentrate or water is to be used to dilute it. This is what '100% Juice' and 'Natural' signify. Words like 'unsweetened' or 'no added sugar' need your attention. The sweetness should come from naturally occurring fructose in fruits and vegetables and not added sugar which becomes a source of empty calories.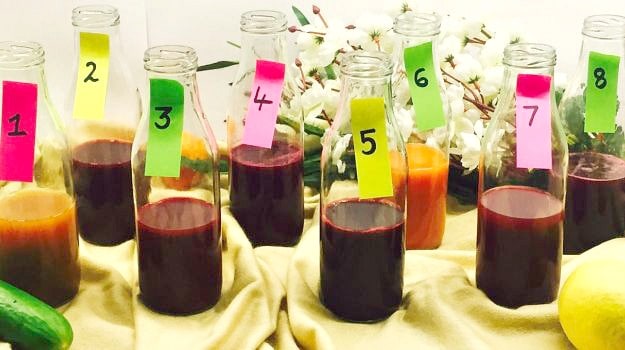 All the juices were ordered online through their websites and were delivered on the day of the taste test to make sure they are fresh. They were refrigerated for a while before trying. Make sure you always check the best before date and refrigerate them if you're not consuming them right away. It's best to store them at a temperature of 2 to 6 degree Celsius. You will also notice that if you keep them for longer, the ingredients tend to settle down. The use of additives prevents such natural settling and since these juices don't contain any, don't be anxious. This also shows that the juice has not been completely strained and still contains some amount of pulp. We used water as a palate cleanser and to clean our taste buds while sipping different varieties. The packaging was similar for every brand. Juices were either packed in glass or plastic bottles. The plastic bottles were BPA-free and recyclable, keeping in mind health and environmental concerns. While most of them were delivered in paper or cloth bags, To Be Healthy juices stood out as they came in a chic and handy jute bag. The delivery service was a bit of a downer. The juices landed arbitrarily at our doorstep since for most of them there was no option to suggest the delivery time while ordering on-line. They vaguely mention - 'will be delivered within 48 hours' and no particular time except for Salad Days and Just Pressed who managed to deliver as scheduled.

The Bittersweet Truth: Hipster or Hero?

1. Antidote - The Flusher (5/10)
Ingredients: Carrot, apple, celery, ginger and green coffee extract
On the label: Calories -30.92 Kcal per 100 ml, organic, 100% juice, no preservatives and sugar
Price: Rs. 225 for 250 ml
Shelf life: 3 days
What sets them apart is the fact that their drinks are fortified with natural superfood extracts and that's why they claim them to be 'functional foods'. It comes in a tinted glass bottle that resembles a medicine bottle which takes away the happy feeling of looking at the beautiful colours of fruits and vegetables juiced up. The taste was more like a health tonic and it smelled herbal. Surprisingly, it was the only brand that mentions the fact that they use organic produce. This is probably why the price tag is on the higher end. It scores a bonus point for a novel ingredient - green coffee extract but there was not much in terms of flavour.

2. My Greens - Beet Bliss (8/10)
Ingredients: Carrot, Apple, Beetroot, Ginger, Lemon
On the label: Calories - 29 Kcal per 100 ml, No preservatives, colours or added sugar, unpasteurized
Price: Rs. 150 for 325 ml
Shelf life: 2 days
With every variety, My Greens offers a balance of nutrients and that's exactly what it has achieved with this one. It was a perfect combination of all the ingredients that fits beautifully in a healthy diet. The overall flavour was a bit rustic with overpowering notes of beetroot (which we didn't mind) and a slight tang. It tasted real - just how you'd make it at home. Being on the sweeter side, we had to double-check the label to confirm that it contains no added sugar. My greens was also the first one to call for feedback. Thumbs up for that.

3. Raw King - Ninja (6/10)
Ingredients: Apple, carrot, red cabbage, beet, red bell pepper, lemon and ginger
On the label: Calories - 21 Kcal per 100 ml, 100% natural, undiluted, no preservatives, artificial chemicals, flavour or added sugar, no pasteurization
Price: Rs. 149 for 300 ml
Shelf life: 3 days
The dominating tones of lime and ginger were a bit too much to handle. The sour after taste kept many away from seconds. The first ingredient is apple but that barely does anything to balance the flavour. We couldn't call it delicious, but it ranked high on the health chart. It was fairly low on calories than the others as well.
4. To Be Healthy - Beet Box (9/10)
Ingredients: Red apple, carrot, beetroot, strawberry, lemon, ginger
On the label: Calories - 40.76 Kcal per 100 ml, no added sugar, preservatives, colorants or additives, 100% raw and natural
Price: Rs. 140 for 300 ml
Shelf life: 3 days
It tastes like summer! Everyone agreed. It was fresh, bright and and delicious. The unique sweetness of beetroot mingling with the tang of lime and pungent notes of ginger. You can chug this one down. This was the only juice that was a bit pulpy with a beautiful, natural hue and the only brand that mentioned 'High on Pulp and Fiber' on the bottle. The calories can make you worry, but that's probably because of the extra fiber it contains. For a good cold pressed juice, the price is pretty reasonable. The overall experience was a refreshing one.

5. Juice Up (6/10)
Ingredients: Carrot, apple, beetroot, lemon, ginger, turmeric
On the label: Calories -23.76 per 100 ml, no preservatives, added sugar or additives
Price: Rs. 125 for 300 ml
Shelf life: 4 days
It comes with an added goodness of turmeric. However, there was a distinct gingery after-taste that may put you off. It looked lovely and original, but the acidic hit may not be something that everyone loves. Nothing exciting, but drinkable. To its credit, it was also the least expensive.

6. Shuddha - Alkalize (5/10)
Ingredients: Carrot, apple, orange, sweet potato and ginger
On the label: Calories: 39.38 Kcal per 100 ml, no preservatives, added sugar or artificial colours
Price: Rs. 150 for 250 ml
Shelf life: 3 days
It was more bitter than the others and had a thin texture. The colour was a bit pale for a juice with such lovely ingredients. There was no one particular flavour that you could taste. It comes with an extra dose of Vitamin A being a mix of carrot and sweet potatoes and that's why it is also high on calories.

7. Just Pressed - Jolt (5/10)
Ingredients: Apple, carrot, beetroot, celery, cucumber, lemon and spirulina
On the label: Calories: 33 Kcal per 100 ml 100% pure, no added water, additives, aroma, preservatives, taste enhancers, sugar or sweeteners
Price: Rs. 175 for 300 ml
Shelf f life: 3 days
It tastes like a bunch of veggies juiced together. The flavour leaves much to be desired and was more grassy. It comes with an added dose of Spirulina - a type of algae which is a great source of protein. Drinking this combination every morning is known to regulate your blood pressure. It makes for a great nutrient-dense drink, but we just wish it was tastier.

8. Salad Days - Crimson (4/10)
Ingredients: Apples, carrot, beetroot and ginger
On the label: Calories - 42 Kcal per 100 ml, no added sugar, preservatives or artificial flavours
Price: Rs. 149
Shelf life: 2 days
Someone said, "It's fizzy" and the other remarked, "It tastes like a popsicle." Both ways, it didn't taste like fresh juice. Sorry, no round two for this one. While some juices are prepared a day before delivery, Salad Days mentioned the time of manufacture (6:12 am) which shows that it was freshly prepared in the morning on the day of delivery. Sadly, the fresh flavour failed to cast a spell on us.

Who wins?
The good news is that all juices were true to their nutrition labels. The two varieties we couldn't stop sipping were My Greens and To Be Healthy. Beet Bliss by My Greens was well-balanced and smooth but a bit sweet while Beet Box by To Be Healthy offered a burst of freshness and flavour. As far as the blind taste test is concerned, To Be Healthy emerged as the clear winner. But, when we scrutinized the nutrition labels we found that it has the maximum calories out of all juices. This is probably due to the extra fiber and pulp that it contains which are again good calories. If calories is a concern, you should prefer Beet Bliss by My Greens and if you simply love juices Beet Box by To Be Healthy will not disappoint you. That said, these ratings are relevant only for the particular flavour that we tried and not the brand.
Despite our worst fears, we actually realized that the possibility of opting for a cleanse seems quite realistic. "Since our meals mostly consist of wheat, refined flour, oils, rice and such starchy foods, it's good to go on a juice diet once in a while replenish our body's vitamins and minerals enzymes through an extra dose of juices. Some nutrients and natural enzymes are absorbed more quickly by the body in the form of juice. Ideally, the juice diet should be followed for about 1 to 3 days. You should have about 4-5 glasses of juice along with 3 glasses of coconut water in a day. It should be done scientifically and not to be followed as a crash diet," suggests Wellness Expert, Dr. Shikha Sharma.Disclaimer
All reviews are strictly personal opinion of the authors. The same should not be construed as the opinion or policy of NDTV. Always do your own research on products and companies before using a product you choose. NDTV, its affiliates and its management does not claim responsibility for any of the products/ or companies discussed on this site.