Berries are nature's way of saying that all good things come in small packages. These tiny fruits can play any role that you want them to, on your daily meal plan. You can turn them into toppings for your breakfast meal or add them to healthy smoothies. You can munch on them as snacks, or turn them into healthy desserts. Berries can be consumed as is, or you can cook with them and even turn them into jams and marmalades. They are packed with flavour and take any form that you want them to. What's more? They're endlessly healthy and you can eat them daily if you like! Berries are storehouses of antioxidants, which fight inflammation in the body, and thereby, help in reducing risk of cardiovascular ailments and other health complications.


Berries are also weight loss-friendly and may help you manage your weight better. It is recommended to incorporate berries in your daily meal plan, in order to speed up weight loss and ensure intake of a number of essential vitamins and minerals.


Also Read: 7 Indian Wonder Berries And Their Health Benefits You Don't Want To Miss
Here Are Some Of The Best Berries For Weight Loss:
1. Acai Berries
One of the best weight loss-friendly berries, acai berries are chock-full of antioxidants and vitamin A, which is great for the health of the eyes. A 100-gm portion of acai contains just 70 calories (as per the USDA data) and meets 15% of the Recommended Dietary Intake (RDI). These berries are available in both fresh form and freeze dried powder form and can be included in smoothies and smoothie bowls.
2. Goji Berries
These berries are native to China, but have become popular around the world now. They are low in calories and good amounts of fibre, as well as vitamins C and A. Goji berry juice can be used to ramp up metabolism and reduce fat around the waist.
Weight loss: Goji berries can ramp up metabolism
3. Raspberries
These amazingly delicious berries are also good for your health. They are high in fibre and are chock-full of immunity-boosting vitamin C. A little over 100 gm of raspberries can meet 54 percent of RDI. A healthy immune system is also crucial for weight loss.
4. Strawberries
They are probably the most widely available berries on this list and are quite low in calories as well. Strawberries are incredibly rich in vitamin C and work very well to reduce oxidative stress and speeding up weight loss.


Also Read: How To Buy And Store Fresh Strawberries: Expert Tips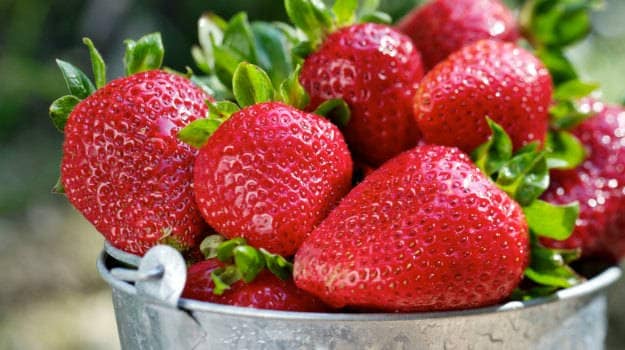 Weight Loss: Strawberries are extremely rich in Vitamin C
5. Cranberries
Dried cranberries are part of trail mixes. Cranberry juice is also known to reduce cholesterol and blood pressure and also fight plaque build-up in the arteries. They are also low in calories - a 100 gm portion contains just over 45 calories (as per the USDA data).


It's obvious that you can't just eat to lose weight - exercise and physical activities are also very important. But including these berries in your daily meals may help you speed up your weight loss journey.


Disclaimer: This content including advice provides generic information only. It is in no way a substitute for qualified medical opinion. Always consult a specialist or your own doctor for more information. NDTV does not claim responsibility for this information.