Our skin requires discipline, and by that I don't mean hours and hours of using beauty products and strict skin care regimes, but balanced and clean eating habits can do well to our skin and keep it radiant and glowing. Don't just eat anything greasy and spicy, after all its either going to reflect on your waistline or your skin. So, what are the foods that will help keep your skin young and glowing as well as soft and supple? You will be surprised to know that by adding these foods to your regular diet, you cannot only lose weight but can also have a flawless skin.
Here Are 7 Superfoods That Are Good For Skin:

1. Green Vegetables
I always recommend adding more greens to your diet and with greens I mean all green veggies - be it spinach, broccoli, kale and green beans. These superfoods will give your skin the nutrition it wants. Rich in vitamin K and zinc, spinach is a powerhouse of nutrients that helps improve blood circulation and coagulation, reduces inflammation, and helps prevent acne breakouts. Not only they improve metabolism and digestion but also reduce the chances of having constipation. All of this in turn makes our skin happy and glowing.


(Also Read: Go Green! 7 Incredible Health Benefits of Green Beans)
Tomatoes are one of my favourite fruits, not because of their versatility when it comes to cooking up some amazing recipes but because of their anti-ageing properties. Tomatoes are the best source of lycopene, and lycopene is an anti-ageing antioxidant. Tomatoes are a rich source of vitamin k, A, B1, B7 and C, zinc, potassium, phosphorous, iron, folate, and magnesium. So, be it soups or pastas or exotic curry, tomatoes in any form, preferably cooked, will do wonders to your skin.
Almonds are the best source of natural vitamin, Eyou. One must have at least 10-15 almonds a day. Many people debate on how to eat almonds - soaked or as is. The answer is to just eat them regularly - it doesn't really matter how to eat them. Eating almonds every day will keep your skin problems like dryness, wrinkles and ageing at bay, and make sure you eat gulbandi or marmara almonds as they have higher amount of vitamin E. This nutritious nut supports the production of collagen and is packed with calcium, making it an excellent superfood for hair, teeth, nails and skin.
A highly potent superfood, these tiny granule like seeds are high in omega 3 fatty acids and help in building healthy skin cell function as well as support the production of new collagen. All of this in turn helps keep our skin healthy and wrinkle-free. You can toss flaxseeds in your porridges, salads, poha or upma to reap its maximum benefits. The alpha linolic acids found in flaxseeds help reduce dryness, itchiness and flakiness, and the vitamin B content of flaxseeds help improve acne conditions like rocacea and eczema.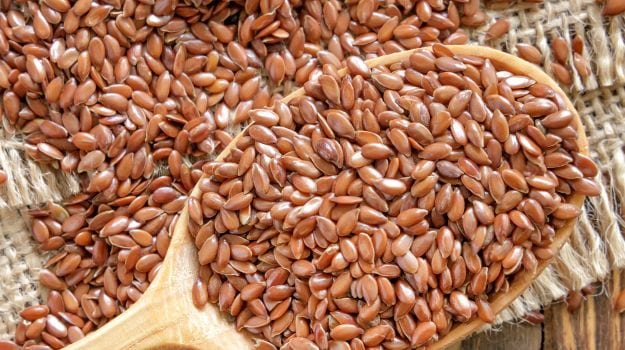 4. Salmon
Salmon is high in omega 3 fatty acids, which are good for your heart health and for people with blood pressure problems. These fatty acids help in production of collagen as well as protein that help keep our skin healthy and wrinkle free. Moreover, salmon contains selenium, which helps protect our skin from harmful rays of sun as well as keep our skin moisturised, soft and supple. This superfood also has high contents of vitamin D, is responsible for the absorption of crucial minerals like calcium, magnesium and phosphate, and other biological effects.

5. Oranges
Oranges are packed with vitamin c and act an excellent cleaning agent for our skin, giving us a glowing and radiant skin. Oranges also help improve texture of our skin and restore collagen, keeping our skin well-toned and wrinkle-free. I recommend everyone to eat at least two oranges daily.


(Also Read: Citrus Fruits For Healthy Skin: 4 Fruits You May Use For A Fabulous Skin)
Avocados are quite popular all over the world for all the good reasons. They are packed with healthy oils and vitamin E that helps build healthy skin function as well as hydrate the skin. Eating avocado prevents the risk of psoriasis, plus deeply moisturises our skin, making it well hydrated and radiant. Avocado also prevent sun damage and help treat and cure acne conditions. Due to its hydrating properties, avocadoes help keep your skin looking younger and supple and wrinkle free. Avocados are a high source of oleic and palmitic fatty acids as well as rich in vitamin K, C, A, E and B6, carotenoids, and folate. Moreover, the fruit is an excellent source of potassium, magnesium and dietary fibre. All of these nutrients help improve collagen production, reduce inflammation and keep skin healthy and young.
Strange as it may sound but dark chocolate can have magical effects on the skin! Flavonoids and phytonutrients found in dark chocolate have anti-inflammatory and antioxidant properties. All of these nutrients improve our skin condition, and help reduce photo damage and collagen breakdown. So, if you are cringing when eating chocolate, then don't, as it could help improve your skin health, giving us a smoother, hydrated and healthy skin. Make sure you eat two small cubes of dark chocolate three times a week for healthy and glowing skin.

Now, that you know that these superfoods are amazing for your skin, include them in your diet and see the results yourself. Not only will you be able to treat some common skin problems, but also slow down the ageing clock and reverse a fair amount of oncoming wrinkles.