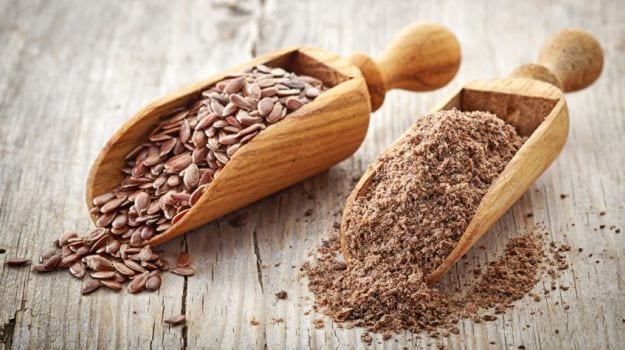 Flaxseeds, when not chewed properly, can go undigested, flushed out your system.
Flaxseeds, when ground, get so versatile that you don't even have to think twice to create a splendid array of delicacies. From
rotis, parathas, pooris
, breads, desserts, drinks to soups, salads, and what not, adding a tablespoon of flaxseeds can give any dish a healthy, nutty, toasty spin. Just in case you want a little push to start using flaxseeds in your regular cooking, we have got some of the simplest and fuss-free recipes for you to get started.
Interesting Flaxseeds Recipes
1.
Grilled Peach and Papaya Salad with Amaranth Granola Recipe
Recipe by Shamsul Wahid, Smoke House
The goodness of fresh peaches and papaya meets the crunchiness of granola made of flaxseeds, amaranth and other health-loaded ingredients.
2. Flaxseed Smoothie
Recipe by Dr. Gargi Sharma
Ingredients:
2 Tbsp flaxseeds
1 cup flavored soya milk
1 cup chilled and roughly chopped strawberries
1/2 cup chilled and roughly chopped bananas
2 tsp honey
Garnish: 2 strawberries and 2 bananas slices
Method:
Add strawberries, bananas, flaxseeds and honey in soya milk, blend in a juicer till the mixture is smooth and frothy.
Pour equal quantities of the smoothie into 2 individual glasses.
Serve garnished with a strawberry and banana slice.