India is a vast country. Each state has a unique language, topography and culture, making it distinguishable. But to fully understand the beauty of the country, we suggest you take your taste buds for the ride of a lifetime. Whether it is Maharashtra or Karnataka, each state has not just one, but a variety of different cuisines, each distinct and delicious. Collectively, they make India one of the most interesting countries from a food perspective. Not only are the dishes scrumptious, but the icing on the cake are the accompaniments that add to the flavour on our plate.
Chutneys
and
pickles
are an integral part of Indian dining. Here's a round-up of some of the most popular
chutneys
from across the country:
Kashmir
–
Muji chatin
or
mooli ki chutney
is a popular accompaniment in the northern most state of India. It is prepared by stir-frying radish in
mustard oil
, lending it a pungent taste. The addition of walnuts, Kashimiri chilli and lemon only contributes to the complexity of flavours.
Mooli Ki Chutney
(Buy Walnuts, Mustard Oil and other ingredients for this chutney here)
Punjab
– Food from this state is a global favourite and often represents what the world perceives as 'Indian food'. But meals eaten in a Punjabi household may not usually include the creamy
daal makhani
or popular
sarson ka saag
. What remains a staple though is a delicious
chutney
prepared in the kitchens using mint and onion. This
pudina chutney
is cooling and can be found in any Punjabi household during summers. Usually made with a mortar and pestle, it has a hint of sweetness too.
Pudine ki Chutney
Gujarat
– Gujaratis love their snacks. Well, they love food in any form. And their indulgence is reflected through the variety of
chutneys
on their
thaali
. An interesting one is the gram flour-based
chutney
that accompanies
fafdas
, a common breakfast in the region. The spicy raw papaya chutney and the garlic
chutney
eaten with
bajre ki roti
have their fans too.
Garlic Chutney
Maharashtra
– Meanwhile, neighbouring Maharashtra is not to be left behind. Whether it is the spicy garlic
chutney
that lines
vada pao
or the absolutely delectable
tilkoot
(one made with black sesame seeds), there is plenty to keep your palate entertained. From another region within the state, Solapuri
shenga
, a peanut-based condiment is worth a try too.
Tamil Nadu
– At the other end of the country, no Tamil meal is complete without an array of
chutneys
. Snacks like
idli
or
vada
are served with coconut
chutney
. In addition, the tangy tomato and onion-based
thakkali chutney
complements a regular meal too. Like most dishes from this region, the
chutneys
usually have a tempering of mustard seeds and curry leaves.
Onion Chutney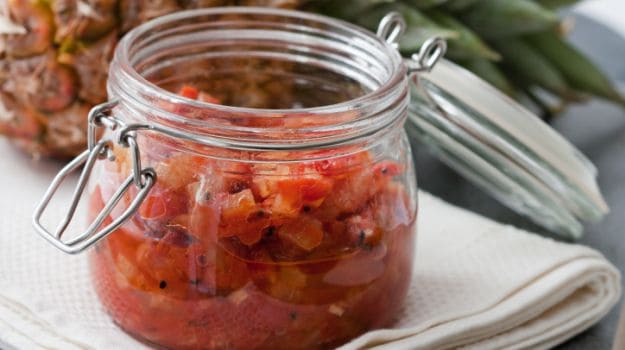 Tangy tomato chutney
Kerala
– Like Tamil Nadu, the abundance of coconuts along the coast make it one of the key ingredients in dishes from this state. No Keralite meal is complete without
coconut chutney
. Various versions of this exist, the popular ones being with tomatoes and the addition of onions.
Coconut-Ginger Chutney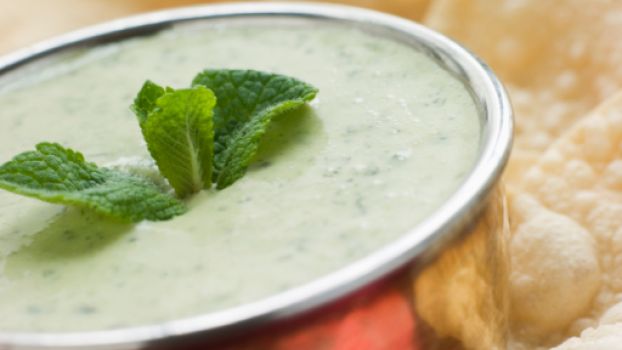 Andhra Pradesh
– One of the most unique
chutneys
you may get to taste in India is
gongura pachadi
. Made with red sorel leaves, garlic and chilli, it is usually eaten with rice.
Gongura Pachadi
West Bengal
– Who doesn't love the delicious mustard-based flavours that dominate food from West Bengal? But a little known secret is the
chutney
that adds a zing to every meal here. Called
amsotto khejurer chutney
, it predominantly consists of of dates and tangy
aam papad
. This sweet and thick
chutney
is also prepared with the addition of tomatoes in some households.
Aam ki Chutney
Nagaland
– The food from each state in the north-east is unique. Locals in Nagaland swear by
nghe thu'um
, made with dried fermented fish, chillies and tomatoes. The use of
bhoot jholakia
, the hottest chilli in the world, makes it unpalatable for people with milder tastes. Another popular
chutney
here is called
akhuni
and is made with fermented soya beans blended with chillies, ginger and salt.
Assam
- The Assamese variation of the fish chutney found in Nagaland is called
xukan machor chutney
. Made with dried fish, tomato, potato and onion, it has a strong odour and flavour and is popular with the tribal communities. A chutney made with
jalphai
(Indian olives) is also seen in Assamese thalis as is another spicy one made with the vitamin C rich
kordoi
(star fruit).