Story Progress
Back to home
Gongura Pachadi Recipe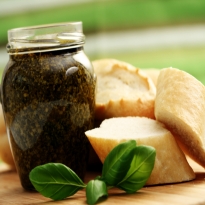 A Southern chutney of gongura leaves, tamarind, onion and spices.

Ingredients of Gongura Pachadi
2 cups gongura leaves
1 tsp tamarind juice
1 tsp salt
1/4 tsp sugar
1 tsp oil
12 small onions - peeled
1/2 cup onion - chopped fine
20 dry red chillies
Fry in oil and powder:
20 red chillies
1 tsp dhania - whole
2 Tbsp urad dal
1 Tbsp safed til
1/2 Tbsp jeera
1.
Wash gongura leaves, fry in a pan with little oil. Close the pan with a lid, cook for a while.
2.
Add the tamarind juice. Using a pestle, pound the cooked leaves.
3.
Add salt, 1/4 Tbsp sugar, all powdered ingredients till every thing blends well.
4.
Season with mustard and add onions.
5.
Mix with 1 cup of boiled water. Serve