Unsure about sticky spread or strange combinations? From cookies to curries, our Dinner Doctor will make your mouth water

Some of you might be aware that I was brought up in Kuala Lumpur. I went to a school for the children of ex-pats; mainly British and Australian, with a smattering of Canadian and American children too. While united by the fact that we spoke a common language, what most certainly divided us was our favourite foods. Battle lines were drawn. I am not suggesting for the moment that we required the services of United Nations peacekeepers, but serious negotiations were involved when it came to feeding a mixed group of kids. The American children thought the Brits were trying to poison them with Marmite. We Brits were less than impressed by root beer and the eponymous peanut butter and jelly sandwiches. Apparently while my reaction to tasting the gloriously named fluffernutter sandwich (a mixture of marshmallow and peanut butter) was quite comic, I still feel a strong sense of betrayal at the cruel joke played on my taste buds.I don't suffer from arachibutyrophobia (the fear of peanut butter sticking to the roof of your mouth), but I had always found the claggy texture of peanut butter somewhat off-putting. Combining peanut butter with jam just seemed plain wrong. However, it did seem odd that I didn't like peanut butter as if left to my own devices I could quite happily eat bucket-loads of peanuts.My epiphany came many years later when a friend cooked a really good stir-fry and confessed that she had used peanut butter as a base for the sauce. It was that simple and I was converted. I now even make my own peanut butter, which is frankly a doddle; you just need peanuts and a good food processor or elbow-grease.
Peanut butter does have a limited shelf life, admittedly one of many months rather than weeks. The low moisture content of peanut butter together with the nut oils helps to prevent it spoiling. However, over time the peanut butter will lose its flavour and as a result of oxygenation, the nuts will become rancid, which is really rather nasty. Natural and homemade peanut butters (ones without lots of additives such as sugar and oil), will last well in the fridge for three to four months. Processed peanut butter will last for about a year after its sell-by date, the thought of which makes me even more determined to keep on making my own nut butter!
1. Thai pork and peanut curry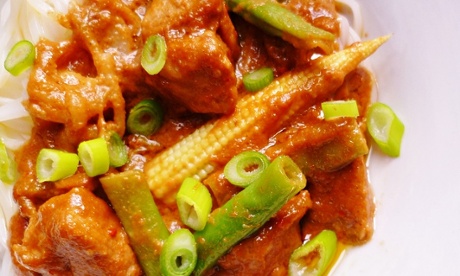 I've used a whole tin of coconut milk in this recipe. However, sometimes I reduce the amount and replace the rest of the liquid with vegetable stock. Serves 4Ingredients:
1-2 tbsp vegetable oil
6 spring onions, sliced (reserve the green tops)
400g diced pork
2-3 tbsp Thai red curry paste (depending on how hot it is)
3-4 tbsp peanut butter
2 tsp light brown sugar
1 tbsp dark soy sauce
1 tbsp fish sauce
200ml water
400ml tinned coconut milk
juice of 1 lime
salt (optional)
200g vegetables (I used a mix of green beans and baby corn)
steamed rice or rice noodles, to serveHeat the oil in a large heavy-based saucepan. Fry the pork in batches until lightly browned (about 5 minutes). Don't overcrowd the pork; leaving a little space between the diced pork will help it brown and cook more evenly. Set aside.
Fry the diced spring onions. Gently fry for 1 minute.
Add the curry paste and peanut butter. Stir constantly so that the paste, butter and onions are combined.

Return the pork to the saucepan and combine well.
Add the sugar, soy sauce, water and coconut milk. Bring to the boil and then simmer for 20 minutes, stirring occasionally.
Add the mangetout and baby corn. Simmer for 5 minutes until the vegetables are cooked through.
Add the lime juice and stir.
Check the seasoning. You may need to add more salt.
Serve with steamed rice or noodles and a sprinkling of chopped spring onion tops.Tips:
Most crunchy vegetables work well in this curry, such as mangetout or courgettes. But it is also delicious with chunks of squash or pumpkin.
This curry also works well with chicken too.
2. Peanut butter dressing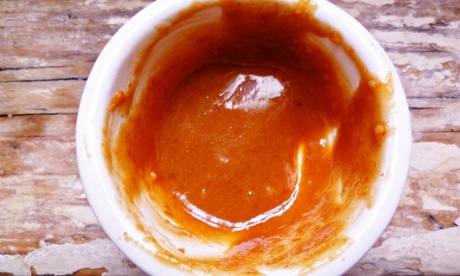 This is my quick version of an Indonesian classic sauce, gado-gado, which is used to dress a hodgepodge salad of shredded vegetables, potatoes, hard-boiled eggs and tofu. However, this additive peanut butter dressing is perfect with noodles or steamed vegetables too. It makes a great dipping sauce too and I particularly like it with hard-boiled eggs - a simple pleasure!
Ingredients:
2-3 tbsp peanut butter
2 tbsp soy sauce
1 tbsp rice wine vinegar or lime juice
1 tbsp sweet chilli sauce (I used Lingham's)
1-2 tsp sesame oil
half tsp sugar
water (optional)
Combine all the ingredients in a blender and blend until smooth. If it is very thick, then add a little water to thin it. It should have the consistency of double cream. Conversely, if it is too thin, then add more peanut butter.
This will store well in an airtight container in the fridge for about a week.Tip:
Use a dressing for cold noodles, with a little chopped red chilli and diced spring onions.
3. Peanut Butter Cookies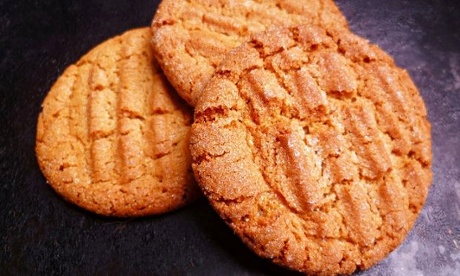 Using brown sugar means your cookies will be have a soft and slightly chewy texture and a lovely caramel taste to compliment the peanut flavour.
Makes about 24 cookies.

Ingredients:
200g soft light brown sugar
110g unsalted butter, softened
130g peanut butter
1 large egg
half tsp vanilla extract
quarter tsp almond extract
180g plain flour
half tsp bicarbonate of soda
half tsp salt
2 tbsp caster sugar (to coat the cookies)Beat the brown sugar, butter and peanut butter together in a mixer or with a handheld mixer until light and fluffy.
Add the egg, vanilla and almond extract. Beat well to combine.

Add the flour, bicarbonate of soda and salt. Stir well to combine.
Cover the bowl with cling film and refrigerate for at least 30 minutes to firm up. (It will stay fresh in the fridge for 2 to 3 days.)
Preheat the oven to 170C/Gas Mark 3.
Roll the dough into walnut-sized balls.
Roll each dough ball in caster sugar and transfer to a lined baking sheet. Leave 5cm of space between each ball to allow the cookies to spread while cooking.
Press the tines of a fork into the back of each ball, pressing down slightly.
Bake the cookies for about 10 minutes but no more than 12 minutes, until firm and a light golden brown. The cookies will be crisp on the outside and slightly chewy on the inside. Transfer to a wire rack to cool and to crisp up.
Eat immediately, although they will last for a few days if stored in an airtight container.Tip:
You can add other things to your cookies, such as chunks of chopped peanuts or chocolate. I sometimes add a little diced fudge; adding a Rolo chocolate-toffee sweet always goes down a treat too!
Other ideas of using up leftover peanut butter:
4. I use peanut butter in my spicy Malaysian chicken satay. It may sound like a cheat, but it really doesn't compromise on nutty flavour.5. Sheer happiness is the food that reminds us of our childhood. And you really can't get any happier than the go-to chocolate gal, Choclette of The Chocolate Log Blog and her peanut butter and chocolate crispies!6. Writer Rachel Cotterill's raspberry jam and peanut butter streusel bars sound rather lovely.
7. Bintu of Recipes from a Pantry makes a gorgeous creamy and fragrant West African chicken and peanut stew (or "granat stew" from Sierra Leone).8. Janice Pattie of Farmersgirl Kitchen bakes fabulous cranberry and sour cherry flapjacks with peanut butter.9. Becky Thorn of mint custard makes a gorgeous "goober" traybake - a sort of peanut butter shortbread topped with peanut butter icing and sandwiched with peanut butter and jelly!10. Skinny never tasted so good with Dominic Franks of Belleau Kitchen's peanut butter and banana muffins.11. Sian Reynolds of Fish Fingers For Tea uses peanut butter in her gooey chocolate brownies.12. I love Helen Best-Shaw from Fuss Free Flavours' easy herb lemon and spicy peanut butter crusted salmon dish.13. Kate Hackworthy of Veggie Desserts makes these perfect beetroot, chocolate and peanut butter protein balls.14. Lucy Bishop of Mrs Bishop's Bakes and Banter bakes a banoffee peanut butter cake. As she says herself "wowzer"!15. How about a gorgeous peanut butter and jelly marble bread from Kellie Anderson at Kellie's Food to Glow? 16. Stacy Ruston of Food Lust People Love makes comforting chocolate pecan cookies with her peanut butter.So how do you use peanut butter? Is PB&J the best sandwich in the world? Or do you prefer your peanut butter with savoury flavours, such as noodles, soup or even as a topping for burgers? Do you lob peanut butter into a smoothie, or perhaps in a more refined ice cream of cheesecake? Does anyone have a good recipe for a peanut butter martini?
Interested in finding out more about how you can live better? Take a look at this month's Live Better challenge here.
The Live Better Challenge is funded by Unilever; its focus is sustainable living. All content is editorially independent except for pieces labelled advertisement feature. Find out more here.

Peanut butter cookies. Photograph: Rachel Kelly