Butter Chicken! The name alone is enough for anyone to simply drool. The rich curry packed with creamy, buttery goodness laced with tender chicken pieces, is a chicken lover's dream. If you've grown up in the northern region of India, especially around Punjab and Delhi, you will know how many of our lunches and dinners have been about indulging in a bowl full of luscious tomato gravy tossed over juicy chicken chunks along with piping hot garlic naans.


Discovered in the pre-independent India in a small shop in Peshawar as a basic gravy dish cooked with tandoori chicken and tomatoes, went on to become one of the most popular non-vegetarian dishes of all time and a global sensation. Thanks to the countless north Indian restaurants all across the world serving it, there is no end to where you can get your butter chicken cravings fixed. Delhi itself is known to have some of the best butter chicken places around, and why not? The original butter chicken is right here at Moti Mahal! While your most favourite butter chicken would be the one you grew up relishing, it would be exciting to explore some of the best butter chicken places in Delhi-NCR that you must try.
Here is a list of butter chicken places in Delhi that should definitely be on your go-to list, if you are a butter chicken fan, just like us!
1. Havemore
11-12, Pandara Road Market, New Delhi.


Wasn't this on your mind from the moment you read butter chicken places? Havemore has been synonymous with butter chicken since years now and those of you who have tried their sinfully rich butter chicken would know why. A perfect blend of chicken chunks, spices and tomatoes would make you go back to it every now and then.
Shop R1, Lower Ground Floor, The Walk, Worldmark 1, Aerocity, New Delhi.


No, it isn't the famous Daryaganj market but the newly opened restaurant by the same name that has created quite a buzz since it opened its doors in the plush Aerocity. Daryaganj's USP is their butter chicken and dal makhani that they claim to have the original recipe of. The restaurant is by Kundan Lal Jaggi's grandson, Jaggi is said to be one of the inventers of butter chicken. The restaurant is fast opening at multiple locations across Delhi NCR and we can't be more excited. Their rich tomato gravy of their butter chicken is oozing with aromatic flavours that would make your taste buds flutter for sure.


(Also Read: Butter Believe It: 5 Amazing Ways To Give Your Leftover Butter Chicken A Delicious Makeover!)
3. Gulati
6, Pandara Road Market, New Delhi.


Yes, Pandara Road boasts of many places serving delicious food and Gulati is definitely one of those –all thanks to its amazing butter chicken. Gulati is synonymous with the rich and greasy Punjabi food and the quality of every dish here would stand by it each time you visit. Be ready to wait in a long queue since Gulati is always packed with people waiting to gorge on their murgh makhani.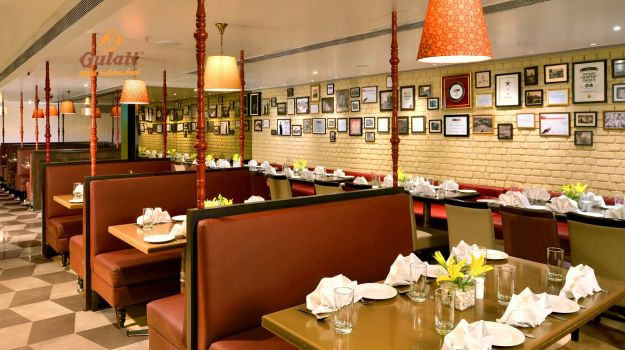 3703, Netaji Subhash Marg, Daryaganj, New Delhi.


Can we ever forget where it all started from? Moti Mahal is known to be the original inventor of butter chicken and thus represents a legacy of culinary art that is difficult to mimic. The restaurant is almost as old as the Independent India and has served dignitaries such as Jawaharlal Nehru and Indira Gandhi and also landing in recommendations from celebrity chef Gordon Ramsay.
5. Kake Da Hotel
67, Municipal Market, Connaught Circle, Connaught Place, New Delhi.


Multiple other outlets.


One place every Delhiite would have definitely heard or tried is Kake Da Hotel in the heart of Delhi. Located at the outer circle of the Connaught place, this tiny place can easily be blamed for a traffic jam around the area during the dinner time, since all the butter chicken lovers would park their cars around the place and wait for their creamy serving of butter chicken to savour. But we say, it's all worth it!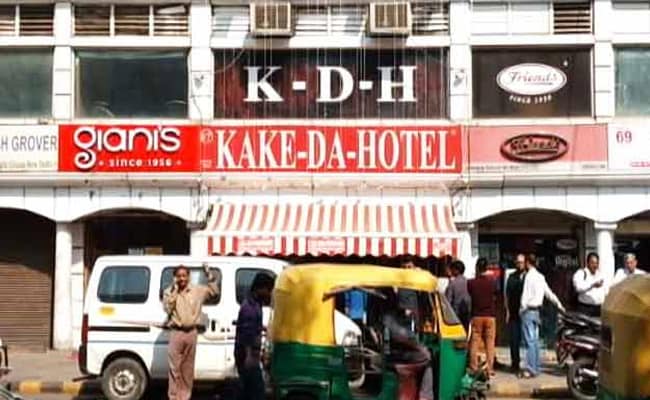 6. Minar
L-11, Outer Circle, Connaught Place, New Delhi.


If you are someone who loves an old-school, vintage ambiance while gorging on lip-smacking butter chicken, just cross the road from kake da hotel and you'll have the good old Minar. Serving some amazing north Indian delicacies along with a variety of thick and rich chicken curries, the decades-old Minar knows how to tickle our taste buds.
7. Sandoz
P-23/90, Connaught Place, New Delhi.


Multiple other outlets.


Tucked in a corner opposite Shivaji Stadium, Sandoz has upped its quality with full-fledged restaurants across town. Serving drool-worthy chicken curries with a variety of Indian breads, Sandoz serves equally delicious vegetarian delicacies as well.
8. Pind Balluchi
13, Regal Building, Connaught Place, New Delhi.


Multiple other outlets.


With multiple outlets across the city, Pind Balluchi has made its name as one of the best serving north Indian restaurants around. With authentic, rich and creamy butter chicken on the menu, can you afford to miss this popular place from the list?
9. Aslam Chicken
Near Gate 1, Jama Masjid, New Delhi.


Located in the narrow bylanes of old Delhi, the location itself speaks a lot about the variety you're going to get here. If you are craving some heavy, greasy oil-laden chicken curries that can satiate your soul, Aslam Chicken is the place to be. Its butter chicken is literally translates the dish to succulent chicken chunks in oodles of butter, something you probably won't get anywhere else. Not just the butter chicken, but its changezi chicken or chicken afghani is also worth planning a trip to purani dilli too.
10. Rajinder Da Dhaba
AB 14, Safdarjung Enclave Market, Safdarjung, New Delhi.


Started as a small eatery, Rajinder Da Dhaba has now expanded to a decent restaurant, all thanks to the massive popularity that it has gained. While it boasts of multiple other dishes such as chicken kebabs and galouti kebabs yet a bowl of butter chicken with naan is all you need to satiate your cravings.
78, Jan Path, Connaught Place, New Delhi.


Multiple other outlets.


With some of the most divine dishes from the Punjab region, Punjab Grill has created quite a niche of its own in just two outlets. While there are stellar tikkas and curries that they offer, but the butter chicken is what take us back each time.
12. Punjab Restaurant
Shop 3 & 4, Main Market, Yusuf Sarai, New Delhi.


A cosy little place in the midst of bustling Yusuf Sarai Market, Punjab restaurant has a separate fan base when it comes to its mouth-watering butter chicken. The residents of Green Park and surrounding areas would know and tell you how they've grown up eating from there and continue to binge on its curries. If you just want to indulge in a plate of butter chicken and not care about the slightly dilapidated ambiance, Punjab restaurant can be your go-to spot.
13. Desi Vibes
2nd Floor, N 95, Outer Circle, Connaught Place, New Delhi.


Multiple other outlets.


A lovely restaurant with multiple outlets offering authentic Indian delicacies with a traditional Indian ambiance, Desi Vibes is the perfect spot for family dinners. With the best of Indian cuisine in the menu, you just can't miss the absolutely yummy butter chicken here along with garlic naan.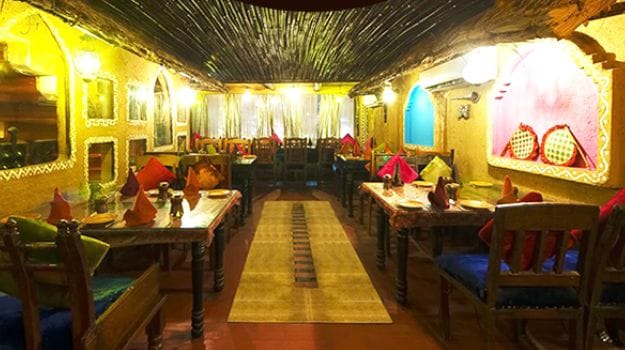 14. Lazeez Affaire
6/48, Malcha Marg Market, Chanakyapuri, New Delhi.


K 12, Outer Circle, Connaught Place, New Delhi.


Standing true to its name, Lazeez Affaire never fails to impress us no matter which outlet you are dining at. With an expansive menu and elegant ambiance, lazeez affaire offers the best of Mughlai and North Indian food.
15. Embassy
11-D, Connaught Place, New Delhi.


Shop 10, Bestech Chambers, Sushant Lok 1, Gurugram.


If you ask your parents about this one, we are pretty sure they would have some or the other memory attached to the Embassy restaurant at Connaught place. It has decades of customer loyalty to its credit which can be seen in the sumptuous food they serve. Apart from Indian favourites such as scrumptious butter chicken, they have recently also added other cuisines to its menu and we just can't wait to go back.
16. Zaffran
D-26/28, Hotel Palace Heights, Connaught Place, New Delhi.


A traditional Chicken Curry just as you like it, without any addition paired with your favourite bread in a sophisticated environment, is what Zaffran offers. No wonder its loyal visitors can't stop going!
17. Saleem's Restaurant
HS-24, Kailash Colony Market, Kailash Colony, New Delhi.


Craving a robust, thick butter chicken that doesn't sacrifice on the quantity? Saleem's restaurant would do exactly that for you and make sure you crave again and come back for more. Don't miss to also gorge on their delicious rolls and kebabs !
18. Made In Punjab
C 418-419, 3rd Floor, DLF Mall Of India, Sector 18, Noida.


6-7, Ground Floor, Cyber Hub, DLF Cyber City, Gurugram.


Now what would you expect from a place with a name like that except for some toothsome, rustic and oh-so-delicious butter chicken and other delicacies from the region of Punjab.
19. Khidmat
Shop B-1/56, Central Market, Sector 50, Noida.


E-9, Main Road, Kalkaji, New Delhi.


With about ten chicken curries to choose from and an equally appetising vegetarian menu besides some delicious Chinese dishes, Khidmat makes for an inviting place for a meal. Their butter chicken is a tempting curry to choose, both quality and quantity wise.
20. Wakhra Swaad
Shop 16, L Block Market, Sector 11, Noida.


Multiple other outlets.


A quaint and cosy place to visit if you love north Indian food, Wakhra Swaad has the perfect ambiance to even host you on a date night. While they have a lot to offer from rolls to chaps, we just can't get over the luscious butter chicken that tops it all!
21. Over The Top
B 1/633, 3rd Floor, Above Pantaloons, Janakpuri, New Delhi.


Well, nothing about the restaurant is over the top but just the perfect. From chic ambiance to a vast world menu, Over The Top in west Delhi offers everything you would ever need. But most of all it would please the butter chicken lover in you!


Well if you love butter chicken as much as we do, then these places should be on your go-to list. And if you love it more than us then do let us know the ones we might have missed out on in the comments section below.
About Aanchal MathurAanchal doesn't share food. A cake in her vicinity is sure to disappear in a record time of 10 seconds. Besides loading up on sugar, she loves bingeing on FRIENDS with a plate of momos. Most likely to find her soulmate on a food app.