There are three kinds of people in this world. Those who love
Butter Chicken
, those who think Butter Chicken is overrated and those who have never tasted Butter Chicken. Of all of these, I feel deep sorrow for the third kind. It is a loss of gigantic proportions, in my opinion. Delhi, arguably the culinary capital of India, owes a large part of its flavour heritage to the Mughals. Butter Chicken, however, has far more humble origins, and was born far closer to home. It only dates back a couple of decades to pre-partition India, and its story takes us to a
sweet-shop
in Peshawar called Mukhey da Dhaba, owned by an elderly gentleman called Mokha Singh. It was here that young Kundan Lal Gujral worked, and as his grandson Monish Gujral recounts, where he helped invent the
Tandoori Chicken
that we all love today. Yes, you heard that right, this story also includes the invention of the famous Tandoori Chicken.There came a time when Mokha Singh's health deteriorated and he eventually sold the shop to Gujral who renamed it as Moti Mahal (and the rest as they say is history). An astute businessman, KL Gujral realised that the Tandoori Chicken hanging on the
seekhs
above the
tandoor
all day would tend to dry out if unsold. He then came up with the genius idea of creating a basic
gravy
with tomatoes, butter, cream and some spices to immerse the Tandoori Chicken pieces in, helping them regain moisture and become palatable again. And thus, was born the Butter Chicken.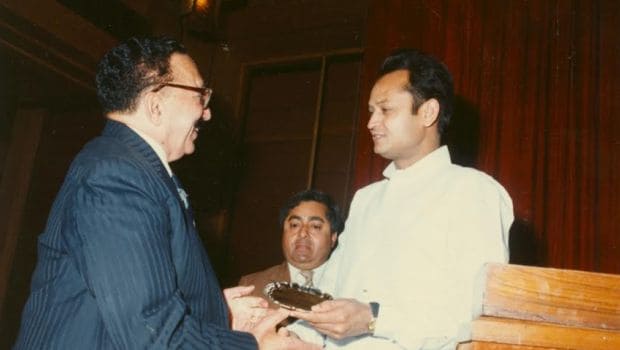 KL Gujral receiving an award from the tourism minister Mr. Ashok Ghelot for inventing the Tandoori Chicken; Photo credit: Monish Gujral
When India was partitioned, Gujral moved to Delhi (one of the few privileged ones who reportedly flew here and did not take the train) and so did Moti Mahal, with Butter Chicken and Tandoori Chicken in tow. The small outlet in Daryaganj grew fast and now, almost 70 years later, it has a successful chain of restaurants with outlets far and wide, managed by his grandson, Monish.The beauty of Butter Chicken lies in the subtle balance of tanginess and a velvety texture. It is easy to get wrong, and often the versions you may find are too sweet or way too
spicy
. Monish grudgingly says that he doesn't think the dish served elsewhere compares to the original, and it would be easy to say that he is an authority in the matter (albeit a slightly biased one). However, leading Food Critic, Marryam H. Reshii confesses that her yardstick for the dish is Mughal Mahal in East Patel Nagar, Delhi and I do tend to agree. She accepts though, that Lantern and Zorawar Kalra's Made in Punjab have perfected the optimal balance that defines a good Butter Chicken.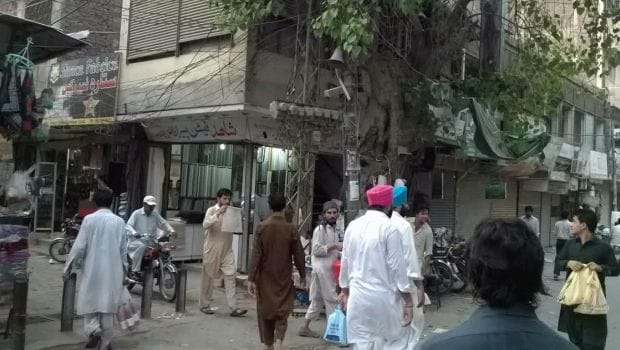 The Birthplace of Butter Chicken, Peshawar. Site of the original Mukhe da Dhaba and later, Moti Mahal; Photo credit: Monish Gujral
A few years back, when I was reviewing Masala Library in Mumbai, I was surprised to find Butter Chicken on the tasting menu. What started then, is now a full-fledged movement to take the humble dish and reinvent or present it in a nouveau avtaar. Once a budding television star, and now a culinary name to be reckoned with, Saransh Goila has made it his life's purpose (at least for now) to feed Butter Chicken to hungry souls in Mumbai. His version is smoked and thus is a twist on the original. Hyderabad, on the other hand, witnessed a not-so-successful attempt to take it to the next level with a delivery service called Anaarkali, which only had one thing on the menu - Butter Chicken. However, each portion here sold for a whopping Rs.6000, flecked with edible gold and silver flakes, no less.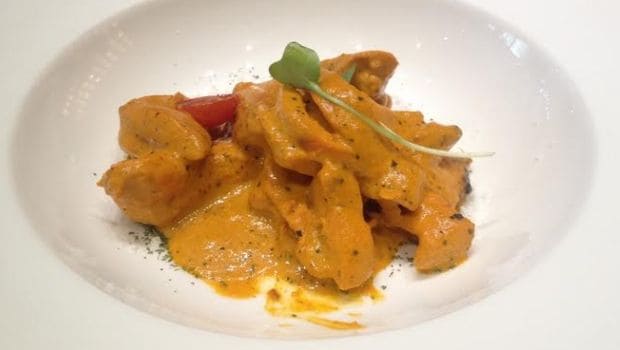 Today, you will find Butter Chicken tacos, pizzas, rolls, burgers, biryani (the one at Social is pretty good) and just about everything you can think of. Purists may scoff at these unnecessary (and often forced) product extension efforts. However, when it comes to food, I am a believer of evolution. Authenticity is overrated and the best kind of food is that which evolves unapologetic-ally, adhering to the basic objective of pleasing the palate. After all, when Kundan Lal Gujral invented Butter Chicken, little did he know that he was creating history, in a way. And if he had not experimented, the world would not have known Tandoori Chicken, Butter Chicken or even Dal Makhani (yes, that too traces its roots to him, but that's another story for another day!).
About the Author:
Harnoor Channi-Tiwary is a marketing specialist who wandered into the world of writing and never left. For more than a dozen years, she has been writing about food and travel. Harnoor steered the editorial direction for NDTV Food till January 2017 as Head (Content) prior to which she worked with Marryam H Reshii on the Times Food Guide 2014 and authored an e-book amongst other notable works. She blogs at TheThoughtExpress, tweets as @HCdines and now lives in Singapore with her husband and six year old daughter (who's first word reportedly was 'yummy' and not mummy).
Disclaimer:
The opinions expressed within this article are the personal opinions of the author. NDTV is not responsible for the accuracy, completeness, suitability, or validity of any information on this article. All information is provided on an as-is basis. The information, facts or opinions appearing in the article do not reflect the views of NDTV and NDTV does not assume any responsibility or liability for the same.