From Asian-infused salads to the humble British pie, the adaptable meat lends itself to a huge array of interesting recipes
There's a great deal of chicken sacrificed at the altar of waste in the UK; a staggering 280,000 tonnes in 2012, of which 110,000 was avoidable. This has always seemed a bit odd to me as out of all the food stuffs wasted in the UK chicken is one of the most versatile; a bit of leftover roast chicken can take on so many new recipe guises that frankly it's hard to know where to start.

The Food Standards Agency recommends storing raw chicken at the bottom of the fridge for one to two days (the reason being that any liquid seeping out will not contaminate any other food stuffs, which can cause food poisoning.) While it is probably hard to break the habit, don't wash raw chicken before cooking as germs can be spread through splashed water. Cooking chicken at the right temperature will destroy any bacteria present, and you need to make sure that chicken is properly cooked through; the juices should run clear and the meat should not show any signs of pink.

Leftover chicken can be stored in the fridge in a sealed container for three to four days, and in the freezer for about four months. I find that any longer than that and the cooked meat starts to suffer the ravages of freezer burn and will be very dry when defrosted. I often freeze cooked chicken with a little chicken gravy if I have any, which seems to help prevent some degradation in texture.
1. Leftover chicken curry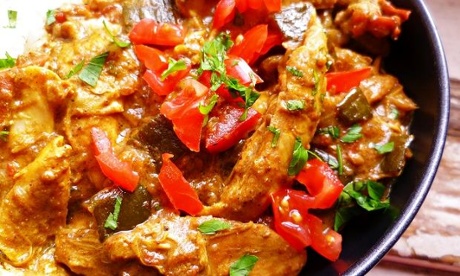 Originally, this curry started off as a recipe for marinated chicken pieces cooked from scratch, shown to me by the Punjabi mother of a friend of mine. This version cuts down on some of the steps to making it, as well as in the number of spices, but it is a great way of currying leftover roast chicken, which doesn't stand up to prolonged cooking.
Ingredients:
Vegetable oil
1 onion, finely chopped
3 garlic cloves, very finely chopped
1 tbsp fresh ginger, very finely chopped
2-3 large tomatoes, chopped (plus extra to serve)
300ml chicken stock
leftover roast chicken, roughly chopped
salt and freshly ground black pepper
2 tbsp plain yoghurt
steamed rice, to serve
fresh coriander, chopped, to serve
2 tsp ground coriander
1 tsp ground cumin
1 tsp garam masala
half tsp ground cardamom
half tsp ground cinnamon
half tsp ground turmeric
half tsp ground chilli powder (or to taste)
Heat about two tablespoons of vegetable oil in a large heavy-based saucepan. Gently fry the chopped onion together with a pinch of salt for about 15 minutes until softened. Add the garlic and ginger. Continue to gently fry for another two to three minutes, stirring occasionally.
Add the spices and ensure that they are well mixed with the onion. Continue to gently fry for another three minutes, stirring occasionally.

Add the chopped tomatoes. Stir well and cook for another minute or so. Add the chicken stock. Bring to the boil and simmer for 10 to 15 minutes so the flavours infuse.

Add the roasted chicken and warm through. Dollop in about 2 tablespoons of plain yoghurt. Gently warm through so that it doesn't curdle.

Serve with steamed rice and sprinkle over a little fresh coriander and chopped fresh tomato.
Tip: Don't have all the spices? Just use two teaspoons each of garam masala, ground coriander and ground cumin. This is also a good dish for using up a few odds and ends of vegetables. If they are raw, add them in with the chopped tomatoes, and if they are already cooked, add to the pot at the same time as the chicken.
2. A Vietnamese-style shredded chicken salad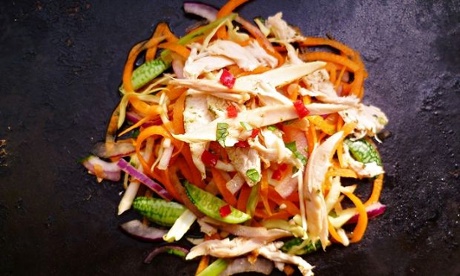 This has to be one of my favourite lunchbox salads of all time. I pack the salad in a plastic box and take the dressing in a separate container and dress it just before eating. This helps to prevent the salad from going soggy.
Serves 4
Ingredients:

2 tbsp sugar (I used light brown)
1 tbsp rice wine or white wine vinegar
3 tbsp fresh lime juice
2-3 tbsp fish sauce
1 tbsp vegetable oil (or 2 tsp sesame oil)
2 birdseye chillies
3 garlic cloves, very finely chopped
1 shallot, very finely sliced
leftover roast chicken
shredded vegetables, including cabbage, carrots and cucumber
2 tbsp chopped mint and coriander
Combine the sugar, rice wine vinegar, lime juice, fish sauce and vegetable oil. Stir well so that the sugar dissolves. De-seed (unless you like a lot of heat) and finely chop the chillies. Add the chilli and garlic to the liquid. Combine the onion, chicken and shredded vegetables together with the chopped herbs. Drizzle over the dressing and toss lightly.
Tip: Beef it up, so to speak, with cooked rice cellophane noodles.
3. Crisp chicken skin snacks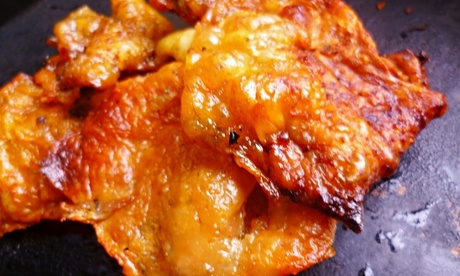 I have several recipes which exclude the use of chicken skin, which can be very fatty, particularly if I am poaching chicken. So once I've removed the skin, it is stored in the freezer. When I have enough to make it worth my while I cook up a batch of these snacks. It's perfect party food and rather good with beer.
I've used the Japanese spice mix, shichimi togarashi to season the hot skins, which is essentially a salt and pepper mix blended with orange peel, seaweed, sesame seeds, chilli, sansho pepper and ginger. It's worth getting your hands on it.

Ingredients:

Chicken skin, trimmed of excess fat
Shichimi togarashi (or salt and pepper, or your favourite popcorn salt blend)

Preheat the oven to 190C/Gas Mark 5. Line a baking tray with baking parchment.

Place the chicken skin in a single layer, skin-side up, on the baking tray. Bake for about 40 minutes until the skin has crisped up and is a golden brown colour.

Transfer the crisp chicken skin onto paper kitchen towel to drain. Sprinkle with shichimi togarashi (or other seasoning).
Tip: The chicken skin will bubble up and shrink as it cooks. If you want to keep the skin "flatter", then place a layer of baking parchment on top of the skins. Weigh down with another baking tray, which will keep the skin flat as it cooks.
Other ways to use up leftover roast chicken
4. Have you ever thought of making your own schmaltz? It is magical stuff and making rendered chicken fat really is very simple, adding extra flavour to soups and stews. I have also used it instead of goose fat to roast potatoes.

5. Having gone to the trouble of making your own chicken stock, it may seem a bit like overkill to add a tonne of chilli and garlic. But this chicken tom yum soup has to be one of my favourite meals. Add a bit of roast chicken, a few noodles and some julienned vegetables and you have something quite substantial.

6. Janice Pattie of Farmersgirl Kitchen makes a family-friendly tortilla bake with tomato salsa, cheese and leftover chicken.

7. If you have never thought of making a savoury crumble, then think again. Jen Price of Blue Kitchen Bakes uses chicken and ham in a fabulous crumble with pecan nuts.

8. My favourite chicken sandwich is packed with crunchy vegetables and a lovely mayonnaise that includes paprika and lemon juice.

9. You can't have a British chicken recipe without thinking about Coronation Chicken and I think Helen of Fuss Free Flavours' version would be hard to beat. Helen lightens hers up with a little Greek yoghurt and adds a few dried apricots, which is even better than the original.

10. Fiona MacLean of London Unattached make a gorgeous risotto with leftover chicken and ham, which she describes a great big bear hug of a dish, perfect as the days are drawing in.

11. Stacy Rushton of Food Lust People Love adds leftover rosemary and lemon roast chicken to a light but creamy stroganoff sauce.

12. Jessica Clucas of House of Greedy makes a beautiful Persian chicken salad, tart with pickles and fragrant with dill.

13. I use leftover roast meat in a Balinese curry with lots of fragrant spices and chilli. It banishes bland forever!

14. Should you be feeling a bit under the weather, Becky Thorn has the cure with this wholesome chicken noodle soup to feed your soul.

15. Karen Burns Booth of Lavender and Lovage makes a glorious chicken and ham pie with a suet dumpling crust.

16. Anneli Faiers of Delicieux adds roast chicken and feta to vegetable couscous with a garlic vinaigrette.

17. I use up leftover chicken together with a little bit of chorizo to make the classic southern US jambalaya rice dish.

18. Kavey of Kavey Eats' luxurious tarragon chicken pasta bake is a bit of seasonal warmer, rich with cream and Parmesan cheese.

19. Jeanne Horak-Druiff of Cook Sister suggests this lovely mustardy bake with roast chicken and broccoli.

20. Vanesther Rees of Bangers&Mash makes a beautiful chicken salad with a nutty hummus dressing.

21. Galina Varese of Chez Maxinka shows you exactly how to get three creative meals from one roast chicken, from soup to salad.

What's your favourite recipe for using up cooked chicken? Please do share it below.
Interested in finding out more about how you can live better? Take a look at this month's Live Better challenge here.
The Live Better Challenge is funded by Unilever; its focus is sustainable living. All content is editorially independent except for pieces labelled advertisement feature. Find out more here.

Top photo:A little bit of leftover roast chicken goes a long way. Photograph: Rachel Kelly