I like to enjoy the odd indulgence every now and then and by that I mean binging on good, wholesome food that elicits little
mmms
of satisfaction. Delhi is fast catching up on the health trend. So, you don't really have to say goodbye to gluttony because
clean eating
just got a whole lot tastier. For a delicious and nutritious meal in the city – here are my five of the very best to visit right now.
1. Hwealth Café
It is one of the best calorie-conscious eateries in the city. In an uplifting and joyful atmosphere, you can eat a self-styled healthy burger with a patty made of sprouts or a
low-carb
but energizing meal with herbed veggie barley, house salad and tofu or if you're craving meat opt for the basil and soy chicken served with brown rice. The huge portions are vibrantly flavourful and bursting with healthy ingredients. Pair them with a high-protein drink - I find it hard to choose between the refreshing mint smoothie and the luxurious choco-coco smoothie.
"Our philosophy is simple. We serve tasty, nutritious food with all the calories leached out at an affordable price. We've tried to keep the best interests of our customers – be in terms of health or taste. For instance, we had lot of people asking for ketchup, so we created our own with tomato skins (to avoid wastage) and jaggery. We don't use refined sugar, cream,
processed foods
or white rice in any of our preparations," shares Nicholas Hoffland, the man behind the concept and the menu.He laughs and tells me, "Most of our customers are actually guilt-trippers." Each dish on the menu features a
calorie count
so that those who care can order accordingly and eat without shame. Don't leave without the indulgent
ragi
crepe served with a citrus treacle of orange juice, zest and jaggery and honey-cinnamon yogurt (we won't judge) and ask for the special Ajwain Tea for afters. Eating here comes with a sizeable feel-good factor.
Address: 14, Maulana Mohammed Ali Jauhar Marg, Block A, Community Center Market, New Friends Colony, New Delhi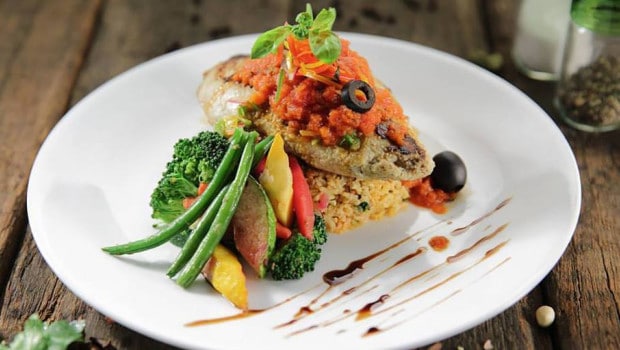 Photo Credit: Hwealth Cafe
2. Fab Café
Stylish and relaxed, not only does it get high marks for its health credentials from me, but also for serving some of our favourite dishes minus the guilt. From the three grain
papdi chaat
made with
jowar, bajra
and buckwheat to
pani-puris
packing a real crunch served with fresh pineapple and pomegranate paani or the wonderfully spiced
kathal
quinoa
biryani
and the delicate mutton
galouti
on buckwheat blinis, one thing's for sure - healthy doesn't have to be dull. The all-day breakfast is boosted with superior antioxidant and super-grain goodness from ingredients like
amaranth
, red rice, turmeric and
chia seeds
that come from sustainable sources."Our goal is to create traditional recipes with wholesome ingredients and make people aware of the healing effects of those. We do so with a modern interpretation of Indian food in a creative, healthy way," says Chef Tirath Singh. The sugar-free
kulfi
made with dates and
anjeer
is always worth coming back for, not least for the delectable homemade coconut ice cream.
Address: Shop 10, Local Shopping Centre, Nelson Mandela Marg, Vasant Kunj, New Delhi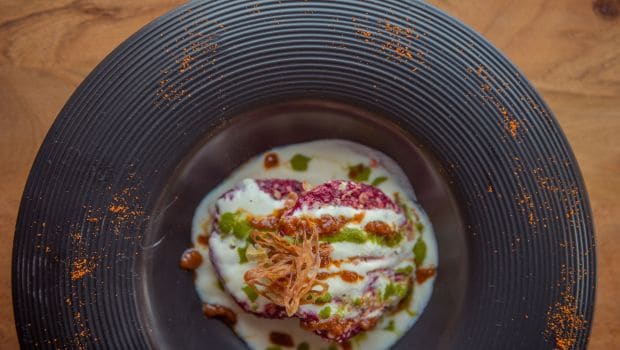 3. Greenr
This superbly tasty restaurant is tiny and unassuming but with an ambition. Greenr serves a range of vegetarian and
vegan dishes
with a healthy influence such as colourful grain salads stirred with freshly sourced greens, avocado cream and sun dried grapes or the deliciously seasoned cassava root fries alongside more decadent options like the brilliant jackfruit slides or the
mock sausage
spaghetti. The idea is to push vegetarian food beyond the imaginable and celebrate the exciting diversity of seasonal and organic produce. I've remained a loyal fan despite my serious love affair with meat.
Address: 416, Shahpur Jat, Siri Fort, New Delhi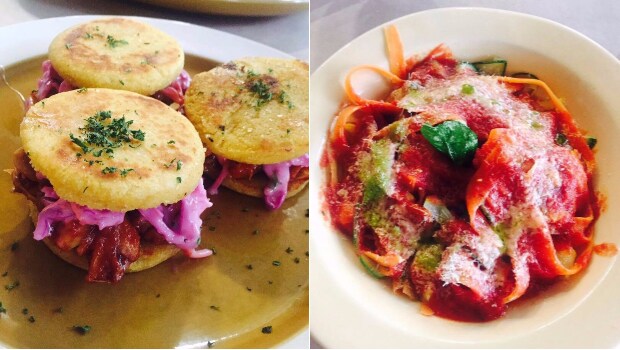 4. Getafix Café
This low-key café is a quiet and cozy spot for lunch in the city's busy market. It has a pleasing menu of regulars that make for a reliably good meal featuring whole wheat pizzas, hand rolled pastas, air-fried snacks, big salads and
power-packed smoothies
. The loaded shawarma with spiced chicken strips heaped into a whole wheat pitta and a good slathering of homemade
hummus
has been my on-the-go lunch more than once.
Address: M 15 First Floor Part 1 Road, Greater Kailash, New Delhi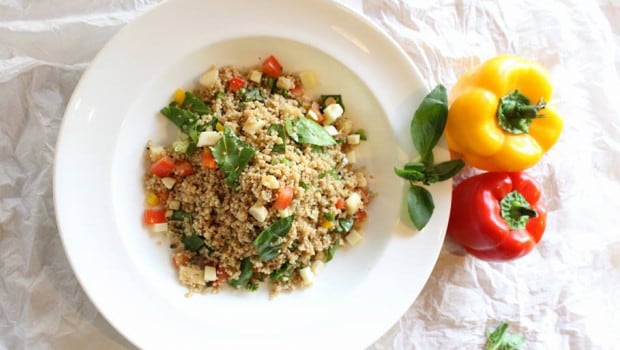 Photo Credit: Getafix
5. Cafe Pluck
A breezy café that goes an extra mile in serving you- everything is home-grown, made on site and sourced as locally as possible. Café Pluck really pushes the envelope by plucking fresh ingredients from their
organic garden
, cooking everything from scratch and presenting it artistically. Come here to enjoy an afternoon with gourmet health food. Think zucchini frittatas with roasted tomatoes and goat cheese, crispy whole grain waffles, lively salads and super-thin pizzas fresh out of the oven.
Address: Pullman, Asset 2, Hospitality District, Aerocity