Brinjal is one of those vegetables that find a blissful spot in most of the regional recipes. Be it chips, or chaat, or a plate of bharta to relish, brinjal, with its numerous health benefits, is a lip-smacking ingredient in almost all dishes. Even though the vegetable holds a not-so-great reputation of being disliked for its slimy texture, it can be used with multiple flavours to make a tasty dish. We have charted out seven dishes, made with the help of brinjal, that will keep you licking your fingers. Read along:
It's one of the easiest items to prepare. All you need is to heat cubes of brinjal in olive oil in a mix of homemade dressing of cumin powder, chopped garlic and lemon juice. Then serve the mix with a sprinkle of coriander leaves, mint leaves, pistachios and black pepper.
To prepare brinjal chips, cut thin slices of the vegetable, evenly spread it out on a baking pan, sprinkle some oil, salt and pepper. Don't forget to bake till it turns golden and crispy. Enjoy this recipe!
Better served when chilled – this Silician dish is prepared with fried onions sauteed with tomato, vinegar, capers and onions. It is then thickened with wine and a dash of cocoa.
A true blue Hyderabadi side dish for biriyani, Bagara baingan masala is prepared with deep-fried brinjals cooked in a thick gravy of a plethora of spices. It adds a tangy flavour to the rice.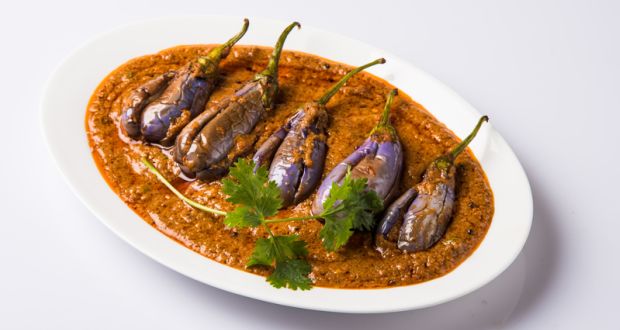 The brinjal is stuffed with cottage cheese and a whole lot of veggies, and then deep-fried. The next step is to toss the fried vegetable in a mix of garlic, ginger, onion, oyster sauce, rice wine, chilli, vinegar, sichuan pepper, tomato ketchup and stock water.
A quintessential recipe for Indian households, baingan ka bharta is prepared by smoking the brinjal and then smashing it. It is further loaded with spices, onions, green chilli and yoghurt. It pairs best with hot parathas.
Grilled and mashed eggplant is cooked in a variety of spices and herbs. It is then tossed in tomato water and seasoned with black pepper. And, your winter treat is ready.


Be it an Indian or a Silician dish, baingan knows how to treat our taste buds just the way we like it. So, which brinjal recipe is your favourite?