Story Progress
Back to home
Charred Eggplant Soup Recipe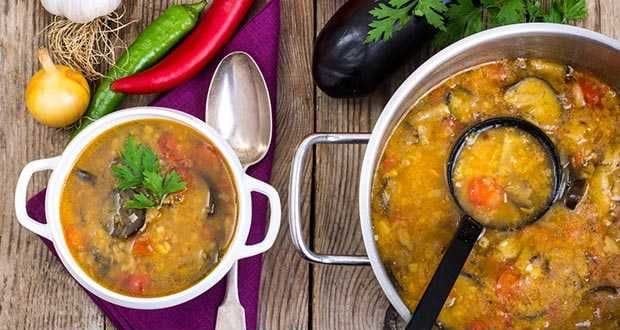 How to make Charred Eggplant Soup
About Charred Eggplant Soup Recipe: A wintery delight. Eggplant seasoned and char grilled, combined with tomato water and other seasonings to give you a tasty soup. Topped with a blob of whipped hung curd.

Ingredients of Charred Eggplant Soup
1 Medium eggplant (approx. 500 gm)
1 tbsp olive oil
1 onion, finely chopped
1/2 tsp cumin seeds
1 tsp garlic, finely chopped
1 tsp ginger, grated
2 green chillies (optional)
1 tsp coriander powder
1 tsp cumin powder
1 tsp garam masala
1 tsp red chilli powder
200 ml tomato water
1 tbsp green coriander stems, finely chopped
1 tbsp fresh green coriander, finely chopped
A pinch of green cardamom powder
1 tsp whipped hung curd
Salt and pepper (to season)
1.
Season the eggplant with sea salt, pepper and olive oil and grill it till the skin has charred and soft.
2.
Then cover and allow it to cool so the skin is easy to peel off and discard the charred skin.
3.
Coarsely mash the eggplant and keep aside.
4.
Now heat the oil in a pan, add the cumin seeds and let them splutter.
5.
Add the onions and saute on medium heat till soft and translucent.
6.
Add the garlic, green chillies and the ginger and saute for 1 minute.
7.
Mix in the coriander powder, cumin powder, red chilli powder and garam masala.
8.
Add the tomato water (To get tomato water blend 2 large tomatoes in 500 ml of water and strain.)
9.
Stir well and cook for 3-5 minutes or till it reduces a little, stirring often to prevent the spice mix from sticking to the bottom of the pan.
10.
Add the mashed eggplant into the pan and mix well.
11.
Season with salt and cracked back pepper.
12.
Add the chopped fresh coriander stems and stir.
13.
Cook for another 10 minutes.
14.
Using a hand blender, blend the ingredients in to a nice thick soup.
15.
Garnish with a blob of whipped hung curd, cardamom powder, coriander leaves and olive oil.