Many classic cocktails contain lemon in some form - whether it's a dash of juice, a pinch of zest, a lemonade top-up or a rind as garnish. Lemon is wonderfully versatile, it can lend a light, refreshing note or a strong tanginess to your drink. But if you want a new sour ingredient for your cocktail, why not try kaffir lime? Kaffir lime is a citrus fruit from Southeast Asia. Sometimes called "makrut lime" or "Thai lime," it is a common ingredient in Thai, Indonesian, Vietnamese, Malaysian and Burmese cuisine. Its leaves (fresh, dried or grounded) are popularly used to flavour curries. Its zest is used in ways similar to lemon zest and can be added to anything from stir-fried veggies to desserts. You can also use it to make rejuvenating coolers and fun cocktails.


Also read: 11 Best Cocktail Recipes | Easy Cocktail Recipes


The aromatic Kaffir lime can be incorporated into your cocktail in many ways. For some drinks, you can simply swap common lime juice for kaffir lime juice. In others, you can use its leaves to add a deeper flavour and a hint of bitterness. You can also make kaffir lime-infused liquor at home. Intrigued? Here are 5 easy recipes for cocktails with kaffir lime to get you started:
Here're 5 Quick Kaffir Lime Cocktail Recipes:
1. Kaffir Mojito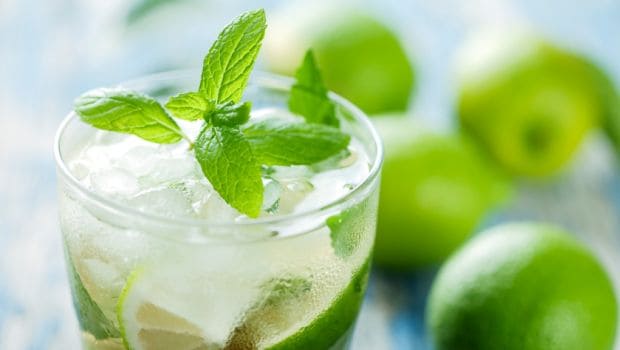 This Kaffir Mojito is a twist on the classic summer cocktail. To make this new kind of mojito, you need to muddle mint leaves, kaffir lime leaves, and lemon wedges. Once the sugar has melted, add ice cubes and pour the white rum. Top up with club soda and garnish with mint leaves. Click here for the full recipe.
2. Kaffir Mule
You may have heard of Moscow Mule or Mexican Mule. But have you tried a Kaffir Mule? For this drink, you need kaffir lime-infused vodka. Don't worry about sourcing it - you can easily make it at home. All you have to do is add vodka and kaffir lime leaves to an airtight container and shake it a few times each day for a week. To make the cocktail, pour the infused vodka into a glass with ice cubes. Add lime juice, squeezed lemon wedge and ginger beer into the glass. Stir and top up with a little club soda if you like. Garnish with kaffir lime leaves. Click here for the full recipe.
3. Hystrix Highball
This cocktail has a silky mouthfeel with hints of vanilla, honey and ginger. Rum, lemon juice, kaffir lime leaves, and Stillabunt are first shaken thoroughly. They are then reverse shaken (shaken with ice, and then without). Finally, it is strained twice and served in a Koto Cut Highball glass. You can garnish it with a kaffir lime leaf and vanilla sprinkles. Click here for the full recipe.


Also read: 5 DIY Cocktail Recipes With A South Indian Twist
4. Phi Ferries Cocktail
This cocktail has been named after Phi Phi Islands, an island group between Phuket and Thailand. This tropical cocktail has a fruity yet spicy hit. To make this drink, add four ice cubes along with vodka, lychee juice, pods of Thai chilli, lime juice and kaffir lime leaves in a shaker. Chill a cocktail or tiki glass and keep it ready. Shake well and finely strain the drink into the glass. Garnish it with 1/2 slit of chilli. Click here for the full recipe.
5. Flavours Of Democracy Cocktail
This colourful cocktail has a fantastic combination of flavours. It can also be enjoyed as a non-alcoholic cooler (simply don't add the alcohol). To make the Flavours Of Democracy Cocktail, add mint, basil, kaffir lime leaves, elderflower, lime and gin/tequila (or any liquor of your choice) into a shaker. Shake well and pour it into a G&T glass. Make layers of crushed ice, pour orange oleo saccharum and top with Sprite. Click here for the full recipe.


Which of these cocktails are you tempted to try first? Let us know in the comments.


About Toshita SahniToshita is fuelled by wordplay, wanderlust, wonderment and Alliteration. When she is not blissfully contemplating her next meal, she enjoys reading novels and roaming around the city.