Indian cuisine is world famous for its spicy and rich foods; and much of the richness comes from oil, which is usually a tad bit too much. We have always enjoyed the depth and body of our hefty desi meals. But now our preferences are gradually shifting toward healthy eating. The sight of excess oil floating on top of our meals sends our brain rattling over the thought of weight gain. Our minds may change but habits die hard. We still tend to pour more oil than intended while cooking. We still jump to grab a fried snack when famished only to be struck with guilt later.


Does this all sound familiar? We understand the trepidations of sticking to a light diet. It may not be always possible to eat sans oil but it's possible to remove extra oil from cooked food when realisation strikes hard.


Also Read: Olive Oil, Coconut Oil Or Canola Oil: Which One Is The Healthiest Cooking Oil? Find In This Video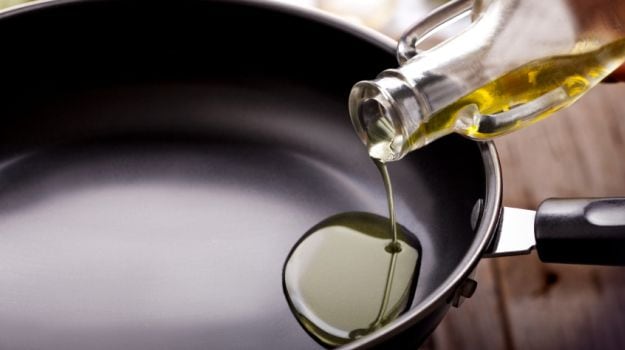 Here're 5 Hacks To Remove Excess Oil From Cooked Food:
Use Absorbent Paper Towels:
It's a simple trick that is used in many households. When it's impossible to curb the craving to bite into a crunchy, deep-fried snack, you can place the food on an absorbent paper right after pulling it out from the oil after frying. The paper absorbs oil which has not yet seeped into the food and is still present on the surface. The same can be used for dry vegetables.
Soak With Tissue While Cooking:
It happens more often than we'd like to admit. We heat the oil, put in our spices and onions, and notice that the quantity of oil is more than required. What to do then? Take a paper napkin, fold it into a serviette and scoop out extra oil from the pan before you throw in the veggies and/or meat.
Scoop It Out With Ladle:
It may be a homemade curry or the one you ordered from a restaurant. Many times, you see a thick layer of oil floating on the top. Take a ladle and press it against the dish so that oil is squeezed out and is fills up the ladle. Now simply, discard the oil and enjoy your dish without much guilt.
Skim Off When Cold:
You can use this hack for curries, sauces and even chutneys. Refrigerate the dish and the extra oil will collect at the top forming a thick layer. Then simply skim off the entire hardened layer.
The Viral Ice Cube Trick:
You may have seen the video of this vial hack doing the rounds on the internet. The video shows a huge block of ice being dipped into a gravy. The excess oil immediately collects at the bottom of the ice. When the ice block is pulled out, oil comes out with it. Watch the video here.


When there's food, there are always some hacks to make it better; in this case, healthier. Try these tips to consume less oil and enjoy your meal with all your heart.