Christmas 2022 is just around the corner and the preparations have already started. As the air turns chilly and festive tidings beckon us to huddle around our room heaters, we can't help but dream about quaint fireplaces decorated with socks and wreaths hung on doors, as well as lit Christmas tree with a big pile of gifts under it. Food is a big part of Christmas celebrations, which is a festival that celebrates joy and togetherness. Plum cakes, gingerbreads and rum cakes are some popular delicacies, but you can find them at every Christmas party. If you are looking to make something different for your Christmas party, then here we have some recipe ideas that you can try. Not only these recipes are quick and easy to make but are also quite delicious. This year you can put away the long grocery list and make instant and yummy food at home with everyday ingredients.
Here Are 5 Indian Recipes To Fill Your Christmas Dinner Table:
1. Instant Kalakand
Kalakand is one of the most popular Indian sweets. The traditional way of making this sweet is a long procedure and takes quite some time. But with this recipe, you can make


Ingredients
Ghee/Clarified Butter - 2 Tablespoons for Mixture and as required for Greasing
Milk - 1/2 Cup
Sugar - 1/2 Cup
Milk Powder - 1 Cup
Cardamom Powder - 1 Teaspoon
Paneer/Cottage Cheese - 1 Cup Crumbled
Dry Fruits (Cashew, Pistachio) - Chopped as required
Instructions:
Boil the milk and add lemon juice to it.
Further, drain off the curdled milk using a strainer and rinse the chena with cold water properly to remove its lemon flavour.
Strain it properly again using a strainer and keep it aside. Paneer/chena is ready.
Heat ghee in a pan. Keep the flame low.
Add milk and sugar. Stir it continuously on a low flame for a few seconds until the sugar melts.
Add milk powder and mix it on a low flame. Stir it continuously for 5 to 7 minutes.
Now, add cardamom powder and paneer. Stir it continuously until the mixture leaves the pan.
The mixture should not look dry, and some moisture should be there. Turn off the flame when it gets a granular texture.
Now, take a baking tray and grease it with the ghee. Place the butter paper and grease it with ghee.
Further, transfer the mixture to the baking tray and spread it evenly. Apply ghee to the spatula, which helps to set the mixture properly.
Now, garnish it with dry fruits. Allow it to set, in the refrigerator for an hour or at the kitchen top for 2 to 3 hours.
When set, cut it into small pieces.
Delicious Kalakand|Milk Powder Kalakand|Instant Kalakand is ready to be served.


(Also Read: Christmas 2022: 54 Places Across India Offering Christmas-Special Deals)
2. Instant Dahi Bade
Fluffy, melt-in-your-mouth dumplings dipped in creamy yogurt and topped with classic Indian chutneys, dahi vade never disappoints us. Here we bring a no-fire recipe for instant Dahi Bade. While you can make this dish on your special occasions and festivals, you can enjoy it any time of the year.


Ingredients:
Bread - 6 Slices
Water - To Soak Bread Slices
FOR STUFFING:
Cashew/Kaju - 4-5 Finely Chopped
Raisins/Kishmish - 7-8
FOR GARNISHING:
Sweetened Curd/Mitha Dahi - 1 Cup
Tamarind Chutney - 2 Tablespoon
Coriander - Mint Green Chutney - 2 Tablespoon
Salt - 1 Pinch
Red Chilli Powder - 1 Teaspoon
Roasted Cumin Powder/Jeera Powder - 1 Teaspoon
Nylon Sev - as required
Coriander Leaves/Hara Dhaniya - as required
Instructions:
Take the bread slices, cut their edges, dip them in water, and then squeeze out the water by pressing them between your palms.
Put cashew and raisins in the middle of a bread slice and carefully fold its corners inside and shape it like a vada.
Repeat this method to prepare more vadas from the bread. Arrange them on a serving plate.
Pour sweetened curd, tamarind chutney, and coriander-mint green chutney on all the vadas.
Sprinkle salt, red chilli powder, cumin powder, nylon sev, and coriander leaves on the vadas.
'Instant Dahi Bade' are ready to be served.
(Also Read: 7 Best Rum Cocktails Recipes For A Spirited Christmas Celebration)
3. Roasted Masala Peanuts
Masala Peanuts are a crunchy and flavourful snack. It requires only three ingredients, some spices, and only 10 minutes to prepare. The peanuts are coated with besan/gram, rice flour, and some spices and then deep-fried. You can have it as is or make chaat using it.


Ingredients:
Peanuts/Munfali - 1 Cup
Besan/Gram Flour - 1/2 Cup
Chawal ka Aata/Rice flour - 1/4 Cup
Oil - 1-2 Teaspoon + for Frying
Red Chili Powder - 1/2 Teaspoon or as per taste
Haldi/Turmeric Powder - 1/4 Teaspoon
Salt - as per taste
Asafoetida/Hing - 1/4 Teaspoon
Curry Leaves - a Handful
Instructions:
Roast the peanuts a little bit on a low flame. Then let them cool. This process is, however, completely optional.
In a bowl, add and mix well besan/gram flour, rice flour, red chilli powder, turmeric powder, salt, and asafoetida.
Add 1 to 2 teaspoons of oil to the roasted peanuts. Mix well.
Then, add the besan mixture to it and mix well. Add little water at a time so that each and every peanut is coated with the masala. Make sure that the besan mixture is neither too wet nor too dry.
Meanwhile, heat oil for frying.
Lower the flame and add peanuts one by one for frying. Fry them on a medium flame until they are light brown. Then, take them out on a plate.
Fry the curry leaves in hot oil until crispy. Add them to the masala peanuts.
Masala Peanuts is ready to be served. Keep it in an airtight container to retain its crispiness for a longer time.
(Also Read: Christmas 2022: 5 Delicious Appetiser Recipes To Light Up Your Christmas Party)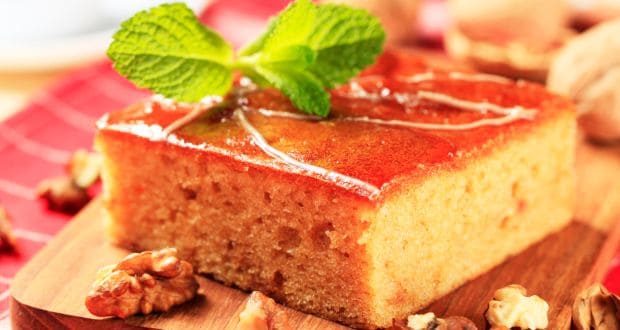 4. Eggless Rava Cake
Suji Moist Cake (or Eggless Rava Cake) is an instant cake made using rava (suji), whole wheat flour and curd. It is one of the cake recipes that is just perfect for every beginner baker to start baking. Moreover, you do not need any specific set of measuring cups you can use any small bowl from your kitchen. So, try to make this cake for your family and friends. Don't forget to share your valuable feedback with us.


Ingredients:
Fine Semolina/Suji/Rava - 1 cup
Whole Wheat Flour/Gehu ka Aata - 1/2 cup
Powdered Sugar/ Pisi Hui Shakkar - 3/4 cup
Salt/Namak - a pinch
Curd/Dahi - 1 Cup Whisked
Vanilla Essence - 1/2 tsp
Olive Oil - 3/4 Cup
Milk - 1/2 Cup
Baking Powder - 1 Tsp
Baking Soda - 1/2 Tsp
Clarified Butter/Ghee - as required
Pistachio/Pista - Finely Chopped
FOR PREPARING SUGAR SYRUP:
Water - 1/2 cup
Sugar/Sakkar - 2 Tsp
Lemon Juice/Nimbu ka Ras - of 1/2 Lemon
Tsp = Teaspoon
Tbsp = Tablespoon
Instructions:
Preheat the oven to 180 degrees Celsius for 10 minutes.
Meanwhile, take a bowl and put a sieve in it. Add semolina and whole wheat flour in it and sieve it.
Add sugar to a sieve to get fine sugar powder. Now add salt, curd, and vanilla essence. Mix well.
Add olive oil. Then add milk gradually to prepare a medium-thick batter. Now add baking powder and baking soda.
Take a cake tin and grease it with ghee. Put butter paper into it and grease it with ghee also. Pour the batter into it. Now tap the cake tin 2 to 3 times.
Put the cake tin in the oven for baking. Bake the cake at 180 degrees Celsius for 45 minutes.
Once baked, take out the cake tin from the oven and let it cool down to room temperature. De-mould the cake and remove the butter paper. Take it out to a serving plate.
Meanwhile, take water and sugar in a bowl to prepare sugar syrup. Heat it on medium flame till it starts to boil. Then add lemon juice.
Pour the sugar syrup onto the baked cake. Garnish it with pistachio.
Suji Moist Cake is ready to be savoured.
(Also Read: Christmas 2022: Here Is Your Reminder To Soak Dry Fruits For Plum Cake)
5. Khaman Dhokla Cake
Soft and spongy khaman dhoklas are made with a combination of gram flour and water. Cook up some home comfort with this breezy recipe. If you have a time crunch? This super quick dhokla recipe takes just 15 minutes!


Ingredients:
Gram Flour/Besan - 1 Cup
Salt - As per taste
Citric Acid /Taatri - 1/2 teaspoon
Powdered Sugar - 1 Tablespoon
Turmeric Powder/Haldi Powder - 1/4 Teaspoon
Oil - 1 Tablespoon + For greasing
Water - 1 Cup
Fruit Salt - 1 Teaspoon
FOR PREPARING TADKA:
Oil - 1 Tablespoon
Mustard Seeds/Rai - 1 Teaspoon
Green Chilli/Hari Mirchi - 4-5 Slited
Curry Leaves/Curry Patta - a few
Water - 2 cups
Roasted Sesame Seeds / Til - 1 Teaspoon
Salt - as per taste
Sugar - 2 Teaspoons
Lemon Juice - of 1/2 lemon
Instructions:
Take gram flour in a big bowl. Add salt, citric acid, powdered sugar, turmeric powder, and oil. Mix well.
Then add water gradually to prepare the lumps-free batter. Mix the batter well with a beater/whisker for 4 to 5 minutes.
Add fruit salt to the batter. Add water to the fruit salt. Mix well. Grease a mould with oil.
Transfer the batter immediately to a greased mould. Tap it.
Meanwhile, boil water in a steamer. The khaman should be put in the steamer for steaming only after the water boils.
Place the mould in the steamer. Steam it on a medium flame for 12 to 15 minutes.
After 15 minutes, insert a toothpick to check. If it comes out clean, then it is perfectly cooked. Else steam it for 2 to 3 minutes more.
Now take it out from the steamer. Keep it aside and let it cool down. Then de-mould it and cut it.
FOR PREPARING TADKA:
Heat oil in a pan. Add mustard seeds, green chilli, curry leaves, and water. Mix well.
Then add salt, sugar, and sesame seeds. Mix well. Boil it. Then turn off the gas. Add lemon juice.
Pour tadka on the steamed khaman.
'Khaman Dhokla | Instant Gujarati Khaman' is ready to be served with green chutney.