A spoonful of chutney alongside your meal can amp up any dish with its sharpness, this is why we are always looking for excuses to prepare different kinds of chutneys. Mint chutney, imli chutney, tomato chutney, mango chutney, there are endless chutney recipes you can try making at home, just name it. Be it the flaky samosa, pakoda or a piping hot paratha, dal chawal, chutneys make all of it a tantalizing affair. If you also like to pair your favourite meal or snacks with flavourful chutney recipes, then we have a surprise for you all. Here we bring you a list of 5 mango chutney recipes you can make at home within a matter of minutes. All you need is a few mangoes, spices, oil and that's it!


Summer season is a time when we can enjoy mangoes in every form. Juicy and delectable, mango is also called the 'King of fruits'. It can be used in many delicacies be it curries, rice, desserts, chutney, achaar and many more such amazing recipes. For now, let's learn the process of making chutneys. Take a look.
Here's A List Of 5 Mango Chutney Recipes To Try At Home:
Our Recommendations:
Raw Mango Chutney
You would be surprised to know that this raw mango (kaccha aam) chutney can be easily prepared at home and you need not purchase it from the market each time you crave some. To prepare this, all you need is a handful of peeled and chopped raw mangoes, some mint leaves, garlic, green chillies and more easily available ingredients. Find the recipe here.
Instant Mango Chutney
If you want to avoid that lengthy process, here's an easy option to make instant mango chutney that goes well with your summer meals. This recipe can also be a quick solution when you run out of achaar-stock. Click here for the recipe.
Chhunddo (Mango Chutney)
This tangy chutney can brighten up a boring meal in just a few minutes. Made with raw mangoes, chillies, cumin, sugar and salt, it will leave your taste buds tingling with its sweet and tangy flavours. Find the recipe here.
Other Recipes You Must Try:
Mango Chutney with Mint
Chutney made from ambiya, mint and garlic. This is the perfect accompaniment to pair with starters and even lunch and dinner dishes along with some rice. This recipe is a summer special treat that you can even use to make a chilled beverage. Find the recipe here.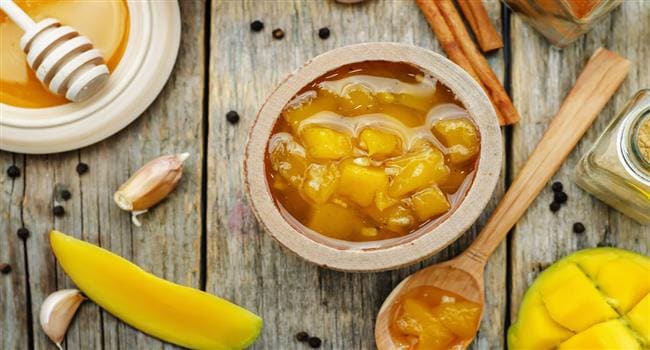 Mango-Coconut Chutney
Want subtle and mild flavours in a chutney? This mango chutney recipe with the addition of coconut is all you need. Pair it with idli, dosa, upma or anything you like. Click here for the recipe.


Head straight to the kitchen, try out these recipes and let us know your favourite one in the comment section below. Happy Summers!