When planning our weight loss diet, we all tend to focus on three of the most essential meals of the day: breakfast, lunch, and dinner. Hence, we overlook the possibility of hunger in-between meals. We eat whatever is available in our kitchen pantry along with a cup of tea. For instance, a bag of chips, biscuits, rusks and more. However, eating these snacks in the middle of your meticulously planned diet may have a negative impact on your efforts to lose weight. So, what should be done now? Should we skip having snacks in the evening? Well, no! You should rather look for recipes that require healthy ingredients and healthier cooking techniques. For instance, steamed snacks. When looking for a guilt-free indulgence, steamed foods like dhokla and idli are among the first few things that come to mind. We have shortlisted some more steamed snacks from across the nation that can be added to this list and may work well as part of your diet plan. They are all delicious and healthy options. Take a look below.
Here're 5 Steamed Snacks Recipes To Add To The Weight Loss Diet
1. Oats Idli
Let's kickstart the list with the recipe we love the most. Here we bring you a delicious low-calorie oats idli recipe that is just perfect for those who are on a weight loss journey. The savoury rice cake is perfectly steamed and extremely soft. It tastes best with hot sambar and chutney. Click here for Oats idli recipe.
2. Sooji Dhokla
Next, we'll show you how to make a Gujarati-style snack in less than 25 minutes. This sooji-based quick dhokla requires only 10 minutes to rest and firm up its batter. The remaining cooking time is only 10 minutes, and you will have soft and spongy market-style dhokla ready in minutes. Click here for Sooji Dhokla recipe.
3. Goan Sanna
Sanna is a savoury steamed bread that is closely related to the South Indian idli (or rice cake). It is also popular in Mangalore and other Indian coastal regions. While rice remains a staple ingredient, some cultures ferment it using urad dal, coconut milk, and coconut. Click here for the Goan Sanna recipe.
4. Uppu Urundai (South Indian-Style Steamed Rice Dumplings)
Uppu urundai is a steamed rice ball with mild spices that is tempered with curry leaves, mustard seeds, jeera seeds, chana and urad dal, and other ingredients. It is a simple recipe that can be made in under 30 minutes. Click here for Uppu Urundai recipe.
5. Besan Khandvi
Khandvi is another well-liked Gujarati snack that is softer and more tender than dhokla. It is made with sour curd and besan (gram flour), and the flavour is enhanced by a spicy tempering. Click here for Besan Khandvi recipe.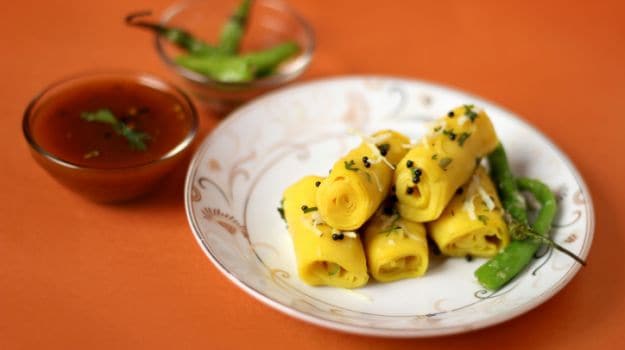 Try these recipes out and let us know how you all liked them in the comments below.