Essential
oils
have been used as natural medicine as part of aromatherapy for many years. They offer great health benefits for your
skin
and hair. They can soothe and rejuvenate your body and mind with the help of the naturally-occurring volatile aroma compounds that they contain. These are natural oils that are obtained by distillation of a particular plant and they retain the characteristic scent or 'essence' of the source from where they have been extracted. Besides being used as a beauty ingredient and for therapeutic purposes, some essential oils can also be used for cooking. If you're new to essential oils and are trying them for the first time, here are some tips that you must keep in mind. 1. Edible
essential oils
like peppermint or lemon essential oil add a very strong flavour and aroma to your dish. Therefore, be careful while using them. Just one or two drops may be enough and later, you can add to taste. Try buying pure organic certified essential oils that may have better quality than the others. 2. You can drizzle some essential oil such as rosemary oil over your
salad
or soup for an extra punch. But remember, while cooking add the essential oil only towards the end when you have removed the dish from
fire
as heat may destroy its delicate aroma and its therapeutic qualities. 3. When using essential oils like tea tree oil or lavender oil for their beauty benefits, make sure you mix it with a carrier oil like coconut oil, or olive oil. Essential oils are volatile in nature and are not meant to be applied to your skin directly as it may cause irritation and a burning sensation. Again, just a few drops should be enough. ( Also Read:
8 Incredible Mustard Oil Benefits that Make It So Popular
)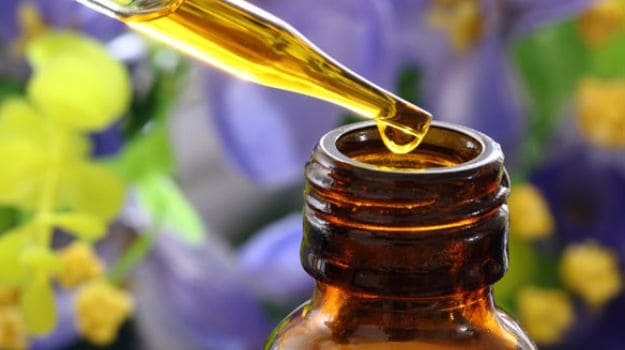 Essential oils have a long shelf life and can last you for years
4. If you are using essential oils for
beauty
purposes, do a patch test to decide if the particular oil suits your skin type. Try it on your inner forearm. If you experience any irritation, burning or
redness
, avoid using the oil on your skin. 5.You can even use an essential oil for medicinal purposes which is also known as aromatherapy. Have a
headache
? Add a few drops of peppermint essential to a bowl of hot water and inhale the steam while covering your head. Sleep trouble or
stressed
? Spray some lavender essential oil on your pillow to sleep peacefully or rub some on your feet and temples for an immediate calming effect. 6. Essential oils have a long shelf life and can last you for years if you store them correctly. They should ideally be placed in glass bottles in a cool, dark place as the
sunlight
may affect their potency. This is why they are often sold in dark coloured bottles. Moreover, citrus essential oils like
lemon
grass essential oil, grapefruit essential oil or tangerine essential should be refrigerated to prevent oxidation. Have any queries about the use of essential oils? Let us know.