80% Indians Suffer from Protein Deficiency, Reveals Survey
NDTV Food | Updated: June 02, 2015 20:22 IST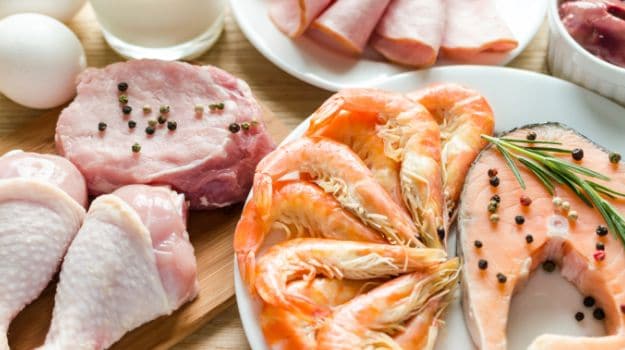 A recent survey titled 'Protein Consumption in Diet of Adult Indians: A General Consumer Survey (PRODIGY) has brought to light striking observations regarding the protein intake in India. It indicates that 9 out of 10 people of the sample consumed inadequate amount of protein.

The survey was conducted with the help of samples of 1260 respondents of a consumer group of an males and females belonging to age group of 30-55 years and of socio economic class A and B of seven major cities of India (Ahmedabad, Delhi, Chennai, Kolkata, Lucknow, Mumbai and Vijaywada).

It was undertaken by the Indian Market Research Bureau with a grant from Nutricia International Private Limited, India. The survey revealed that the amount of protein consumed in India is low. Through a household survey, the consumers were contacted for their 24 hour dietary recall and the total protein content in their diets was calculated using an internally developed calculator.

(High Protein Diets May Lower Blood Pressure)

Of the total samples, 41 percent were vegetarians and 59 percent non-vegetarians. Vegetarians showed a higher protein deficit (91%) as compared to non-vegetarians (85%). Disparities were also noticed in different age groups and regions. The lower age group of 30-40 years showed a better than average protein intake at 82%. Regionally, Delhi recorded an astonishingly high protein gap at 99% and Mumbai showed the lowest at 68% of the sample. It was also found that there is an unmet demand in pregnancy and high risk of deficiency in the tribal adult population.
According to Dr. Anju Sood, a Bangalore-based nutritionist, "Protein deficiency is increasing due to the switch to 'convenience' foods that are high in carbohydrates and simple sugars and low in protein content, consequently causing an increase in lifestyle problems. By 2020, India is anticipated to be the leading country in metabolic syndrome and lifestyle problems."

(8 Protein-Rich Foods to Gorge On)

When inquired whether people took protein supplements to compensate for the deficit, positive response was received from only 5 percent of the respondents, of which nearly 3.5 percent were women.

(Protein Snacks: The Smart Way to Keep a Check on Obesity in Kids)

Dr. Sood explains that for the average adult male, ideal protein intake is anything between 1.5-2 g/kg of body weight/day and for an average adult woman, ideal protein intake is between 1-1/5 g/kg of body weight/day. Any intake lesser than that leads to difficulty in performing daily tasks as protein is essential for all activities of the body, including hormone and enzyme function.

(Why You Should Eat More Protein)

There is a general lack of knowledge regarding protein intake with the staggering 67 percent of the sample in the west zone who did not consume protein supplements claiming that their regular food provided them with sufficient protein nutrition. PRODIGY found that 73 percent respondents in the west zone were unaware of the ideal protein intake for an average adult, as compared to the 98 percent in the north zone. For vegetarians, the best sources of protein are milk, green leafy vegetables and pulses, while on-vegetarians should go for eggs, chicken and fish.

(Consuming Protein is the Best Way to Build Muscles)

The survey concluded by stating that further studies are required in order to elaborate on protein quality and outcomes.

With inputs from IANS