Summers are finally here and by now you must have already stocked your freezers with as many ice-trays as possible. It is hard to survive the scorching heat without dunking a handful of ice cubes to cool our drinks and our mind. But this time around, why not have some fun? Ditch the boring water and use these interesting ideas to freeze ice cubes that can also add some flavour to your beverages.
1. Mint Ice Cubes
Add some minty zest to your regular water. These
mint
cubes are perfect for everything - right from your mojitos to iced-teas or simple
lemonade.
Just grab and ice tray fill the tray with water, add some shredded mint leaves or whole mint leaves in each block and freeze. Refreshing and delightful.
2. Lime Ice Cubes
The lemonade and summer association needs no lengthy description. A quick lime drink not only keeps you calm and cool but it also serves as a great
detox drink
. To make sure you don't run out of this summer favourite, freeze it. Just pour some pre-made lemonade in one of the ice cubes, freeze overnight and use them with water whenever you want.
3. Masala Tea Ice Cubes
Iced tea lovers raise your hands! Just pour your favourite
masala tea
, in the ice trays and freeze for a few hours, add it to a glass of milk whenever you'd like and enjoy.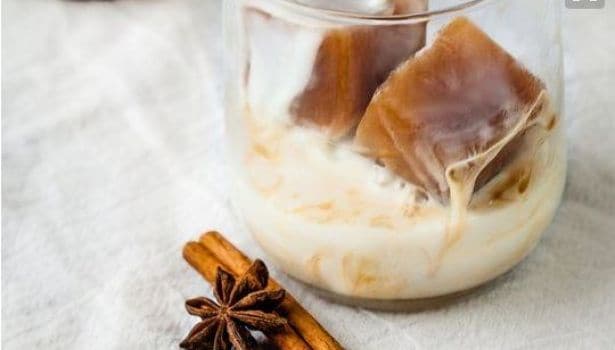 Photo credit: Pinterest/Anjali Prasertong
For the chai: In a sauce pan, take water and add the spices (1 whole star anise, 1 whole cardamom stick, 3-4 whole cloves, 4-5 black pepper corns, 2-3 thin shavings of fresh
ginger
root) and sugar for taste and bring it to boil. Add some milk. Simmer on low temperature. Then add about 3-4 tablespoons of loose leaf black tea. Strain out the tea leaves and spices, and pour your tea in a container, let it cool and pour it in your ice-cube tray. There you have it, your masala tea ice-cubes. Dunk them in a glass of water or milk and enjoy.
4. Fruit Juice Ice Cubes
Love fresh
fruit juices
? You can freeze various juices be that of oranges, watermelons, grapes or apples or you can even place them in layers in one single block of the ice cube tray.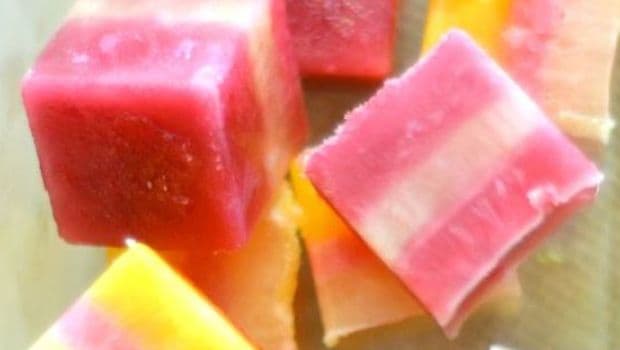 Photo credit:Pinterest/Best Comfort Foods
5. Floral Ice Cubes
Edible flower ice cubes are slowly becoming a rage. Use flowers of any edible variety like violets, lavenders, orchids or pansies. Separate the petals from larger flowers and place them in the blocks with water. Freeze overnight.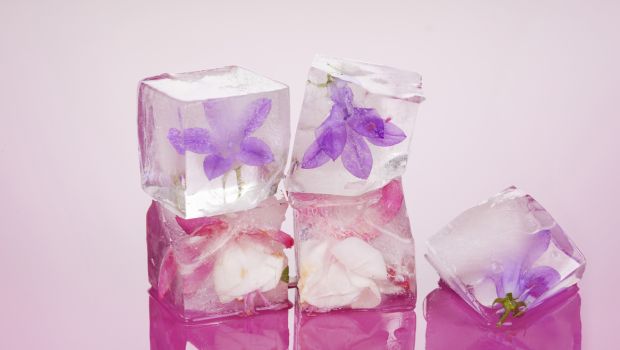 You definitely want these beautiful ice cubes in your glass
6. Berry Cubes
Freeze the goodness of whole berries like strawberries,
blueberries
and blackberries or more seasonal Indian berries like mulberries or jamun in an ice-tray with water and have a berry blast.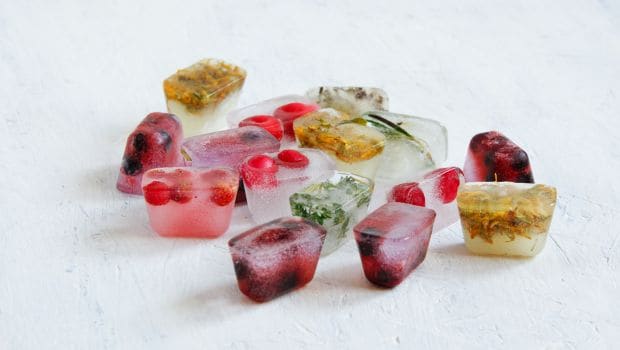 7. Frappuchino-Latte Ice Cubes
Good news for
cold coffee
lovers! Just fill the ice cube trays half full with brewed coffee and allow it to freeze. Pour milk over the remaining half of the tray and freeze again. Blend these ice cubes with your latte and recharge yourself.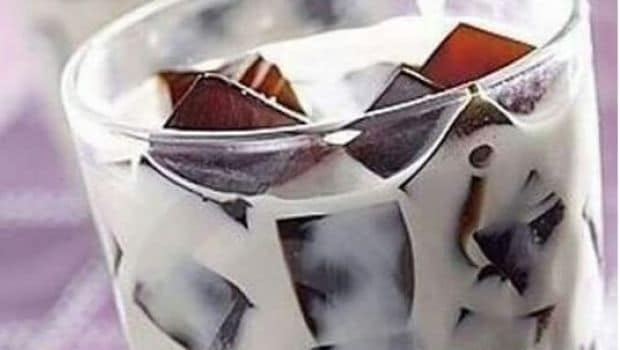 Photo credit: Pinterest
8.Smoothie Ice Cubes
If we can have fruit juice ice cubes, a fruit
smoothie
ice-cube should not be a far-fetched an idea. Just blend your favourite smoothie, and pour the left over in one of the ice-cube trays. Put these cubes in milk or another glass of smoothie (to prevent the regular ice-cubes to water down and dilute the goodness of your smoothie). Sip and slurp.
9. Frozen Hot Chocolate Ice Cubes
Freeze concentrated hot chocolate for later use. Just heat up some milk (2 cups) in a saucepan or microwave, until hot and not boiling. Stir in about 2 tablespoons unsweetened cocoa powder and some vanilla essence for taste. Pour the hot chocolate carefully in the tray. Freeze and enjoy it with your cup of milk.
This summer, put your thinking caps on and do something creative.
About Sushmita SenguptaSharing a strong penchant for food, Sushmita loves all things good, cheesy and greasy. Her other favourite pastime activities other than discussing food includes, reading, watching movies and binge-watching TV shows.