Ever since we were in high school, my friend Zoe and I have had a very special birthday tradition.A world traveler, she always finds some perfect article of clothing for me on her trips, be it a vintage purse at a flea market in Germany or a handmade alpaca wool poncho from Peru. In return, I try to bake her something I've invented just for her. When I was a teenager, that meant butterscotch-chip snickerdoodles. Nowadays I get more elaborate, like the four-layer cake based on the Indian cheese dumpling dessert called ras malai.This was her idea, sort of. After declaring ras malai to be her favorite sweet of all time, she asked if I could whip up a batch for her birthday party.The recipe calls for making homemade soft cheese, poaching patties of it in sugar syrup, then floating them in cardamom-scented milk syrup and garnishing it all with chopped pistachios. It wasn't hard, but it was something I had never done before, and I wasn't keen on trying it for the first time for a group of 12. So instead, I adapted the elements to a layer cake, which fell more squarely in my comfort zone.I started with the lightest, whitest cake, made with all egg whites and no yolks for supreme fluffiness. It acted as a sponge for the milk syrup, made by simmering down whole milk, cardamom pods and sugar until the mixture thickened, then spiking it with rose water. In addition to adding flavor and sweetness, the milk syrup helped preserve the cake layers and keep them moist, so I could make them a couple of days ahead.As for the fresh cheese filling, I bought high-quality ricotta instead of making my own chenna. Then I beat the curds with sugar until everything was perfectly silky smooth. For the frosting, I riffed on a cream-cheese buttercream using mascarpone, which is more delicate and better able to highlight all the rose water and cardamom.Then finally, for both color and a bit of crunch, I sprinkled the top of the cake with chopped pistachios and candied rose petals. It was a creamy beauty adorned in shades of pink and green, almost like the paisley blouse she once found for me in Marseille.Although layer cakes are most closely associated with birthdays, this cloudlike confection would be fitting at any festive gathering. Which makes it ideal for the holidays — or anytime you want to treat the special people in your life.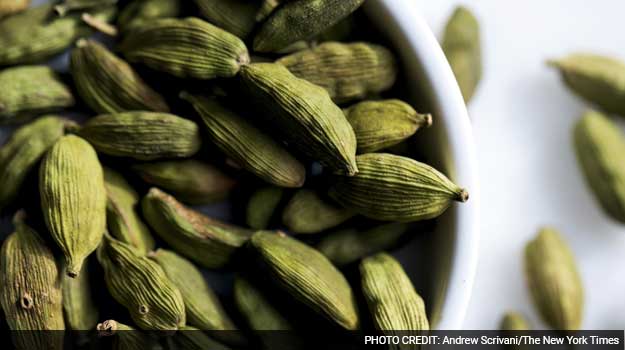 Carda­mom pods for a milk syrup to be used on a carda­mom cream cake in New York, Dec. 3, 2015. Sprin­kling chopp­ed pista­chios and candi­ed rose petal­s on top creat­es a cream­y beaut­y adorn­ed in shade­s of pink and green­. (Andr­ew Scriv­ani/T­he New York Times)
Cardamom Cream Cake
Time: 2 1/2 hours, plus coolingYield: 8 to 10 servingsFor the ricotta filling:1 1/2 pounds/680 grams fresh whole-milk ricotta (2 1/2 cups)1/2 cup/120 milliliters heavy cream3/4 cup/95 grams confectioners' sugar1 teaspoon rose water, or to taste (see note)
For the milk syrup:
2 cups/475 milliliters whole milk4 cardamom pods6 tablespoons/75 grams granulated sugar1 1/2 teaspoons rose water, or to taste
For the cake:
12 tablespoons/170 grams unsalted butter, softened (1 1/2 sticks), more for greasing pan3 cups/330 grams cake flour, more for flouring pan4 large egg whites1 cup/240 milliliters whole milk1/2 teaspoon vanilla extract1/2 teaspoon rose water1 1/2 cups/300 grams granulated sugar1 tablespoon plus 1 teaspoon/20 grams baking powder1/2 teaspoon ground cardamom1/4 teaspoon fine sea salt
For the mascarpone frosting:
12 tablespoons/170 grams unsalted butter, softened (1 1/2 sticks)1 cup/125 grams confectioners' sugar1 teaspoon rose water, or to taste1/2 teaspoon ground cardamom1 cup/240 milliliters cold mascarpone1/4 cup/60 milliliters cold Greek yogurt1/3 cup/50 grams pistachios, toasted and chopped Candied rose petals, for garnish (optional)
Ricot­ta and rosew­ater filli­ng is added to a carda­mom cream cake in New York, Dec. 3, 2015. Sprin­kling chopp­ed pista­chios and candi­ed rose petal­s on top creat­es a cream­y beaut­y adorn­ed in shade­s of pink and green­. (Andr­ew Scriv­ani/T­he New York ­Times­)
1. Drain the ricotta in a fine mesh sieve placed in a large bowl for one to two hours until very thick. If you've bought very thick, very freshly made ricotta from a specialty shop (not the kind from the supermarket), you can skip this step.2. Meanwhile, make the milk syrup: In a small saucepan, combine milk and cardamom pods. Bring to a boil, then reduce heat and simmer until it reduces by half, 30 to 45 minutes. Stir in sugar until it dissolves, then keep simmering until mixture thickens to the texture of half and half, about 10 minutes longer. Let cool, strain to remove cardamom and any coagulated milk, then stir in rose water. (Syrup can be made up to three days ahead and refrigerated.)3. Make the cake: Heat the oven to 350 degrees. Grease two 9-inch cake pans, line the bottoms with parchment paper; grease the parchment. Flour the entire pan and parchment paper, tapping out any excess.4. In a medium bowl, lightly whisk together egg whites, milk, vanilla and rose water.5. Using an electric mixer, combine flour, sugar, baking powder, cardamom and salt, and mix on low speed for 30 seconds to blend.6. Add butter and about a third of the milk-egg white mixture. Mix on low speed until dry ingredients are moistened. Increase to medium speed and beat for a minute or so until everything is very smooth. Scrape down sides and bottom of the bowl.7. Add remaining milk mixture in three batches, beating well in between additions. Scrape down sides.8. Transfer batter to the prepared pans and smooth the surface with a spatula. Bake until a tester inserted near the center comes out clean and the cake springs back when pressed lightly in the center, 25 to 35 minutes. The cakes should start to shrink from the sides of the pans only after removal from the oven. Let the cakes cool in the pans on racks for 20 minutes, then unmold and cool completely.9. Make the ricotta filling: Using an electric mixer fitted with the whisk attachment, beat ricotta, cream and confectioners' sugar until quite smooth, about 30 seconds. Beat in rose water to taste. Beat on medium-high speed for 30 seconds to 1 minute. Mixture will thicken.10. Make the mascarpone frosting: Using an electric mixer fitted with the paddle attachment, beat butter, confectioners' sugar, rose water and cardamom until fluffy, about 2 minutes. On low speed, beat in mascarpone and yogurt until mixture is just combined and looks smooth. Do not overbeat or mixture may curdle.11. When the cakes have cooled, use a long serrated knife to trim the tops of the cakes, so they are flat and even. Cut each cake in half into two layers, to make a four-layer cake. Brush layers on all sides with milk syrup. Place one cake round on a cake stand or serving platter, then top with one-third of the ricotta filling, leaving a small border around the edge of the cake. Repeat with remaining cake layers and filling.12. Frost top and sides of the cake with mascarpone frosting. Top with chopped pistachios and candied rose petals, if using. Chill until ready to serve.
Note: If you'd prefer not to use rose water in any part of the recipe, you can substitute vanilla extract or brandy in the same amounts.
© 2015 New York Times News Service