A Steamed Lamb Shoulder, Moroccan Style
David Tanis, The New York Times | Updated: July 13, 2017 16:07 IST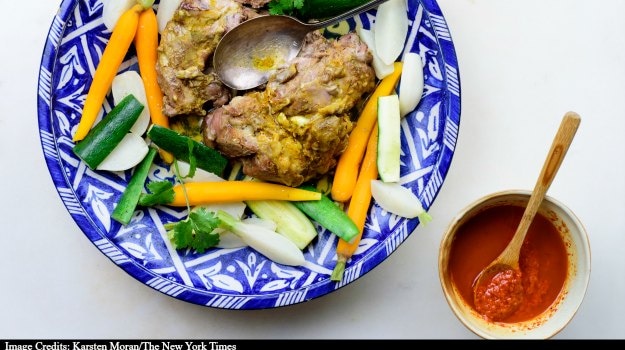 If lamb chops or leg of lamb are the only parts of the beast you eat, you're missing out. Shanks, coaxed to tenderness, are wonderful. Fans of Irish stew will tell you the neck is the best choice. Kidney, liver, tongue and heart are delectable and mild-tasting. But the most versatile cut of all is the shoulder.

Shoulder of lamb has fat marbled throughout, which makes it great for braising and for burgers. But a shoulder is also delicious roasted medium-rare, especially a boneless shoulder, which can be stuffed with chopped garlic and herbs, or any other seasoning you desire. While the slices may not be as perfect as those from the hind leg, the flavor is extraordinary. And the price of a shoulder is considerably less than a prime-cut leg.

In Morocco, lamb is found in the form of spicy simmered tagines or a whole lamb spit-roasted for hours to make the group-friendly celebratory méchoui. But many cooks there are fond of steamed lamb. Once you taste it, you will be, too.

The idea is simple. Put a seasoned lamb shoulder in the basket of a large-ish steamer. (I used the steamer part of a spaghetti pot.) Keep the water in the bottom of the steamer boiling briskly for 2 1/2 to 3 hours. It may sound strange, but with this technique, the meat will emerge with falling-off-the-bone succulence (even if you use a boneless shoulder), quite unlike an ordinary braise.

To cut the cooking time in half, some Moroccan cooks use a pressure cooker, but I don't mind waiting a bit longer. The lamb basically takes care of itself without much supervision.
To accompany the lamb, steam some vegetables. The typical Moroccan vegetables would be carrots, turnips and zucchini. Chickpeas would not be out of place, nor would steamed little onions. Traditionally, the lamb is slathered with saffron butter before the steaming begins, but I prefer to dab the meat and vegetables with the luscious flavored butter just before serving.

It is also customary to offer little bowls of salt and cumin at the table, of which I heartily approve. But a little drizzle of my harissa-like red pepper sauce makes a fine condiment, too, at least to my Yankee sensibilities. Oh, and by the way, if you need any further persuading, know that the leftover meat makes a great taco filling.

Moroccan Steamed Lamb Shoulder

Ingredients

For the lamb:

1 tied boneless lamb shoulder roast, about 4 pounds

1 tablespoon kosher salt

1 teaspoon ground cumin

1 teaspoon ground coriander

1/2 pound young carrots, cut in 2-inch batons

1/2 pound medium turnips

1 pound zucchini, cut in 2-inch batons

Cilantro sprigs, for garnish

For the saffron butter:

Pinch of saffron

4 tablespoons unsalted butter, softened

1/2 teaspoon ground cumin

1/2 teaspoon salt

For the red pepper oil:

1 sweet red pepper, roasted, peeled and chopped, about 1/2 cup

1 small garlic clove, smashed to a paste

1/4 teaspoon cayenne

1/2 teaspoon ground cumin

1/2 cup olive oil

Salt to taste

1. Season the lamb: Mix the salt with cumin and coriander, then rub mixture over surface of meat. Cover and leave at room temperature for 1 hour (or cover and refrigerate several hours or overnight, then bring to room temperature).

2. Set up a steamer with abundant boiling water and steamer basket above water level. Put lamb in steamer, cover tightly and steam over medium-high heat until lamb is quite tender and nearly falling apart, 2 1/2 to 3 hours. (Alternatively, steam lamb in a pressure cooker for about 1 1/2 hours.)

3. Make the saffron butter: Put a teaspoon of water in a small bowl and add crumbled saffron threads. When saffron has released its color, add butter, cumin and salt, then mash together with a small spoon. Leave at room temperature.

4. Make the red pepper oil: Whirl chopped pepper, garlic, cayenne, cumin and olive oil in a food processor or blender. Transfer to a serving bowl and season with salt.

5. When lamb is almost done, add carrots, turnips and zucchini to steamer and cook until softened, about 10 minutes. (Alternatively, cook vegetables in separate steamer or simmer in lightly salted water.)

6. Put lamb on a large serving platter, cut into rough chunks and surround with vegetables. Smear surface of lamb with saffron butter. Ladle a bit of lamb broth from bottom of steamer over vegetables (save remaining broth for another purpose). Garnish with cilantro sprigs. Serve red pepper sauce alongside.

Tip

Use extreme caution when removing the lid of the steamer, keeping hands and arms out of the way. Hot blasting steam can cause severe burns.

© 2015 The New York Times News Service