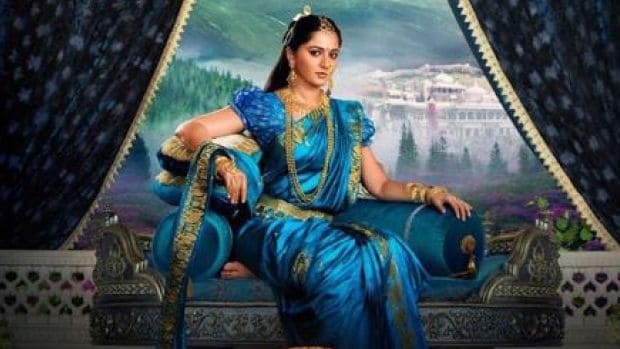 The first part of the franchise saw Anushka Shetty doing justice to the role of a tormented widow, held prisoner by Bhallala Deva - played by Rana Daggubati - the cruel king of Mahishmati. The second part shows Devsena in all her regal glory and youthful beauty. Here's what Anushka Shetty underwent in terms of fitness and diet to do justice to the transformation. Her look as the warrior princess and queen was shared by the production house on social media, and the fans went crazy.

(Also read:Sneaking In Tamannaah Bhatia's Fitness and Diet Secrets)

The thirty three year old actress, regards Baahubali as one of the best roles to have come her way.
To portray a whole arc of a woman's life, from being a young girl to a woman and a mother has been a beautiful journey for the actress. The professional that she is, Anushka didn't mind going absolutely
de-glam for the part as the widow, in the first installment of Baahubali, and for the upcoming installment the actress went through an intensive weight loss regime to do justice to the part of the youthful princess. Anushka trained herself in archery, horse riding and sword fighting for her part in Baahubali 2. The actress, who gained twenty kg for a role for her previous movie 'Size Zero', shed it with rigorous fitness exercises. She even to flew to the U.S to enroll herself for a special weight loss programme.

(Also read: Baahubali 2 - The Conclusion: Prabhas' Incredieble Fitness Regime for the Movie)

The stunner had been very conscious of her food habits and health regime throughout the course of the shooting .In general too Anushka boasts of very healthy eating habits and steers clear of unhealthy, junk food, and consumes only fresh fruits and vegetables. She also drinks a lot of water, which does not only keep her hydrated but is also the reason behind her gorgeous skin. She drinks up to 6 litres of water every day.

A yoga freak, Anushka can't stop swearing by the benefits of yoga, and the impact it has had on her life, both on mental and physical level. She holds yoga as the prime reason which has kept her lean and fit over the years in the movie business. She also does light exercises every day for 30 minutes.
The actress makes sure to have her dinner by eight, and not snacking into anything else two or three hours before hitting the bed. She starts her day with some honey, as an early morning ritual.

For her part in Baahubali 2, Anushka Shetty was put on 45-minute specialised workout rotuine at the gym and a strictly monitored staple diet by her instructor and nutritionist. From an out and out high carb diet (for her role in Size-zero) she came down to a minimal carb and high protein diet. Her strict dietary regime also included staying away from oil and calorie-rich foods and having around 5-6 small meals every day. Her meals included healthy doses of dry fruits with fresh fruit juice, salads, sprouts, soups and veggies for getting the desire physical transformation.

We absolutely loved Anushka Shetty's royal avatar where we got to see her swinging swords, riding horses and romancing Prabhas with all her charm.


Anushka Shetty's transformation is worth commending. She has been a part of many superhit movies but the latest feather in her cap has been both the parts of Bahubali - that went on the become nation's largest earning movies. While Prabhas is charming as both Amarendra (father) and Mahendra (Baahubali) in the movie, the doting wife of Amarendra Baahubali, Devsena was played by Anushka Shetty.