Indians across the country are celebrating Basant Panchami today. The word
'Basant'
means spring and
'Panchmi'
denotes the fifth day of the "
Maagh
" month of Hindu calendar.
Basant Panchami
is also celebrated as 'Saraswati Puja' in many communities. It is one of the most significant festivals celebrated across the country.Children are introduced to reading and writing on this auspicious day. It is considered as a blessed beginning of learning with the goddess of knowledge and wisdom- Saraswati. The festival that marks the onset of
spring
is celebrated with many motifs characteristic to spring. People deck up in colourful clothes and relish in
seasonal foods
. Many communities fly kites and play various games. The colour yellow holds a deep significance in the festival. The color of
Basant
(Spring) is yellow, also known as the
'Basanti'
colour. It symbolizes prosperity, light, energy and optimism. This is the reason why people wear yellow clothes and make traditional delicacies in yellow hues. The traditional delicacies that are prepared on this auspicious occasion are quite delicious and healthy as well.
Here are 4 yellow coloured traditional dishes you could celebrate Basant Panchami 2018 with.
1. Meethe Chawal
Meethe Chawal
is prepared in Punjabi households on special occasions, however the 'Meethe Chawal' prepared on
Basant Panchami
are quite special. Also known as
Kesari Chawal
, this sweet dish as the name suggests, is made of rice which is sweetened by sugar syrup. The use of aromatic spices like cardamom, cloves, cinnamon and
kesar
makes it a treat hard to miss. The delightful saffron, in addition to adding the fragrant flavour, also lends a beautiful yellow hue to the rice, making it the perfect festive treat for
Basant Panchami.
2. Kesaria Sheera
A rich
semolina
and milk based sweet dish prepared in Maharashtrian or Gujarati households during
Basant Panchami.
The sweet treat is loaded with chunky nuts like almonds and cashews and flavoured with aromatic tinge of saffron and
cardamom
.
3. Boondi Ki Ladoo
Boondi ladoo
is every Indian's go-to sweet for any auspicious occasion or
pooja
and
Basant Panchami
is no exception. But in this case, the association is definitely more special. Why, you ask? Because of its lovely yellowish orange colour, that is perfectly in tune with the festive spirit of
Basant Panchami
.
Boondi ladoo
and
Motichoor Laddoo
can be easily prepared at home.
Boondis
are prepared by pouring the
besan
through a perforated ladle into bubbling hot oil, and deep-fried till crisp. These
besan
pearl-like droplets are then soaked in sugar syrup and then moulded into
ladoos
. You can
follow this easy recipe
to get the delight right in the comforts of your kitchen.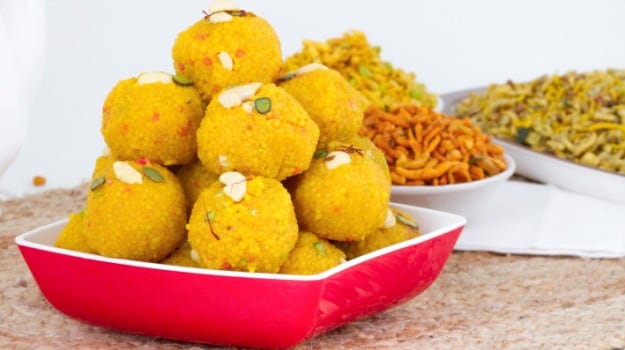 4. Rajbhog
Rajbhog is a traditional Bengali sweet made with
paneer
and stuffed with
almonds
and pistachios. The spongy treat with a mix of saffron, cardamom powder, almonds and pistachios can be dubbed as a richer and wholesome cousin of
Rasgulla
.
Rajbhog
is part of every festive occasion in Bengal, but because of its distinct yellow colour, it makes for a popular treat during
Saraswati Puja
celebrations.
5. Khichdi
Nation's favourite comfort food is prepared in large quantities for the community gathering in Saraswati Puja Pandals. The afternoon/evening gatherings on the day of Saraswati puja is a special affair for all Bengalis. While Meethe Bhaat takes away the cake in the Puja celebrations. the all-time favourite K
hichuri, labra
(mixed vegetable),
beguni
(eggplant fritters) and
paayesh
is one hearty treat every Bengali is up for. Every time.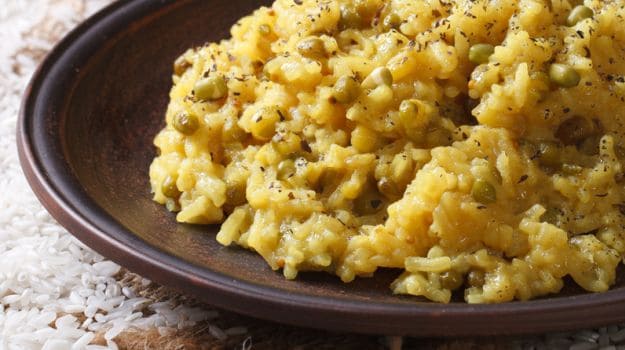 Happy Basant Panchami everybody!