Spring is almost here. It is that time of the year when the dry spell of winters end with flowers blooming everywhere. You will get to experience bright sunshine, pleasant weather and nature at its best form. And to mark the onset of Spring season, we celebrate Basant Panchami across India. For the unversed, Spring is referred to as Basant in Hindi. Celebrated annually, Basant Panchami is a harvest festival and marks the official end of the winters. The festival sees different rituals and customs in different parts of India. In Bengal (and other eastern states), it is celebrated as Saraswati Puja - one of the most significant festivals among Bengalis. On this day, they worship Goddess Saraswati for knowledge and enlightenment. In the Southern part of India, Saraswati Puja is referred to as Sri Panchami.


Also Read: Basant Panchami Recipe: Dodhikorma, A Must Have During Saraswati Puja
Basant Panchami 2022: Date And Time Of Saraswati Puja:
Basant Panchami is marked 40 days before Spring season. For the uninitiated, it takes 40 days period for transition of any season; after that, the season comes in full bloom. As per the Hindu calendar, every year Basant Panchami falls on the on the fifth day of the month of 'Magha'. This year, Basant Panchami will be celebrated on February 5, 2022 (Saturday).
Vasant Panchami Muhurat - 07:07 AM to 12:35 PM


Duration - 05 Hours 28 Mins


Vasant Panchami Madhyahna Moment - 12:35 PM


Panchami Tithi Begins - 03:47 AM on Feb 05, 2022


Panchami Tithi Ends - 03:46 AM on Feb 06, 2022


(Source: www.drikpanchang.com)
How Is Saraswati Puja And Basant Panchami Celebrated:
The colour yellow plays a significant role in Basant Panchami celebration. A darker hue of yellow is also referred to as basanti colour. This brings up a question - why the colour yellow? It is because the yellow flowers of the mustard crop are said to bloom on this very day. The yellow colour also signifies the arrival of spring and is often associated with the feelings of positivity, life and nature. Thus we see people wearing yellow coloured clothes and worshipping Goddess Saraswati on Basant Panchami. That's not all. People in Uttar Pradesh worship Radha-Krishna on this day and in parts of Punjab, people fly colourful kites to mark the glory of the festival. Besides food plays a major role in Basant Panchami celebration. People prepare different sweet and savoury dishes and offer bhog to their beloved deity.


Also Read: Indian Cooking Tips: 6 Kheer Recipes From Across India To Satiate Your Sweet Cravings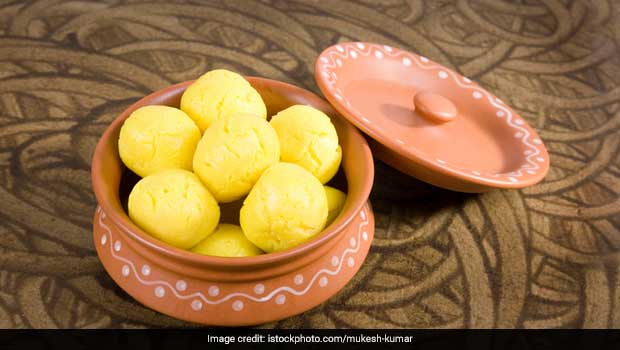 Basant Panchami 2022 Special Menu: Here're 5 Bhog Recipes:
As mentioned earlier, yellow colour plays a major role in Basant Panchami celebrations. Thus we find people preparing various yellow coloured foods on this day. While the menu differs from region to region, some of the most popular food items that remain constant on a bhog thali are khichdi, boondi ladoo, kesar halwa, rajbhog and kheer.
We also got the recipe for you. So, this year, prepare these delicious yellow-coloured dishes and offer bhog on the occasion of Basant Panchami. Let's take a look at the recipes.


Click here for khichdi recipe. We also bring a Bengali version of the khichdi recipe (khichuri) for you to try.


Click here for boondi ladoo recipe.


Click here for kesar halwa (or kesar bath) recipe.


Click here for the classic rice kheer recipe.


Click here for rajbhog recipe.


Happy Basant Panchami 2022!
About Somdatta SahaExplorer- this is what Somdatta likes to call herself. Be it in terms of food, people or places, all she craves for is to know the unknown. A simple aglio olio pasta or daal-chawal and a good movie can make her day.