Bengali Fish Dishes Perfect For Family Or Friends
Rinku Bhattacharya , Zester Daily | Updated: April 30, 2016 12:09 IST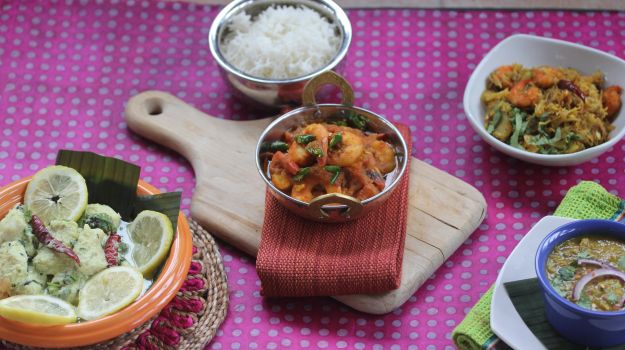 Fish dishes are a staple in Bengali cuisine. Credit: Copyright 2016 Rinku Bhattacharya

This year, for Bengali New Year, I decided to do something very intrinsic to Bengali cuisine -- explore the dimensions of cooking fish.

Shadowed by the rivers, fresh fish is essential and intrinsic to the culinary heritage of the food-obsessed Bengali community. What is most impressive is the sheer diversity of fish preparations that are different and distinct from almost any other part of India.

On the Bengali table, fish is cooked together with the assortment of regional specialties indigenous to the wet, fertile region replete with greens, citrus and coconuts. Coconuts are plentiful and a much-loved ingredient -- and for Bengali people, almost anything tastes better with some coconut.

When cooking with fish, all parts of the fish are used -- from the head to the tail. Different treatments and preparations are used for different parts, showcasing the various tastes and textures. Fastidious Bengali home cooks like to shop for fish daily, usually in the early morning, returning home proudly with the catch of the day and tales of how they managed to get it before it was all gone.

Fish can take diners from starters to the main course without any problem. A traditional meal often commences with an assortment of vegetables and small shrimp, and fish heads or tiny fish are usually added to regular vegetable dishes to add a touch of sweetness, boost the protein and transcend the ordinary into something festive or more formal.
Fish heads are a coveted part of the fish, because their rich omega-3 fatty acid content is associated with promoting intelligence. Although it's not as popular as it once was, a true Bengali household will reserve the fish head for the children or a new son-in-law. Adding it to lentils elevates it to a celebratory dish.

Needless to say, a fish head cannot be savored without using your hands, so to this end Bengalis enjoy eating fish by gently separating the bones from the flesh.

Curries are, of course, the mainstay of the table, and these range from gentle, nigella-scented vegetable and fish stews to common fish curries enriched with pungent mustard, creamy coconut, rich yogurt and sometimes even lemon.

To showcase the diversity of cooking fish for the Bengali table, here are four traditional but simple recipes that are practical enough for everyday meals.

Gandhoraj Maach (Bengali Lemon Coconut Fish)

This delicate fish dish is traditionally made with the Bengali lime, called Gandhoraj. I have adapted this recipe using lemons and Kaffir lime leaves, offering a delicate and simple dish perfect for spring and summer.

Prep time: 30 minutes
Cook time: 25 minutes
Total time: 55 minutes
Yield: Makes 4 to 6 servings

Ingredients:

1 cup freshly grated coconut (about 1/2 regular coconut)
1 cup hot water
1 piece fresh ginger, 1 1/2 inches long, peeled
1 or 2 green chilies
1/2 teaspoon turmeric
3 fresh lemons
2 Kaffir lime leaves, thinly sliced
1/4 cup coconut milk
1 teaspoon nigella seeds
2 to 3 dried red chilies
3 tablespoons plus 1 tablespoon chopped coriander
2 pounds halibut or any other firm-fleshed fish
1 teaspoon salt, or to taste
Banana leaves (if available) for steaming Gandhoraj Maach (Bengali Lemon Coconut Fish). Credit: Copyright 2016 Rinku Bhattacharya

Directions:

Place the freshly grated coconut in a blender with the hot water and blend until smooth.

Strain the mixture through a fine-mesh sieve.

Return the coconut mixture to the blender, with the liquid strained off. Add in the ginger, green chilies and turmeric and blend until smooth. Pour the mixture into a mixing bowl.

Zest 2 of the lemons and add the zest to the coconut mixture. Cut one of the zested lemons in half, remove the seeds and squeeze in the juice. Set aside the other zested lemon and thinly slice the third lemon for garnish.

Add the Kaffir lime leaves to the coconut milk and stir well.

Stir in the nigella seeds, red chilies and coriander leaves. You should end up with a pale yellow sauce flecked with nigella and coriander. Salt the fish, then add it to the coconut milk mixture and mix well.

Heat the oven to 300 F and prepare a large baking dish with about 2 inches of water.

Line a heat-proof casserole dish with banana leaves and pour in the fish mixture.

Cover with a piece of foil and bake for about 20 to 25 minutes, until the fish is cooked through.

Cool slightly, remove and taste the sauce. It should be smooth and gently tangy. Depending on your preference, add in a little more lime juice.

Garnish with the remaining coriander and the lemon slices and serve hot, ideally with steaming rice.
Macher Muro Diye Moong Dal (Yellow Split Lentils With Fish Head)

Recipe from "The Bengali Five Spice Chronicles."

This traditional recipe -- a festive dish reserved for special lunches -- is adapted from my mother's culinary collection. I recently discovered my fish seller will cut fish heads into two or four parts for me, which is very helpful for a large fish head you only want to use part of. I realize the fish head is not for the uninitiated. If you want, you can add in sliced boiled eggs sautéed with spices instead of the fish head.

Prep time: 15 to 20 minutes
Cook time: 35 minutes
Total time: 50 to 55 minutes
Yield: Makes 6 servings

Ingredients:

1/3 cup plus 2 tablespoons vegetable or mustard oil
1 medium fish head (preferably from a whitefish)
2 teaspoons turmeric
2 teaspoons salt
3/4 cup dried split yellow lentils (moong dal)
1 onion, thinly sliced
1 tablespoon freshly grated ginger
1/2 teaspoon cayenne pepper powder
1/2 teaspoon cumin powder
1/2 teaspoon coriander powder
1 teaspoon sugar
Juice of 1 lime (optional)
1 tablespoon chopped cilantro Macher Muro Diye Moong Dal (Yellow Split Lentils With Fish Head). Credit: Copyright 2016 Rinku Bhattacharya

Directions:

Place 1/3 cup oil in a wok and heat over medium flame for about 2 minutes, until very hot and almost smoking. Rub the fish head with half the turmeric and half the salt and place in the oil and fry over a steady, medium-low flame until nice and crisp, turning once during cooking, about 10 minutes.

While the fish head is cooking, place the lentils in a heavy-bottomed pan and dry roast lightly until they turn very pale golden and are very aromatic.

In a separate saucepan, heat 2 tablespoons oil on medium-low and add the onion and ginger. Sauté for about 5 minutes, until the onion wilts and begins to curl and crisp lightly on the sides.

Add the cayenne, cumin, coriander, sugar, roasted lentils, 3 cups of water, the remaining 1 teaspoon salt and remaining 1 teaspoon turmeric. Bring to a simmer and cook for about 15 minutes, until the lentils are almost cooked through.

Break the fried fish head into 2 to 3 pieces (it should break quite easily if you have cooked the head right) and lower into the lentils. Simmer the lentils with the fish head for another 10 minutes, gently breaking the fish head further until the pieces are fairly small.

Squeeze in some lime juice, if using, and sprinkle with the cilantro before serving.

Chingri Badha Kopir Ghanto (Curried Cabbage With Potatoes and Shrimp)

Recipe adapted from "The Bengali Five Spice Chronicles."

The first time my mother visited me after I had moved to the U.S. was when I was graduating from business school. Mom stayed with my lovely host family -- the first Americans who made me feel like family. She wanted to thank them for their hospitality by cooking for them one evening, and one of the items she made was this cabbage. Noticing they liked coleslaw, my mother felt this would be a good transition. She was spot on. To keep this recipe completely vegetarian, you can use green peas instead of shrimp.

Prep time: 20 minutes
Cook time: 25 minutes
Total time: 45 minutes
Yield: Makes 4 servings

Ingredients:

For the shrimp:
1/2 pound medium shrimp, shelled and deveined
1/2 teaspoon turmeric
1/4 teaspoon red cayenne pepper
1/2 teaspoon salt
1/4 cup oil

For the cabbage:
1 red onion, thinly sliced
1 medium potato, peeled and cubed
1 teaspoon salt
1/2 teaspoon turmeric
1 tablespoon freshly grated ginger
1 teaspoon cumin powder
1/2 teaspoon coriander powder
1 or 2 bay leaves, broken into pieces
2 green cardamom pods, lightly bruised
1 teaspoon cayenne pepper powder
1 teaspoon sugar
1 tomato, finely chopped
3 cups finely shredded green cabbage Chingri Badha Kopir Ghanto (Curried Cabbage With Potatoes and Shrimp). Credit: Copyright 2016 Rinku Bhattacharya

Directions:

Toss the shrimp with the turmeric, red cayenne pepper and salt and set aside.

Heat the oil in a medium wok or skillet on medium heat for about 1 minute, until very hot. Add in the shrimp and cook in batches (if needed) for 3 to 4 minutes. Remove the shrimp from the oil and set aside.

In the same wok or pan, add the onion slices and sauté, stirring well, until they wilt and turn a very pale gold. Add the potato, salt and turmeric and lower the heat and cook for about 2 to 3 minutes. Cover and cook for another 5 minutes, until the potatoes are almost done and a nice golden yellow color.

Add the ginger, cumin and coriander paste and cook for another 5 minutes.

Add the bay leaves, cardamom pods and cayenne pepper and mix well. Then add the sugar and tomato and stir well.

Add the cabbage and the cooked shrimp and mix well. Cover and cook for about 7 minutes, until the cabbage is fairly soft. Mix well and cook till dry.

Taste and adjust seasonings before serving.

Chingri Bhuna (Shrimp in a Spicy Caramelized Onion and Tomato Sauce)

Recipe from "The Bengali Five Spice Chronicles."

A bhuna is a preparation of fish or meat in a thick, dry tomato-based sauce. This style of cooking, particularly using shrimp, is a Bangladeshi or East Bengali tradition. As with other foods, in this style of cooking, the generous use of green chilies is essential. This recipe is for my cousin Sharmila, who enjoys this dish and often asks for it.

Prep time: 15 minutes
Cook time: 25 minutes
Total time: 40 minutes
Yield: 4 to 6 servings

Ingredients:

1 1/2 pounds shrimp, shelled and deveined
1/2 teaspoon turmeric
1 1/2 teaspoons salt, divided
3 tablespoons oil
1 large red onion or 2 medium red onions, thinly sliced
1 tablespoon freshly grated ginger
3 cloves garlic, finely chopped
2 or 3 bay leaves
1-inch cinnamon stick, broken into pieces
2 green cardamom pods
2 cloves
1/2 teaspoon sugar
2 tomatoes, cut into eighths
1 tablespoon Greek yogurt
4 green chilies, coarsely chopped into small pieces
1 tablespoon chopped cilantro Chingri Bhuna (Shrimp in a Spicy Caramelized Onion and Tomato Sauce)

Directions:

In a bowl, mix the shrimp with the turmeric and 1 teaspoon of salt and set aside.

Heat the oil in a wok or skillet on medium heat for about 30 seconds. Add the onions and cook for 3 to 4 minutes until softened and pale golden at the edges.

Add the ginger and garlic and cook for 2 minutes. Add the bay leaves, cinnamon stick, cardamom pods and cloves and stir and cook for 2 minutes.

Add the sugar and remaining ½ teaspoon salt and mix well. Add the tomatoes and cook for 4 minutes, until they soften and begin to turn pulpy.

Add the seasoned shrimp and continue to simmer until the sauce dries out and the oil resurfaces on the sides.

Stir in the yogurt and cook for 2 minutes, then stir in the green chilies and cook for 1 minute.

Serve garnished with cilantro.

Copyright 2016 Rinku Bhattacharya via Zester Daily and Reuters Media Express

(This story has not been edited by NDTV staff and is auto-generated from a syndicated feed.)