NDTV Food Desk | Updated: October 12, 2017 09:36 IST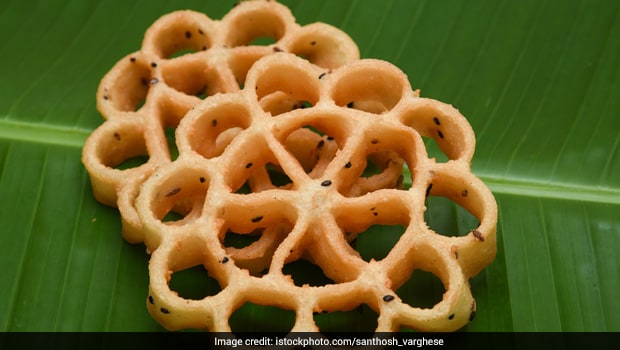 real cookies and more like traditional snacks. They have been named so because of their unique and dainty shape. They have a floral shape with swirls and twists that resemble the petals of the rose flower.

Rose cookies are super crisp and crunchy unlike the regular chewy ones and are perfect for snacking. These have a fragile texture and are made with plain flour or maida. The batter is mildly flavoured with warm cinnamon spice and then gently placed in a special rose-shaped mould which is them placed in hot oil to deep fry the cookies. These lovely looking cookies turn golden-brown in a matter of minutes and are served dusted with powdered sugar.

(Also read: 10 Best Dishes You Must Eat When in Bengaluru)
This traditional rose cookies are particularly loved in Bengaluru. Food Blogger Nithya Ravi from Bengaluru tells us, "Rose Cookies or Achappam as they are called in Kerala are very famous and tasty snacks. They are also known as Achhu Murukku. We usually make them during Diwali or Christmas. It is mildly sweet and has a lot of coconut milk. Basically, you only need three simple ingredients flour, sugar and coconut milk to make these cookies. The skill lies in using the mould and making sure you fry them correctly."

They can be easily made at home. Here's a simple recipe of Rose Cookies shared by Nithya. Try them at home and impress your family with your culinary skills. You can make them beforehand and but remember to store them in an airtight container else they'll become soggy.

(Also read: 5 Best Bengaluru Bakeries to Soothe Your Sweet Cravings)

Nithya shares that you these cookies can be made with or without eggs. You can make them plain or experiment with a lot of different flavours. "You can add cardamom powder, powdered pista powder for a greenish hue or even rose essence to make them aromatic. You can also make a savory version by adding green chillies, coriander leaves and mint leaves," she suggests. She also recommends that you should buy an iron or brass mould for the cookies.

Rose Cookies or Achappam Recipe

Ingredients:

Rice Flour - 1/2 cup
Powdered Sugar - 1/4 cup
Corn Flour - 2 Tbsp
Maida -2 Tbsp
Coconut Milk -1/2 cup
Oil - For deep frying

Method:

1. Wash the mould and coat it with oil and leave it overnight.

2. Rub with lemon wedges in the morning and repeat this process for 2 days.

3. Add rice flour, corn flour, maida, powdered sugar and coconut milk and form a lump free batter. Mix well.

4. Heat oil. Dip the mould in the batter and put it in hot oil.

5. Gently remove the mould. The cookie will slip in to the hot oil easily.

6. Fry likewise with rest of the batter. Enjoy with family and friends.

Keep these three quick tips to make the perfect rose cookies handy. Make sure you heat the oil on medium flame and keep it low while frying. Pay attention to the consistency of the batter. It should be neither too thick or too thin. The consistency should be that of a dosa batter. Finally, once you dip the mould in hot oil wait till the cookie is half-cooked and then gently remove it from the oil, otherwise it may break. Enjoy with a hot cup of chai.



Achappam, Gulabi Puvvlu or simply Rose cookies, call them whatever you feel like but if you were born down South you are bound to have pleasant childhood memories of your mother or grandmother making these beautiful looking cookies at home to celebrate festive occasions, especially Christmas. Believed to be of Anglo-Indian origin, these cookies are not much like