"Stop worrying about the potholes in the road and celebrate the journey" - Fitzhugh MullanTraveling when you are "
gluten free
" can seem very stressful at first, but it is actually quite simple. I think what you need to carry with you are your key aspects of being gluten free.Always remember "knowledge of what goes into your stomach" is the biggest key and the more you understand your food, the better you can explain it to the person serving you. Also don't use fancy words and terminologies like "Celiac Disease". Make it simple by using common terms like "gluten allergy" or simpler "allergic to atta and maida" in India. When traveling to developed countries, the understanding of Celiac
Disease is more common than traveling in
Asia
. Therefore, I'll divide this article into two parts: traveling in India and traveling abroad, as I share some important tips.
Traveling Abroad
Most airlines offer gluten-free meals, so book yours along with the ticket. Don't wait or hope you'll get it once you are on board a flight. Always check the meal thoroughly before eating it.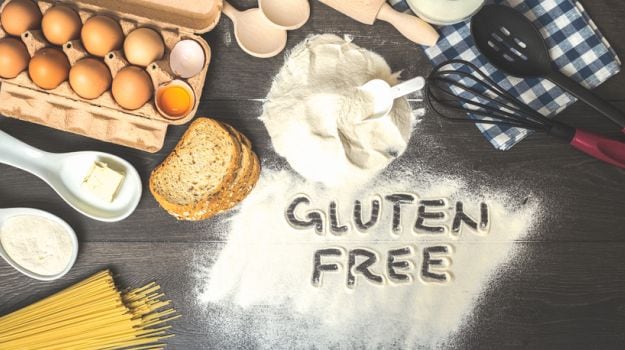 I remember the first trip we took after my son, Mannat, got diagnosed with Celiac was to Singapore. We as a family never stay with friends or relatives while we are on a holiday. But for the first time we stayed with friends who were kind enough to understand that the
children
needed to eat their meals in the house and they had to be gluten free (free of cross contamination is always hard). My friend's maid was extremely kind and prepared the meals with a lot of care, and we stuck to eating meat,
rice
and vegetables.
Tip 1:
Don't experiment with food: you want to enjoy your holiday and not end up being sick.
Tip 2:
Look for stores in the city that have a whole range of gluten-free foods. Most South East Asian countries have them. Buy a lot of packed
healthy food
like cereal bars, crackers and snacks so that you aren't hungry.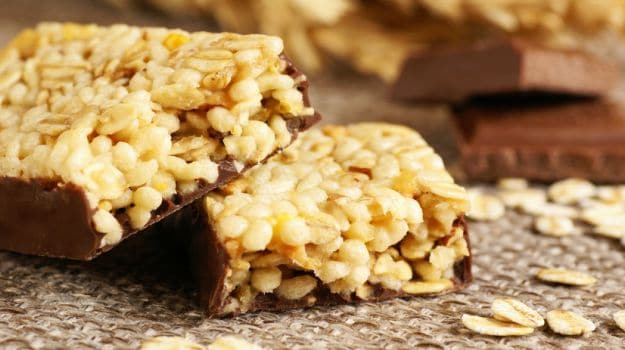 Tip 3:
Stay with friends or relatives wherever possible. Pick only people who are sensitive and have some understanding of Celiac Disease.
Tip 4:
In a hotel, having a kitchen or a pantry is a good expense. Basic meals like
breakfast
and mid-meals and snacks can be catered too.
Tip 5:
Eat simple food like
eggs
, gluten-free breads (box and carry it), milk and fruits. Main meals should be rice, vegetables and meat. In fact, I have just baked a whole box of goodies like gluten-free bread, chocolate chip cookies, muffins and brownies for a little girl who is 3-years old and going on her first trip after being diagnosed with Celiac.
Tip 6:
Hotels don't always entertain you sharing your choice of
ingredients
and asking them to cook those for you. So don't carry packed noodles or pasta and try to give it to them. Just have rice or ask if they have gluten-free pasta or can do you a
risotto
without corn flour added to the sauce. Carry important stuff like bread, cookies and cakes.In Asia, when we went to Phuket where language was a bit tough, we discovered that most hotels had a little card called "Allergy Cards". Written in the native language, it included a list of all items you can't eat. It was fantastic! You can keep flashing that card to all your servers in various restaurants and they will give you allergy-free foods.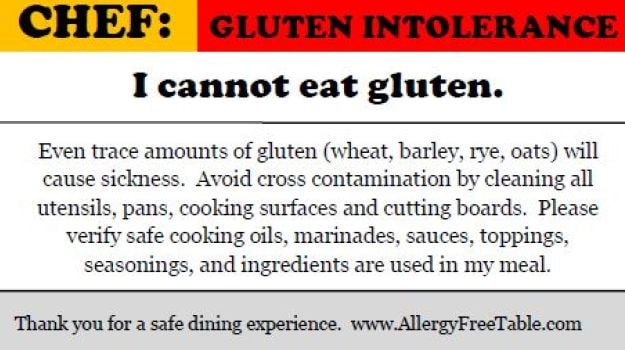 Restaurant Allergy Card
Traveling to the US or England is simple as you get gluten-free meals everywhere and everyone understands what gluten free means. In countries where language is a problem, ask for an "Allergy Card" or just make your own. Write all the details and get it translated. Just google the words!Remember being a "food detective" is a full time job.
Travelling in India
In India,
travelling
can be harder in some ways (as understanding of Celiac Disease is limited) and easier if you can take your cook along with you. Most in bound airlines have gluten-free meals or you can just stick to having
fruits
if you forget to book your meal in advance. If you are travelling by train, just carry your food. Simple vegetables with rice or
sandwiches
are easy to carry.
Tip 7:
Book rooms with kitchens or pantries always. Carry your help who can cook or cook your
own meals
.
Tip 8:
Understanding of Celiac among hotel stuff is limited and sensitivity is also low. Keep a strict lookout for gluten or cross contamination.
Tip 9:
Avoid foods that are cooked with a lot of
masalas
as they contain gluten. It can be a problem and the chef could overlook it.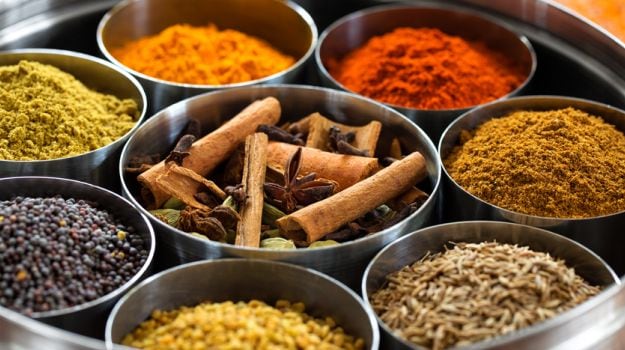 Tip 10:
Wipe your plate clean. Remember the server could be using a cloth to wipe the plates that might have touched some amount of gluten earlier.The focus of a holiday isn't only about
eating
but to enjoy the place, learn something new and spend quality time with your family. At least this is how it was when I was a kid, although the times have changed now. In today's time, going to a fancy restaurant and then posting pictures on FB or Instagram is a trend.But learn to enjoy your holiday and keep wearing your "gluten-free hat". Bon Voyage!
About the Author:
Aarti Sarin Jain is an avid baker and runs an exclusive gluten-free test kitchen. She discovered the joys of a gluten-free living after her elder kid was diagnosed with Celiac Disease. She often experiments with new forms and varieties of gluten-free food without compromising either on taste or quality. You can read more on her blog, www.bakingfrommyheart.com.
Disclaimer:
The opinions expressed within this article are the personal opinions of the author. NDTV is not responsible for the accuracy, completeness, suitability, or validity of any information on this article. All information is provided on an as-is basis. The information, facts or opinions appearing in the article do not reflect the views of NDTV and NDTV does not assume any responsibility or liability for the same.