Summers are here in full swing! The mercury level is rising higher day-by-day. The sun is at its peak with no sign of respite. And above all, the health issues like dehydration, heat strokes and tanned skin can turn out to be quite annoying. So, what do you do? How do you protect yourself during this hot season as staying back at home is not an option? There are summer fruits that can come to our rescue. They not only tingle our taste buds but also comprise various health benefits. And one such miraculous summer fruit is mango! Aptly referred as "king of all fruits," mangoes are one of the most widely consumed fruits in the world. Mango is said to help in managing weight, alkalise the body, manage diabetes, and also known to cleanse the skin. According to the book 'Healing Foods' by DK Publishing, mangoes are high in the antioxidants beta-carotene and vitamin C, and are good for boosting the immune system, protecting eyesight, and improves digestion. Mangoes also help neutralise free-radical damage in the body. The books also notes that mangoes contain enzymes that aid the breakdown and digestion of protein and fibre, which helps in digestion and burning additional calories, thus helping in weight loss. But, how many calories are there in mangoes? Let's find out.
Calories in Mango: Mangoes help neutralise free-radical damage in the body.
Calories In Mango
According to the United States Department of Agriculture (USDA), a 100 gm of
mango
contains 60 Kcal. Our everyday calories intake majorly depends on our age, gender, weight and activity level. As per the USDA, everyday calorie needs for adults range from 1,600 to 3,000. One mango without the peel gives about 200 calories, which is about 10 percent of the average everyday calorie need for adults. This king of all fruits is also known to be an incredible source of vitamins A, C, B-6 and potassium. In addition to this, mangoes are packed with a plethora of health benefits and are an excellent source of dietary fibres.According to
Ayurveda
, eating ripe mango is also quite beneficial as it is a high-calorie fruit and rich in carbohydrates, which makes it an excellent source of energy. There are wide varieties of mangoes, and each variety differs in shape, size, colour, taste, texture, nutritional value and also the geographical region.(Also Read -
Mango Nutrition: Amazing Mango Nutrition Facts And Health Benefits)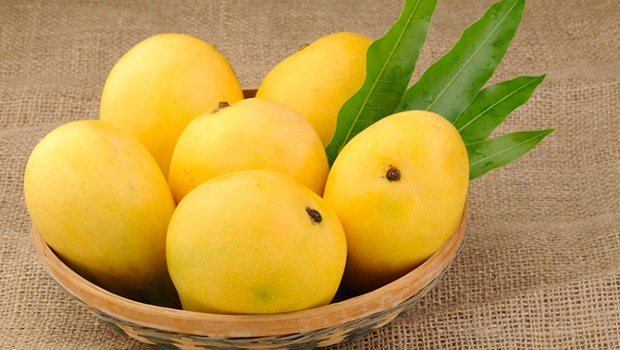 Calories In Mangoes: Ripe mango is an excellent source of energy.
Healthy Recipes That You Can Prepare Using Mango1. Chilled Mango Cheesecake
Recipe by Niru Gupta
If you love cheesecakes, then this one is for you. Get ready to pamper your taste buds with this unique recipe of mango cheesecake. This recipe replaces cream cheese with hung curd and regular cream.
2. Aam Shrikhand with Mango Salad
Recipe by Karan Suri
Round off an idyllic afternoon with your friends by savouring this interesting dessert. Made with the soothing flavours of
yogurt
, cream, milk, mangoes and
cardamom
, whip this up to escape the heat.
3. Mango Ice Cream
Recipe by Niru Gupta
Summers are the perfect season to savour some incredible flavours of
ice creams
. What if your summer fruit mango takes a form of a home-made ice cream? We show you how to make mango ice-cream at home without an ice-cream maker and in few easy steps.
4. Quick Mango Smoothie
Recipe by Healing Foods by DK Publishing
Beat the heat this summer with a chilled mango smoothie. Perfect for your taste buds and your tummy, this mango smoothie is a real summer treat. Blend two peeled, chopped mangoes with 1 cup of cold milk or yogurt and 2 tablespoon of honey, until you get a smooth paste.
5. Mango Salsa
Recipe by Healing Foods by DK Publishing
Ditch your popcorn and try this mango salsa with nachos on your movie night. Healthy, tasty and addictive, you can't just get enough of them. Take one ripe mango and dice it. Add half red onion, half sweet bell pepper, one small cucumber, one finely chopped jalapeno, 3 tablespoon of lime juice and chopped cilantro. Mix the ingredients well. Serve with nachos.
As compared to other fruits, mango is sweeter and lower in fibre; therefore, try to keep your mango consumption in moderation. The USDA recommends that adults eat 1 1/2 to 2 cups of the fruit per day.
About Shubham BhatnagarYou can often find Shubham at a small authentic Chinese or Italian restaurant sampling exotic foods and sipping a glass of wine, but he will wolf down a plate of piping hot samosas with equal gusto. However, his love for homemade food trumps all.