Champagne 101: The Ultimate Guide to Bubbly
Aashna Ahuja , NDTV | Updated: January 17, 2016 13:36 IST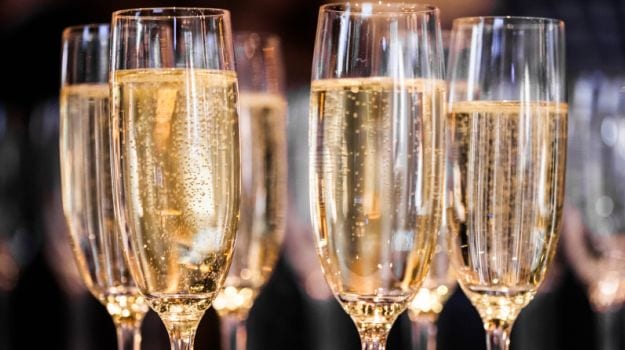 "Too much of anything is bad, but too much champagne is just right". - Mark Twain

I admit, there's no better sound in the world than a champagne cork popping. And just like Dom Perignon rightly put, it's like tasting the stars! There's no party without opening a bottle of bubbly and yet there's so much more to champagne than a celebratory toast. Its fine bubbles, flavors and citrus make it an ideal pairing for so many dishes. Surely with oysters, but why not with a burger? Champagne pairs beautifully with just about anything, may it be pasta carbonara or a chilli-cheese dog. It's fabulous with pizza and obviously cheese. Heck, Marilyn Monroe even paired bubbly with potato chips.

So what really is champagne? Caveat: It's not champagne until it comes from Champagne. Yes, champagne is actually a government-protected product that can only be produced legally in the Champagne region of Northern France. It's a specific sort of sparkling wine made of Pinot Noir, Chardonnay and Pinot Meunier grapes and due to its protected status in the French wine ecosystem, champagne tends to be expensive.
Do you actually know how to open a bottle of bubbly the elegant way and store champagne the right way? Read on for that and more.

How to Serve Champagne

When you're spending that kind of money on a bottle, you want to make sure you're serving it right. But with champagne, most of us are doing it wrong. Who would have thought?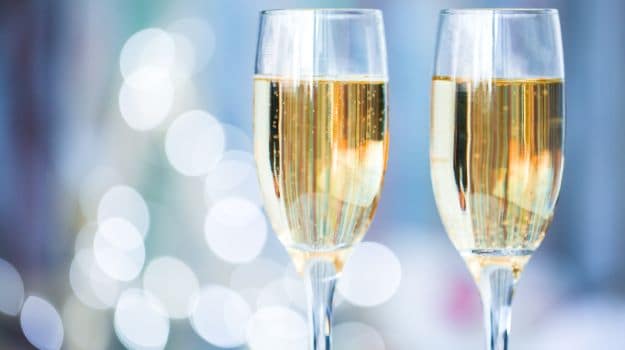 1. Safety first
After you rip off the foil, keep the cage on the cork–even after you untwist the wire. Once you loosen the cage, make sure you keep one hand over the cork so it won't accidentally pop off.

2. Spin the bottle
Don't twist the cork. Instead get a tight grip of the cork (cage loosened, but still on) and twist the base of the bottle – this tends to give you a much better hold, until you slowly remove the cork. But if you're in a mood to celebrate, pop the cork. After all, champagne is all about having fun. Just don't aim at someone's head!

3. Show off
Bring out the Star Wars fan in you and saber a champagne bottle. Okay, you don't actually need a light-saber, just a long chef's knife will do the trick. It's a fun way to kick off the party and impress your guests.

4. The ideal temperature
We all like our bubbly cold but sometimes we overdo it. Note: The ideal temperature to serve champagne is 50 degrees. So once you take a bottle out of the fridge, let it sit out in the open–don't drown it in a bucket of ice since the freezing temperatures lock-up the flavors.

5. Pour like a pro
Grip your hand around the base of the bottle for good balance and tilt the glass at a 45 degree angle to pour the wine along the side of the glass to reduce the foam.

6. Say no to flutes
Champagne flutes may look fancy but they are not necessary. Flute glasses show off the bubbles well, but they are terrible for tasting the wine since the shape prevents enough oxygen from getting into the glass to open up the champagne. A simple white wine glass does the trick and most importantly, it doesn't block the aromas. Don't be afraid to bury your nose in the glass to fully appreciate it before taking a sip.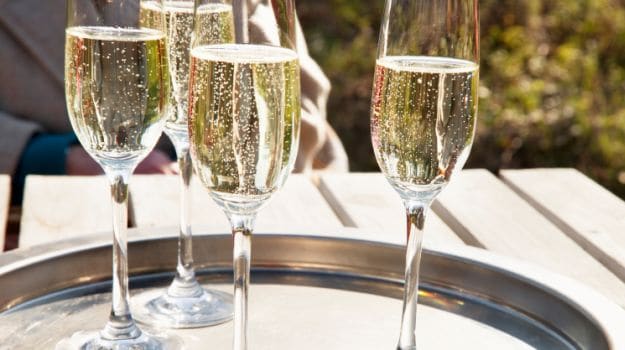 Breaking Down The Bubbles

It's simple. A lower-quality champagne has large bubbles that quickly dissipate, whereas a good glass of champagne has an infinite stream of tiny bubbles. The tiny bubbles make all the difference, since their presence is a sign of age and they pick up the flavour and aroma molecules as they rise to the top of your glass, giving a good champagne its distinctive "bite." Thanks to the méthode champenoise, also called méthode traditionelle, which is the oldest way to make champagne and involves the addition of a little yeast and sugar to the wine after the first fermentation, triggering another fermentation. This extra fermentation produces the bubbles naturally, and lasts a long time after opening the bottle due to carbonation.

Deciphering Labels
Need help deciphering those mystifying champagne labels? Here are few of the basics you need to know while making your selection.

• Brut: The most common style of Champagne, and also very driest with little added sugar.

• Extra Sec or Extra Dry: In the twisted lexicon of wine terms, the words 'Extra Dry' on a Champagne label actually mean that it is slightly sweeter than other champagnes and indeed the driest. Go figure.

• Sec: Slightly sweet style of Champagne.

• Demi-sec & Doux: Sweeter styles of Champagne, which are moderately dry and pair well with desserts.

Clink-clink-clink: It's time to drink champagne and dance on the table now!