Is there anything better than a chilled glass of Champagne? A Champagne cocktail, perhaps? Here are our 6 best champagne cocktails recipes.
"Come quickly, I am tasting the stars!" – Dom Perignon exclaimed, at the moment he realized he had invented Champagne. And rightly so. Champagne is a delightful nod to decadence and elevates any occasion if added to the
cocktail menu
. For when you wish to
drink
on the fancier side of life and step up your Champagne game, here are 6
interesting cocktails
ranging from the vintage to the nouvelle.Try one, try all.All you need are a few odd ingredients lying in your pantry, with just the right amount of effervescence, and some fabulous music to get you tapping your toes as you get ready to celebrate in style.
1. Peach Bellini
Recipe by Shatbhi Basu
Who would have that champagne,
peach
puree and peach schnapps would result in something so divine? You can throw in a piece of zingy ginger for that
Je ne sais quoi
. Line the rim of the champagne flutes with a mix of caster sugar and grated
lemon
rind for a pretty touch.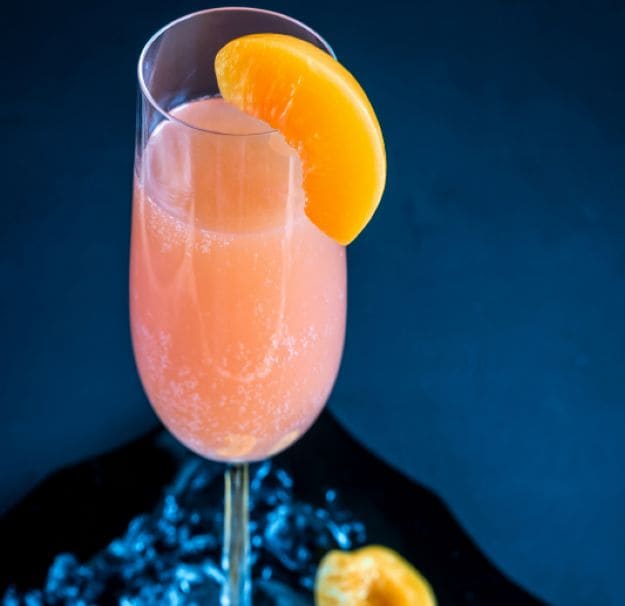 2. Elizabeth Taylor's Mimosa
Hollywood's glamourous star loved to kick off her day with a mind blowing cocktail.
(Well, that makes two of us)
. All you need to make this
mind blowing cocktail
is Champagne with a splash of orange juice. I like my mimosa with 1/3rd freshly squeezed orange juice and 2/3rd Champagne. If you're really in the mood for luxury, add some Grand Marnier. It really is the best way to liven up Sunday brunch!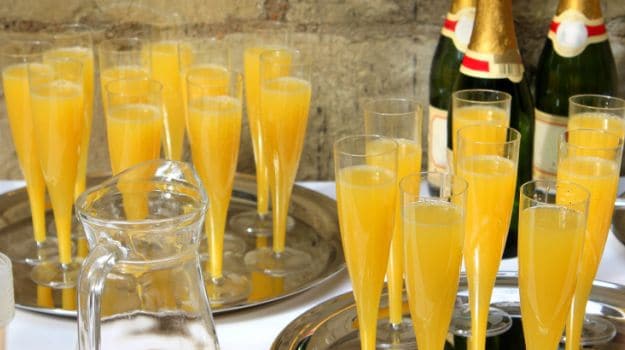 3. Nargis Play
Vikram Pal, PCO's Head Bartender remarked, "I serve a refreshing mix of
cucumber
, mint, gin and champagne. I made the cocktail for
Nargis Fakhri
when she visited PCO, hence the name." Here's the recipe:
Ingredients:
30 ml gin
Few slices of cucumber
A handful of fresh mint leaves
Sweet & Sour
30 ml Champagne
Instructions:
Mix the first four ingredients together and top it off with chilled Champagne. Serve immediately.
4. Sparkling PomegranateIngredients:
4 cups crushed ice
2 ½ cups
pomegranate
juice
½ cup ginger ale
¼ cup brandy
1 (750 ml) bottle of Champagne Brut
Pomegranate seeds (optional)
Instructions:
Combine the first 5 ingredients in a pitcher. Pour about 1 cup of the Champagne mix into each of 8 glasses. If desired, top it off with seeds.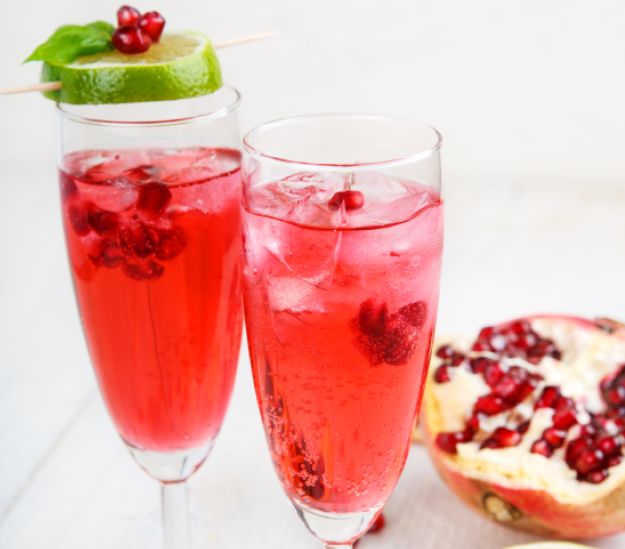 5. Champagne Limoncello
If you enjoy a kick of lime, your search for the best Champagne
cocktail
ends here. Use the driest Champagne you can get your hands on, plus some lemon-flavoured liqueur (Limoncello) and a splash of lemon juice for this light and bright apertif. Rub a cut lemon wedge on the rim of the glass and roll in sugar, and decorate with strips of
lemon
rind.
Ingredients:
8 lemon rind strips
8 tbsp Limoncello
4 tsp fresh lemon juice
1 (750 ml) bottle of Champagne Brut
Instructions:
Roll up each strip of lemon rind and place 1 into each of the 8 Champagne flutes. Add a tablespoon of liqueur and 1/2 teaspoon juice to each glass. Divide Champagne evenly amongst the glasses and serve chilled. It's like a vacation in a glass.
6. The Moonwalk
The first thing Neil Armstrong and Buzz Aldrin sipped upon returning to earth in 1969 was Joe Gilmore's Moonwalk featuring a combination of grapefruit,
orange
liqueur and a hint of
rose water
, topped off with Champagne. Joe, the Head Barman at the Savoy Hotel's American Bar invented this cocktail to commemorate the first moon landing.
Ingredients:
30 ml fresh grapefruit juice
30 ml Grand Marnier
3 drops of rose water
Champagne (to top off)
Instructions:
Combine grapefruit juice, orange liqueur, and rose water in an ice-filled shaker. Shake vigorously and strain into a champagne flute. Top off with champagne and voila!