Chennai's Fine Dining Restaurants Plan Special Onam Feast
Written by Nishtha | Updated: July 13, 2016 18:34 IST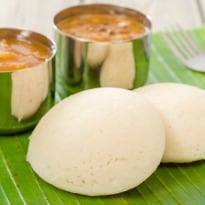 With Onam festival to be celebrated on Monday, fine dining restaurants here are gearing up to wow their guests with an interesting Onam Sadya (feast) as a special standalone spread or as part of their regular buffets.

While the Kerala cuisine specialty restaurant Ente Keralam has brought a chef-cum-priest-ayurvedic doctor, Unnikrishnan Namboodiri, from Kerala to whip out the traditional 25-dish feast, regular chefs in South Indian cuisine restaurants in star hotels will also dish out the fare.

Onam is Kerala's harvest festival and is also celebrated to welcome the famed king Mahabali from the pathala - the nether world. According to legend, he is said to visit his subjects on that day. His rule is said to have been Kerala's golden period.

The Onam festival falls in the month of Chingam in the Malayalam calendar.

Part of the Onam celebrations is the feast called Onam Sadya where around 20-25 dishes are served on a banana leaf and are to be consumed with the hands while sitting on the floor cross-legged.

The outlets maintain the tradition by serving an elaborate lunch on a plantain leaf shaped as a plate.

The festival began Saturday and will be followed by First Onam Sunday. The main festival, Thiruvonam, will be celebrated Monday and the festivities end Wednesday.

The Ente Keralam restaurant, however, began its Onam food festival Sep 7 and will conclude it Sep 17.
"Before and after cooking the food, I perform the poojas (prayers) for the good health of the people. It is a pure Sattvic (without onion, garlic and meat) feast which is Sattvic (gentle) in nature and light on the stomach," Namboodiri told IANS.

"Namboodiri brings the main ingredients, including fruit, from Kerala. As Ente Keralam also serves non-vegetarian dishes, Namboodiri and his team cook the Onam Sadya dishes separately in a makeshift kitchen at around 5 a.m. daily," Aji Joseph, corporate chef at Oriental Cuisines Pvt Ltd, told IANS.

Oriental Cuisines owns the Ente Keralam chain of restaurants located here and in Bangalore. The Onam feast is made available at all the outlets.

According to Namboodiri, there is an order to the sampling of various dishes. The first items to be tasted are chips made of yam, karamani (yard long beans), banana chips - normal and jaggery-coated - and then to the tangy injippuli (a thin paste made of tamarind, ginger, green chilli and jaggery).

"The injippuli will open up the taste buds to savour the meal. We offer two types of rice - the traditional Kerala red rice and the usual white rice," Namboodiri said.

As per tradition, one should first have the neiparuppu rice (steamed rice with boiled lentils mixed with ghee).

This is followed by sambar rice, rasam rice and kaalan rice (a curd-based curry) with accompaniments like aviyal, pachadi, kichadi, thoran, kootu curry and four kinds of pickles.

Namboodiri said that the activated taste buds are soothed with Olan - which is made with pumpkin, coconut milk and coconut oil - in readiness for the desserts.

The Rs.445 spread then turns lavish with Namboodiri offering four kinds of payasams/pradhamans.

The sweet liquid dishes made out of fruits like jack fruit and banana are called pradhamans and are dark in colour, while payasams are made out of milk and rice and are light in colour.

At the Madras restaurant in the Raintree Anna Salai Hotel, it is the Kerala Thali special this month. On Sunday and Monday there will be special vegetarian Sadya priced at Rs.650 plus taxes, executive chef Hushmoin K Patell told IANS.

Speaking about the special food plans for Onam at the Copper Point restaurant in GRT Grand Hotel, coporate chef Sheetharam Prasaad told IANS: "We will have our Onam special lunch buffet on Sunday and Monday." The price will be around Rs.900 plus taxes.

Meril Antony Aricatt, executive chef at the newly opened The Gateway Hotel here said there will be around six special Onam vegetarian items, chips and two payasams as part of the lunch buffet at the Buzz restaurant priced at Rs.800 plus taxes.

The chefs at the Southern Spice restaurant in the Taj Coromandel hotel have planned an elaborate feast to celebrate Onam Sep 15-17. The Thali is priced at Rs.1,500 plus taxes.

The Dakshin South Indian restaurant at ITC Sheraton Park Hotel and Towers too has planned a special Onam lunch priced at Rs.1,350 plus taxes while the festival food items will be part of the lunch buffet in the Madras Pavilion restaurant at ITC Grand Chola Hotel priced at Rs.1,450 plus taxes.

(This story has not been edited by NDTV staff and is auto-generated from a syndicated feed.)