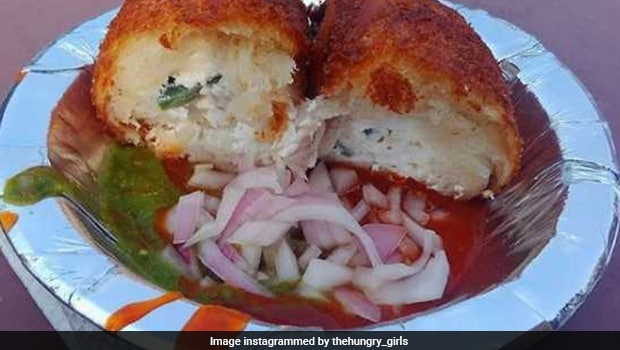 Tired of pairing your tea with samosas and bread pakoras? Why not try these fried bread hung curd delights instead? Dahi ke sholay, as it is commonly known, is gaining popularity across Delhi NCR. Located in the INA market, dahi ke sholay is a welcome variation among those regular tea-time snacks. This deep-fried delight is very much similar to bread rolls that are commonly savoured by people across the nation. However, what makes this stand out from the other is its filling, which is prepared using hung curd and a melange of spices. It has a super-crisp bread exterior, which is filled with the gooey stuffing of creamy hung curd. When it comes to street food, dahi ke sholay is one of the best options to choose from. It tastes the best when paired with sweet and tangy chutney. If you happen to be a street food lover, then you just cannot afford to miss this place. This delicacy is humbly priced at Rs. 20 per plate, and is sure to tantalise your taste buds without burning a hole in your pocket.

(Also Read: This 'Food Car' In Noida Serves Amazing Chocolate, Cheese And Hung Curd Sandwiches )


How Is It Made?

This snack is available at Pandit Ram Sharan Sharma's small outlet, which is located in the INA market. It is one of the very few joints across Delhi NCR that dishes out this legendary dish. The moment you enter this small outlet, the piquant aroma of spiced hung curd will get you drooling in just no time. Although, this place serves other regular snacks like samosa, kachori, bread pakora as well, but its specialty is dahi ke sholay. This signature dish is prepared using bread and hung curd.

(Also Read: 6 Impressive Health Benefits of Eating Curd (Yogurt) Daily )


The hung curd used in this preparation is an in-house preparation, which is combined with a melange of spices. It is then stuffed inside the bread slices and sandwiched in a way that it looks like a round ball with rolled edges. Once this is done, the process of deep-frying begins. The snack is cooked to perfection till a crispy texture is attained. Apart from being a treat to the palate, dahi ke sholay is quite appealing to the eyes as well. This appetising delight is cut into half and served with chutney and onion bits. Other than this, you can also try their paneer ke sholay, which is another similar delicacy prepared using a stuffing of paneer and spices. It is priced at Rs. 30 per plate.

CommentsSo, if you happen to be around INA market, then do visit this place and get your hands on this lovely hung curd delight. If you know of more such interesting places in the city, let us know in the comments section below.
About Deeksha SarinAn eccentric foodie and a die-hard falooda lover, Deeksha loves riding scooty in search of good street food! A piping hot cup of adrak wali chai can make her day bright and shiny!