Shiny, nutty seeds with an earthy aroma, flaxseeds are brimming with health benefits that have made it to the list of major superfoods in the world. More and more people are adding these little seeds into their diets in one way or another. Be it smoothies, salad, breads or desserts, the versatility of flaxseeds have found a place across cuisines and dishes. While flaxseeds have a good amount lignans, antioxidants and estrogens, flaxseeds are also known for their incredible benefits to manage diabetes. One of the most common concerns of the medical world today, diabetes has afflicted millions of people across the globe. An irreversible condition characterised by high blood sugar levels, diabetes can only be managed by a certain lifestyle and diet tweaks.


Being a treasure trove of insoluble fibres that enables slow release of sugar in the bloodstream, keeping blood sugar levels in control and prevent the risk of spikes, flaxseeds might be one of those foods that you can include in a diabetes diet. As per 'Healing Foods' by DK Publishing House, "Flaxseeds are a great source of soluble mucilaginous (gum-like) fibre that can lower "unhealthy" (LDL) cholesterol in the blood, balance blood sugar level and act as a hunger suppressant." They are also energy-dense and come with a high satiety value.


(Also Read: 5 Yummy Ways To Add Flaxseeds To Your Diet)
Diabetes Diet: Here are 5 ways you can include flaxseed in your diet to manage diabetes:
1. Flaxseed-Lemon Water
With a nutty, hard exterior, flaxseed can be best eaten after soaking them overnight in water and drinking early in the morning with a pinch of lemon. It makes for a healthy, low-cal detox alternative to packed juices for breakfast.
This raita recipe might be perhaps the best combination for a diabetes diet. With a mix of flaxseed and bottle gourd with plain curd, flaxseed raita is all things nutritious, rich and yummy! Both flaxseed and bottle gourd (lauki) are ideal for diabetics since they are low-cal, low-carb and non-starchy. Lauki also has a low-glycaemic index. Find the full recipe here.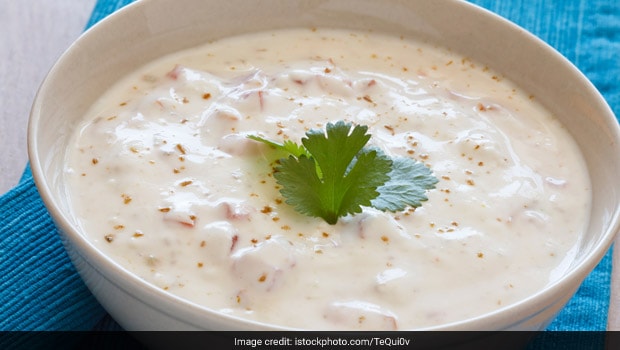 Flaxseed raita is a super easy recipe to try.
Wholesome, refreshing, easy and absolutely delish, this bhel is a perfect snack to gorge as a snack during the day. Diabetics are often advised to keep themselves satiated with light meals to avoid sugar spikes in the bloodstream. With a hearty mix of spices with flaxseeds and sago (which is rich in fibre too), this bhel is perfect to pack for hunger pangs. Be sure to not have an excess of sabudana. Find the recipe here.
Both flaxseed and oats are highly nutritious and are known for their versatility. Both ingredients are used to prepare many healthy snacks. This mathri is a perfect healthy snack to pair your evening cup of tea with! Find the recipe here.
5. Flaxseed Paratha
One of the simplest ways to add flaxseed in your diet, all you need to do is add a handful of flaxseeds to the flour while making the dough for parathas and cook hot on tawa! Pair with curd or your favourite pickle for a wholesome meal.


Try these yummy and healthy diabetic-friendly flaxseed recipes at home and share your experience with us in the comments section below.
About Aanchal MathurAanchal doesn't share food. A cake in her vicinity is sure to disappear in a record time of 10 seconds. Besides loading up on sugar, she loves bingeing on FRIENDS with a plate of momos. Most likely to find her soulmate on a food app.