It's a burger, it's a pizza, oh wait, it's a burger pizza! Domino's India is set to introduce yet another confused hybrid in the world of fast food. Love cheesy pizzas? Can't resist a sinful
burger
? Here's the solution - have a burger
pizza
instead. Or so they suggest.
What seem like two focaccia buns (or pan crusts) are stuffed with oodles of cheese and pizza sauce. The teaser on their Facebook page has vegetables like tomatoes and capsicum, positioned towards vegetarians. Domino's is well known across the country for its pizzas and 30 minute delivery guarantee. This may be seen as a diversion from their strategy, to shift focus from pizzas to burgers. The burger fast food market is already crowded, with KFC, McDonald's, Burger King and many others. However, the company insists that this is in line with their core strength and thus have named in Burger Pizza instead of calling it just a burger.
The Burger Pizza will start at a price point of Rs.89. It will be available in two vegetarian and two non-vegetarian variants, according to a popular daily. What makes it unique, is that it won't have a patty, like all burgers. Instead, it will have a filling, much like toppings on a loaded pizza. Further, it will be oven baked, and not fried, like KFC, etc.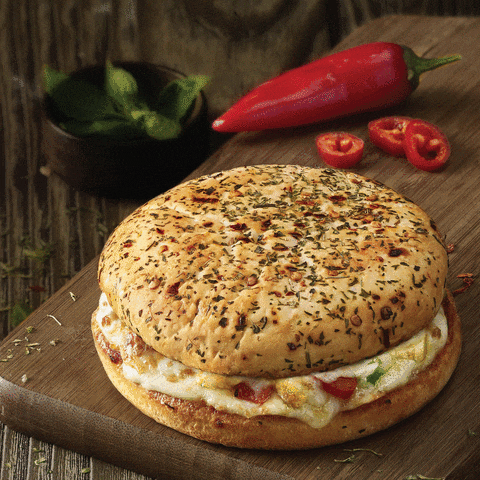 The move is seen as a smart one by market analysts as it attempts to capture the 'whole day indulgence' market. Pizzas are seen as a meal and burgers as a snack, thus making them one of the most ordered items on food tech apps like Swiggy.
This may be seen as a counter-productive move by some, considering that their sister concern, Dunkin Donuts offers burgers too (and have been able to make them quite a hit). However, the company is confident that the Burger Pizza is unlike a normal burger with a patty.Innovation balances on a thin edge. On one hand, it is important that one constantly innovates and comes up with new concepts, in order to grow. On the other hand, it may not be a good idea to reinvent a classic. KFC learnt this the hard way with the Chizza, essentially fried chicken topped like a pizza. The market did not accept it as readily as the popular Zinger Burger. Whether the Burger Pizza will be able to earn the love of consumers, only time and demand will tell.