Bright, bold and beautiful - capsicum is found in a variety of vibrant colours which, when added to meals, can bring alive even the most mundane preparations. Cultivated and consumed all across the globe, these pockets of colourful crunchiness come in different varieties, sizes, most of them being yellow, red, orange and green in colour. Capsicum, alternatively and popularly known as bell peppers - is enriched with capsaicin which renders it pungency and spiciness. Some of the smaller varieties are high in capsaicin and are widely used as chillies. Chilli peppers go into cooking some of the spiciest delicacies on the planet; these are dried, powdered and widely used as paprika.



Apart from adding a splash of colours, crunchiness and a subtle spiciness to your meals, research shows that capsicum is also beneficial for health and great for weight management. Medical studies hold that the compound 'capsaicin' can aid in treating pain caused by migraines, arthritis, muscle cramps, etc. It is also believed that the compound helps in fighting cancer-causing carcinogens. Scientific research also shows that capsaicin can protect our cells from damaging free radicals. The compound is used widely in formulating medicines to treat alcoholism, bowel troubles, motion sickness, menstrual cramps as well as relieving post-surgical pain. Topical application of capsicum is believed to relieve sensation of pain.





Capsicum is one of the most widely consumed vegetables across the globe. It is rich in Vitamin B6, magnesium, lycopene, potassium, folate, Vitamin A and C. This veggie can do wonders to your skin and hair, and help in promoting a radiant blemish-free skin and lustrous, thick hair. Including it in your daily diet can help strengthen immunity, lower cholesterol and blood pressure. Regular consumption can also help in revving the metabolic rate.





Just a little capsicum added in your daily diet can also help you break away from the monotony of everyday cooking - after all, who doesn't like a little colour in their life? From stunning stuffed capsicum cups, stir fries, baked sensations to garden fresh salads, soups and Indian curries - there is a world of exciting delicacies that is waiting to be cooked and to enamour your taste buds. Start with our best recipes handpicked by the most celebrated chefs.





1. Bharwan Simla Mirch
Recipe by Chef Aditya Bal

Garden green capsicums are stuffed with a mouthwatering mixture of potatoes, raisins, cashews, paneer and a host of spices. Let it bake to perfection and serve hot!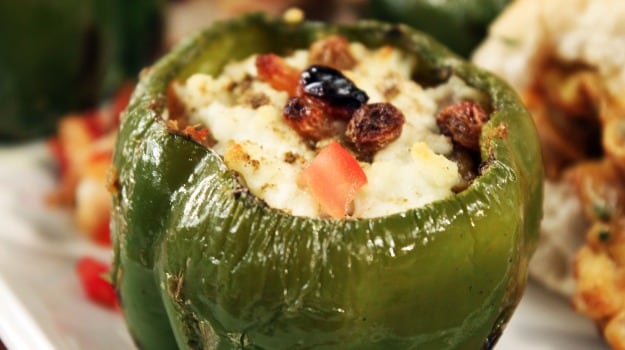 2. Peach and Bell Pepper Chutney
Recipe by Chef Vicky Ratnani
An interesting combination of peaches and bell peppers to give you an exciting accompaniment!
3. Kacche Kele ki Asharfi
Recipe by Chef Vikas Khanna
Done in twenty minutes, all you need to prepare this interesting snack is capsicums stuffed with a flavourful mixture, cut into slices and shallow-fried.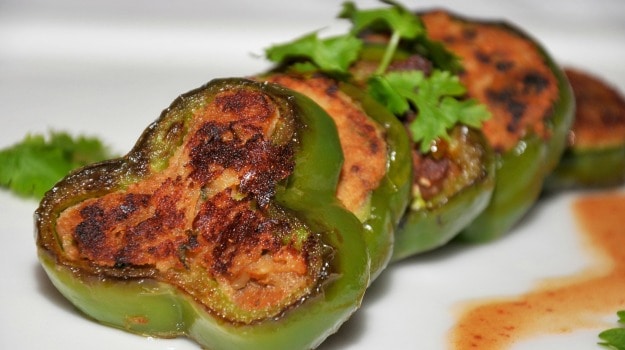 4. Simla Mirch Aur Aloo
Recipe by Chef Niru Gupta
Here's a quick fix to your lunch time dilemma. Heat oil and toss together potatoes along with capsicums and a host of spices, you are good to to go!
5. Baked Mushrooms and Capsicum
Recipe by Chef Niru Gupta
Mushrooms and capsicums come together to create this quick and hassle-free delicacy. Doused in a cheesy, creamy sauce, this is an instant crowd pleaser.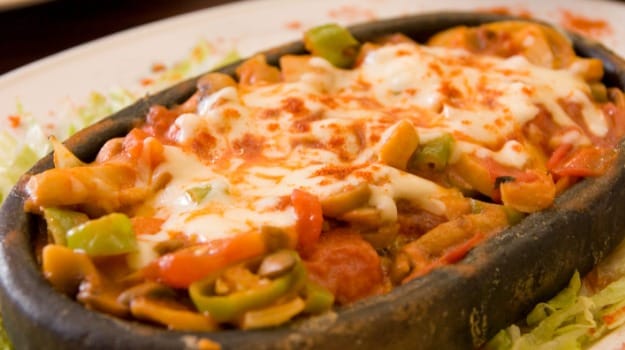 6. Peperonata
Recipe by Chef Vicky Ratnani
A an easy way to create a quick accompaniment for your breads and other main dishes. Bell peppers are teamed with tomatoes, olives, herbs, spices, vinegar and olive oil.

7. Roasted Red Pepper Soup
Recipe by Chef Vicky Ratnani
Here's a zingy soup made of red bell peppers, tomatoes, herbs and spices.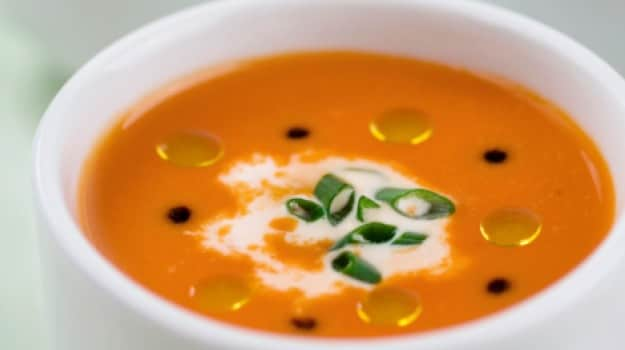 8. Pepper and Broccoli Salad

Recipe by Chef Manju Malhi
Eat you way to health with this colourful salad prepared with the goodness of bell peppers, broccoli, carrots, herbs and aromatic masalas.

9. Bhavnagri Pepper
Recipe by Chef Vicky Ratnani
Green chilli peppers are loaded with a flavourful filling of corn, jalapenos and black beans, topped with cheddar cheese and cooked in oven.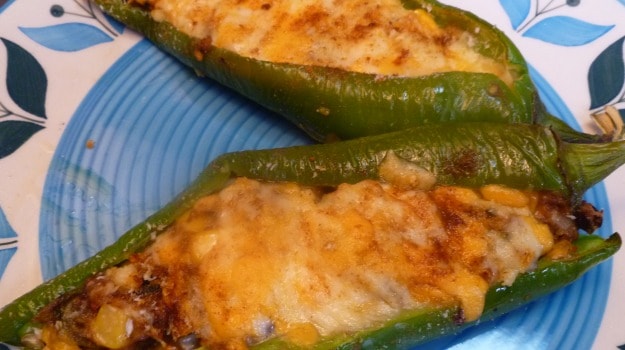 10. Mushroom And Pepper Salad
Recipe by Preah Narang
Here's a real treat for all experimental cooks. Mushroom and bell peppers are sauteed with honey with an addition of wine, soya sauce, cashews, garlic, spring onions and olive oil.

The beautiful, green capsicum is quite an ignored vegetable. You will see them accompanying other veggies in various dishes but rarely is it celebrated for its bitter-sweet flavour and crunchy. While cultures around the world may love to spin culinary tales with this humble veggie, capsicum remains much unexplored on an everyday Indian platter. Whatever be the reason behind the lack of experimentation with it, we bring to you our best capsicum recipes along with some fun facts that will pep you enough to get cooking with it.