organise picnics and soak in the beauty of the city. To make things even more exciting, there are a range of food festivals that pop up every year offering a spectacular range of lip-smacking dishes at attractive prices, master classes with top chefs of the country, food competitions, regional food showcase, home bakers with their sinful creations, mixologists with their innovative cocktails and new food brands with unique concepts and products. There's so much you can indulge in that one day is just not enough. If you are a passionate cook, you can even book a stall at some of these festivals and sell your delightful goodies.

Like Julia Child had said, there's no greater love than the love of food. So go on and spread the love this season. Here's our list of the top food festivals in the capital this month -





1. Delhi Cocktail Week





Happy hours are about to get even better with this week-long cocktail festival. Yes, you heard it right! The second edition of Delhi Cocktail Week starts off this weekend. With over 30 of the best bars, lounges and clubs across Delhi and Gurugram participating in it, you can expect some innovative cocktails by renowned mixologists to keep the spirits high. If you want to learn some cocktail making skills, you can even sign up for the master classes. So which are the participating bars? There's The Piano Man Jazz Club, Townhall, Qla, Ek Bar, ATM, Ping's Orient, Social, Arriba, Bunta Bar, Molecule Air Bar and lots more.

When: 4th to 11th February
Pricing: All cocktails at all the venues would be INR 300+ taxes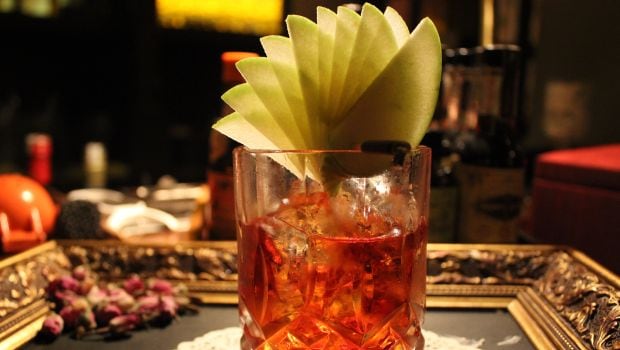 2. Dogri and Ladakhi Food Festival
Most of us maybe familiar with Kashmiri food, but the beautiful state of Jammu and Kashmir has many more regional cuisines with some really interesting delicacies. Well, you don't really have to travel all the way to savour those local dishes because Chor Bizarre is hosting a festival to showcase the cuisines of Jammu and Ladakh. The menu is curated by His Highness King Jigmed Namgyal, Her Highness Rani SpalzesNamgyal of Ladakh and Neha Prasada (author of the book Dining with the Maharajas). What to expect? The most popular dishes of Ladakh like Gyathuk, Steamed Ladakhi momos of various kinds, Chu-Tagir, Ti-Mok, Khatta Meat and Phating; and Dogri cuisine from Jammu with dishes like Kalari Kulchas, Kachalu ki Chaat, Maaki Dal ka Madra, Ambal, Kadam ka Saag, Khameera, Meethe Chawal and more.
When: 1st to 5th February
Where: Chor Bizarre at Bikaner House, Pandara Road, India Gate, New Delhi
Timings: Lunch - 12.30pm to 3.30pm; Dinner - 7.30pm to 11.30pm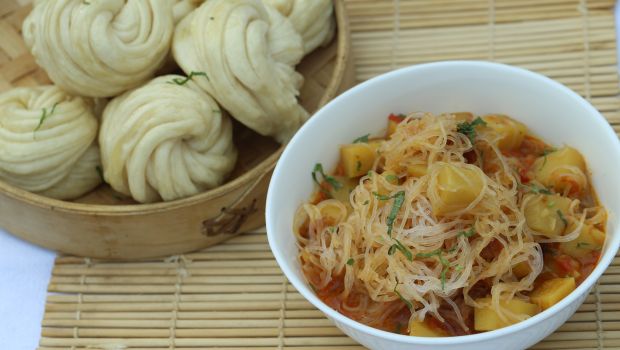 3. Palate Fest Reimagined 2017
Palate Fest partners with Imagine Fest 2017 this time to present the ultimate food fest. So gang up with your friends and family and head there to sample signature dishes from top chefs of the country and tap your feet to peppy music. The Food Festival will host a plethora of chain and standalone restaurants, market stalls, live entertainment, art installations, kids' zone and more
When: 10th to 12th February
Where: Nehru Park, Vinay Marg, New Delhi
Timing: 11 am to 10 pm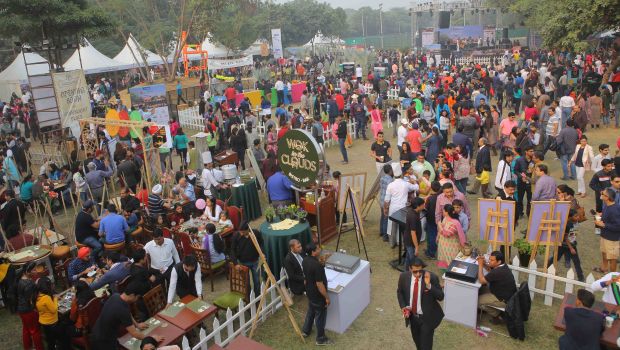 4. Lagan na Bhonu - Parsi Wedding Feast
Calling out to all Parsi food lovers, and even those who are enthusiastic about trying regional Indian cuisines! You have a feast of a reason to be happy this February. Parsis are known for their obsession with food, and everyone will tell you that the best way to sample Parsi cuisine is to attend one of their weddings. But if your chances of being invited to a wedding are unlikely, don't fret. SodaBottleOpenerWala presents Parsi Wedding Bhonu. Following the traditional custom, you can expect a sit-down feast served on a banana leaf, unfolding course wise. Eggs, chicken and mutton are on the menu along with Parsi good luck symbols - fish and rice.
When: 1st to 28th February
Where: Khan Market, New Delhi
Pricing: Vegetarian Bhonu: INR 550++; Non-Vegetarian Bhonu: INR 650++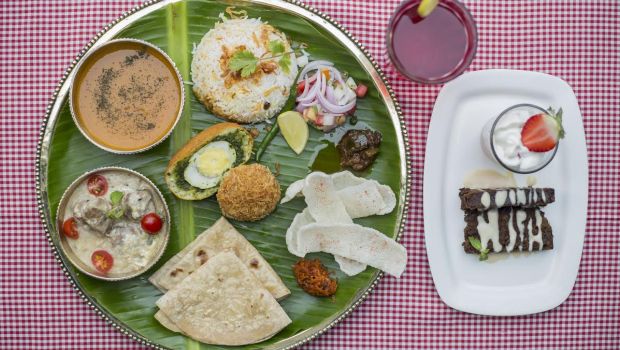 5. Kids Culinaire
If your kids love food and cooking, you have to take them to this event for a gala time. Kids Culinaire is an award winning food festival for children between the age group 3-12 years. It's all about making food fun as well as bringing about a positive transformation in eating habits among children. Culinary experts like Amrita Rai Chand, Ranveer Brar, Saransh Goila and Smita Srivastava will be there to join in the fun. The third edition of the festival is all set to welcome the little foodies with exciting activities and engagement.
When: 18th to 19th February
Where: Nehru Park, Vinay Marg, New Delhi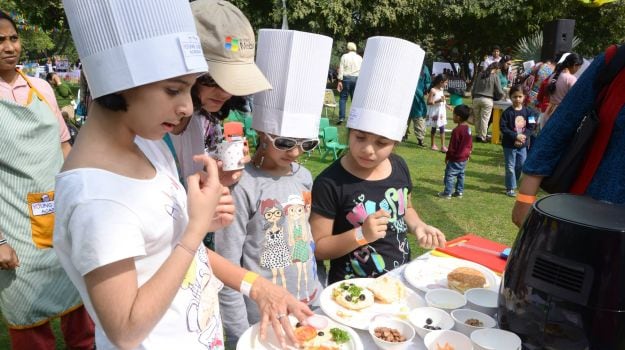 6. Asian Hawkers Market
Love Asian food? You cannot miss this food festival dedicated exclusively for Pan Asian cuisine. With the city's top Asian restaurants and eateries participating, be prepared for some lip-smacking dishes to bowl you over. What stalls to look out for? There's Chi, Burma Burma, The Bento Café, The Pickle Co, Live Wok and much more.
When: 10th to 12th February
Where: Select City Walk, Saket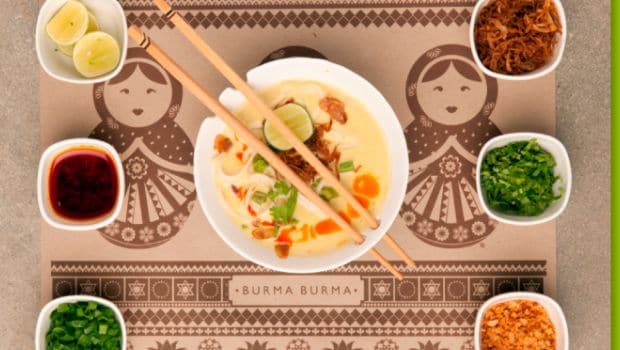 7. The Gourmet High Street
The third edition of the gourmet 'food extravaganza' is all set to woo you this month. With culinary experts like Sanjeev Kapoor, Vikas Khanna, Vikramjit Roy, Vicky Ratnani, Saransh Goila, Sarah Todd etc all on board, expectations are high. What to expect? The Sipping Turf (where you can grab your drinks), Budding Chefs' Kitchen (this is for the kids where they can learn about food), Cooking Studio (masterclasses with the chefs), Culinary Grind (cooking demos) and more. Entry is free for all.
When: 10th to 12th February
Where: DLF Cyber Hub, Phase 2, NH 8, Gurugram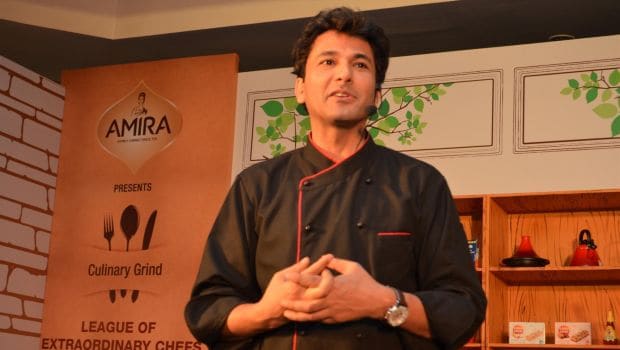 February has got to be the favourite month of the year for Delhi folks. This is the time when the otherwise extreme weather attains some sort of a calm. It is the perfect season to step out of the house, enjoy the sun,