Reality TV and movie star Gauahar Khan is a self-confessed breakfast lover. The beauty, who was last seen in Begum Jaan that starred Vidya Balan as the main lead, has declared her love for and obsession with a good breakfast in multiple interviews. Gauahar is very active on social media and loves sharing snapshots from her glamorous life with her fans and followers and that includes sharing her love for food as well. Just this morning, Gauahar found the perfect cure for Monday morning blues- a beautiful smoothie bowl.
Gauahar posted several pictures of herself treating herself to a breakfast in Bandra, Mumbai, and we couldn't help but notice the beauty of the smoothie bowl that the diva had. Have a look!Also Read: Health Benefits of Breakfast: Why is it the Most Important Meal of the Day?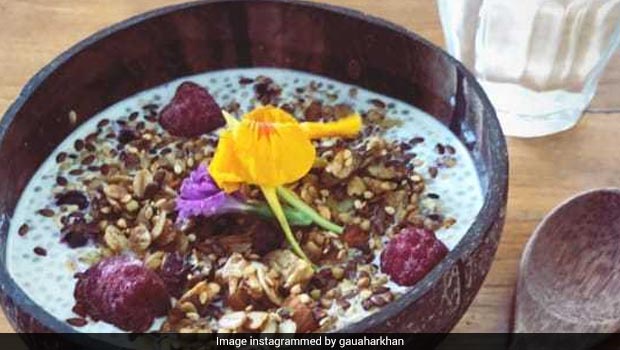 Doesn't that look too pretty-to-eat? In one of her earlier pictures on her Instagram stories, Gauahar wrote: "Breakfast with ME..!! Self-love is important!! Remember all you've been through is what makes you special.. don't let anyone tell you otherwise." Point well made, Gauahar!Also Read: 10 Things To Add To Your Smoothies For Quicker Weight Loss
Smoothie bowls have become symbols of wellness in a highly Instagram-driven foodie world. Beautifully decorated smoothie bowls are very popular among food Instagrammers and social media foodies. There are several food stylists who have made a profession out of this food trend that revolves around using natural ingredients like fruits, nuts, seeds to decorate a range of flavoured smoothies.
Some of the most popular and regular features of smoothie bowls are edible flowers, brightly-coloured fruits like raspberries, strawberries and blueberries, and seeds of sunflower, pumpkin, etc. These bowls are meant to make you eat healthy and clean by excluding everything that is processed.
Also Read: Top 7 Smoothies Recipes
Coming back to Gauahar, one of the most important parts of her daily morning ritual is a healthy breakfast. "I'm obsessed with having a balanced breakfast as it is the most important - and my favourite - meal of the day. It's usually a bowl of cereal or an egg-white omelette and tea", she had revealed in an interview. In cereals, Gauahar usually prefers eating muesli in cold milk, and she always makes sure her diet is high in protein.