Whether we are looking for a delicious snack or a healthy breakfast, the humble sandwich is always there for our rescue! It is one of those dishes that are not only easy to prepare but are also fancy enough to serve to our guests. If someone pops by your house, all you have to do is place your choice of ingredients between a bread and a quick snack is ready. Your guests shall be impressed by your culinary skills and you wouldn't need to spend a lot of time in the kitchen. For such snack emergencies, we have found the recipes for delicious vegetarian sandwiches that you can whip in just 30 mins or less!


Also Read: Keema Biryani, Keema Pav And More: 7 Keema Recipes For Super Indulgent Lunch


5 Veg Sandwiches Ready Under 30 Mins:
1.Cheese Sandwich
This quick and easy sandwich is filled with mayonnaise, lettuce, mustard and cheese to give a creamy and cheesy snack at every bite! Ready in just 20 minutes, this cheese sandwich is quite the winner among kids.


Click here for the full recipe for Cheese Sandwich.


2.Dahi Sandwich
This sandwich may sound offbeat with its name, but trust us, this dish's comforting yet lip-smacking taste makes it an ultimate indulgent breakfast or snack. In this recipe, all you need to do is chop your favourite veggies, mix them with dahi and masalas and cook it on a tawa with bread!
Click here for the full recipe for Dahi Sandwich.
3.Paneer Bhurji Sandwich
This paneer sandwich comes with a desi twist. With turmeric powder, red chilli powder and garlic, the flavourful paneer bhurji is placed in the bread to make a desi sandwich. Enjoy this sandwich as a filling snack or a delicious breakfast.


Click here for the full recipe for Paneer Bhurji Sandwich.


4.Grilled Cheese Sandwich
There's nothing simpler to make and enjoy than a warm, crisp and gooey cheese sandwich. A grilled cheese sandwich is one of our favourite quick and simple vegetarian recipes that only require a few key ingredients.


Click here for the full recipe for Grilled Cheese Sandwich.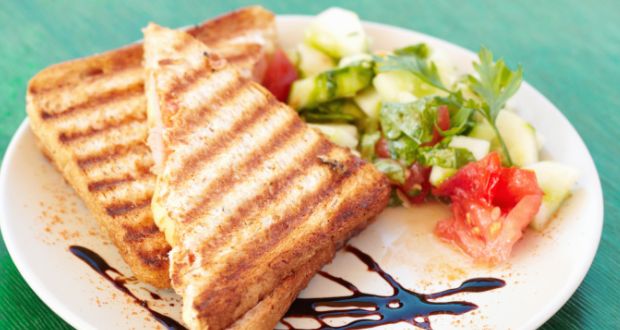 5.Bombay Toasty
Right from the streets of Mumbai, this street-style Bombay sandwich is a spicy delight for foodies. Crispy and delicious, this sandwich is filled with green chutney, chaat masala, potatoes and cucumbers and it is ready in no more than 20 minutes.


Click here for the full recipe of Bombay Toasty.


Try out these sandwiches for a filling snack or a quick breakfast! Do tell us in the comments section how you liked it.