We usually use tomatoes and onions for the rich and thick curries that we are known worldwide for. The fiery red colours make them appetizing to the sight and our palettes. And while these curries are our all-time favourites, it doesn't hurt to have more variety and colours on our platter. So, we bring to you a number of vibrant green recipes that you can include in your meal. Delicious and easy to make, these hariyali recipes usually require just 2 main ingredients and that is coriander and mint leaves. The fresh flavours of these herbs make an enticing meal, pair this masala with chicken, fish, or paneer and enjoy a delicious vibrant spread.


(Also read : Green Masala Egg Curry : Give A Colorful Twist To Your Classic Egg Curry)
5 Hariyali Recipes You Can Easily Make:
1. Hariyali Murg Masala
A simple and delicious chicken curry variation cooked in a flavorful gravy of mint and coriander leaves. All you need is chicken chunks, yogurt and some basic dried spices to marinate and the green paste for the gravy. Learn how to make this delicious hariyali murg masala, read the recipe here.
Hriyali murg is an easy green version of the chicken curry
2. Haryali Paneer :
We are sure you have had palak paneer multiple times, but now it's time to enjoy this hariyali paneer made in a spicy green mixture of coriander and whole spices. Sprinkle in some shredded coconuts and elevate the dish to the next level, read the recipe here.
3. Hairyali Tacos :
Give your favourite Mexican food a healthy Indian twist with this hariyali tacos recipe, for the green dough puree palak, coriander, green chilies and knead the flour with this mix. Add an avocado filling or green sprouts salad in the middle, squeeze some lemon and enjoy. Click here for the recipe.
Easy and healthy, try this hariyali taco recipe today
4. Hariyali Chicken tikka :
An easy chicken starter, all you need to do is marinate the chicken chunks in the green paste made with coriander, mint, and ginger garlic for at least 30 minutes. You can bake this, cook it in a tandoor or roast it in a pan, add in a little extra butter for some rich flavour and enjoy. Read the recipe here.


5. Hariyali Machli :
If you like fish you will definitely love this version of simple fish curry. It is made with soft and succulent fish fillets soaked in the aromatic masala made of mint, coriander, green chilli, garam masala. Serve with a delicious onion pulao to level up your plain boring dinners. Read the recipe here.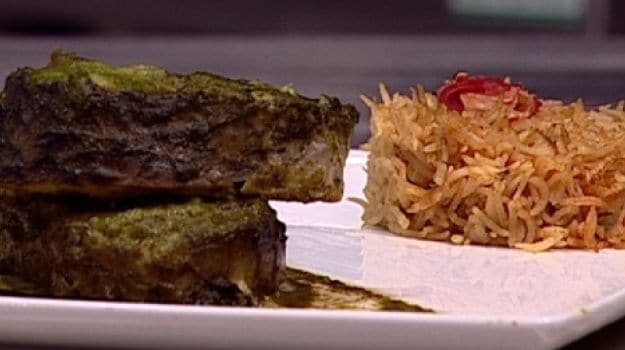 Try this delicious hariyali machli with some onion pulao
(Also read: Viral Now: Indian Masterchef Contestant Depinder Makes Unique Green Curry Cake)


Try these easy hariyali recipes and let us know which one you liked the most in the comments below.