Come winter and our fruit stalls are dominated by
strawberries
, persimmons, star fruit, water chestnuts (singhada) and
oranges
. My favourite out of all these is the striking-looking
singhada
, but I do reserve a soft spot in my heart for oranges. This time of year, they are usually sweet, but even when sour they have a refreshingly crisp juiciness. What's more, they are a wonderfully versatile fruit. A beautifully-burnished, tangy
marmalade
is the first thing that comes to mind when one talks about oranges, but there are plenty of other dishes that they can be used in.
1. Candied Orange Peels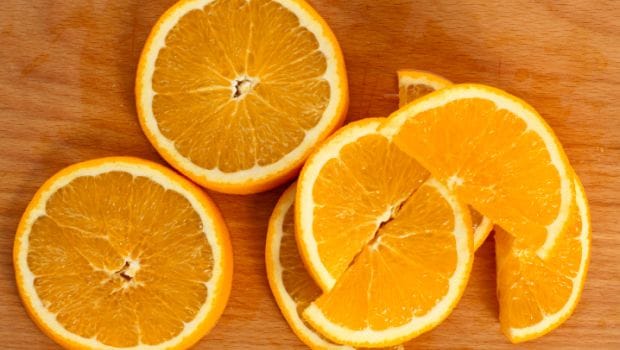 Let us first talk about the obvious ones - sweets and
puddings
. Oranges lend themselves perfectly to light, fluffy soufflés and cold jellies. Candied oranges are often used in fruitcakes and taste wonderful when paired with sugared water to make granitas and sorbets. And don't throw away the rind after you are done peeling the fruit. Orange rind or zest packs a wallop of flavour, and helps intensify the orange flavour in any dish. And you can use them to make candied
peels
, which are a delicious, sweet snack. Here is the recipe below.
Ingredients:
Peel of 1 orange
1/3 cup sugar + extra to coat
Method:
1. Scrape out as much of the pith of the orange as you can, from the peel. Then chop it into 2 inch, evenly sized pieces. Submerge them in water and then heat, taking them off the fire once the water has boiled fully. Drain and keep aside.2. Add a little water to the sugar and boil until the sugar dissolves fully. Remember, you do not want this to be too watery, so don't add more than 1/4th cup of water.3. Then tip in the rind and simmer together for about 30 to 45 minutes. Allow to drain, and then roll them in the remaining sugar. These will need about one to two days to dry, after which you can eat them plain, dip them in peanut butter or even coat them in melted chocolate, as a twist on the classic orange and chocolate flavour pairing.
2. Oranges in Salads
The glorious, refreshing flavour of the orange perks up
salads
considerably. Here are a few time-tested (and tasted) pairings that work every time - oranges and
beetroots
, the heavy sweetness of the beet offsetting the light, tangy orange; oranges and
spinach
, a beautiful play on the bittersweet; rocket leaves, orange and walnut salad, with its delightful textural variations and the slightly unusual orange and date salad, for which I am giving you my recipe below.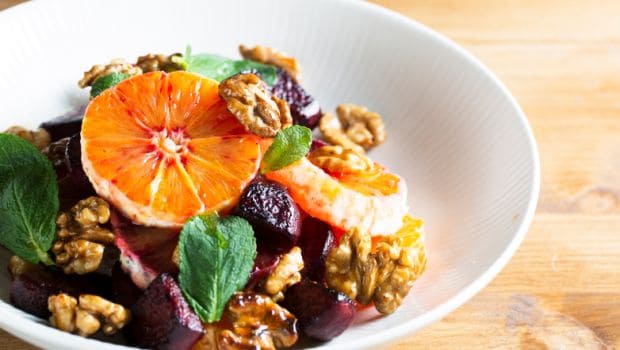 Orange and Date Salad
Ingredients:
½ cup coriander, chopped
¼ cup mint, chopped
1/4 cup dates, deseeded and chopped
1 orange, peeled
1 cup salad leaves
2 Tbsp extra virgin olive oil
1 Tbsp lemon juice
Salt and pepper to season
Almonds as per taste
Method:
1. For the dressing, toss together the last two ingredients until they have been thoroughly mixed. Season well.2. Take your orange segments and peel off the skin. This is a bit time-consuming and messy, but worth the effort. Make sure to remove all the pips as well. Then toss them with the salad leaves, dates, mint and coriander and pour the dressing on top. If you like, you can sprinkle a few almonds over your salad, just at the last moment, for a crunchy element.
3. Oranges in Mains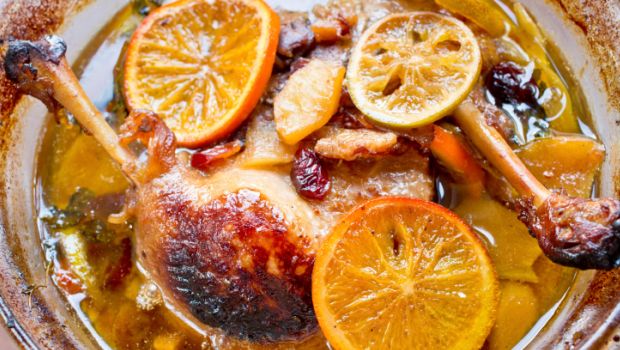 Oranges certainly star in many meat-based dishes. They pair spectacularly well with porcine dishes and with poultry. My friend even swears by her Moroccan orange lamb recipe! The classic French dish, duck à l'orange, is considered by many to be a bit of a cliché but is actually quite delicious. The original recipe calls for a whole duck (a luxurious extravagance for most of us!) and might seem a bit intimidating, but is actually not that hard to prepare. The orange is juiced and used as a
marinade
for the duck, together with the peel. Later, orange juice along with vinegar and sugar (with a little butter whisked in) is used as a sauce. Crispy-skinned, citrus-infused duck together with a rich, tangy sauce makes for a delicious dish on special occasions.Orange juice also pairs well when combined with soy sauce and a hint of peppercorn, for an Asian twist, or a dry white wine. You can even try pairing orange with mustard - a surprising combination but one that works, nonetheless.
4. Orange Glaze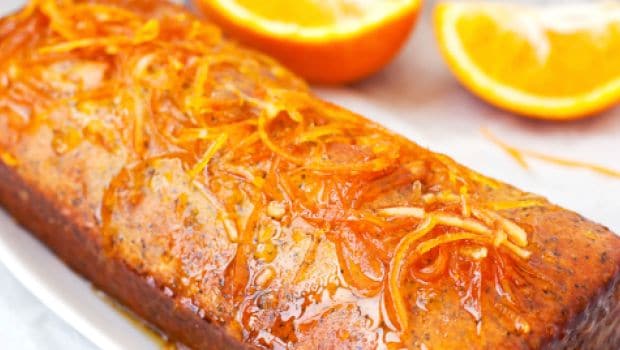 Orange glazes can be used to add zing to plain cakes, and painted over a rich fatty ham, chicken or even for
carrots
. For a quick and easy orange glaze, try this recipe.
Ingredients:
1 cup sugar
2 Tbsp orange juice, preferably freshly squeezed
½ Tbsp orange zest, grated
Method:
1. All you have to do is toss them all together in a bowl until perfectly mixed. If you like, you may replace honey with sugar. The zest will offset the cloying sweetness of the honey.
5. Oranges with Veggies
So we know that the fresh, citrus flavours of the orange are the perfect foil for rich, fatty meats. But vegetarians needn't despair. At home, I often make this simple cabbage-orange dish, the recipe of which I am sharing below. It's a tasty dish for a special occasion.
Ingredients:
1 cabbage, shredded
1 orange
1 onion
2 Tbsp butter
10 Tbsp vegetable stock
Salt and pepper to season
½ Tbsp sugar
Method:
1. First, grate the orange rind. Then, peel and de-skin the orange. Make sure not to waste any of the juice at this stage.2. Saute the onion in butter until golden. Add in the cabbage and keep sauteing for three or four minutes. Add the orange rind and pour in the orange juice and vegetable stock.3. Season and cook until cabbage softens (about 20 minutes). Add the sugar and orange segments and cook until sugar has melted and caramelised. Serve hot.
About the Author:
Meher Mirza is an independent writer and editor, with a focus on food and travel. Formerly with BBC Good Food India, she loves anime, animals and artsy things but also comics, technology and death metal.
Disclaimer:
The opinions expressed within this article are the personal opinions of the author. NDTV is not responsible for the accuracy, completeness, suitability, or validity of any information on this article. All information is provided on an as-is basis. The information, facts or opinions appearing in the article do not reflect the views of NDTV and NDTV does not assume any responsibility or liability for the same.