Celebrated on the day after the full moon in the Hindu month of Phalgunam, Holi is a spring festival and is significant for the harvest season that kick-starts around this time Holi is also special as it brings people together to celebrate the arrival of spring with a splash of colours, loaded water-guns, and an array of traditional Holi delicacies. You may have often heard people say 'Bura Na Maano Holi Hai', the common saying is linked with this very aspect of Holi that bridges all social barriers and allows people to let loose and indulge in playful merry-making. The festival of Holi is spread across two days, Choti Holi and Rangwali Holi. On the evening of the first day of Holi, people collect in huge numbers and arrange a bonfire called
Holika Dahan
. The bonfire commemorates the burning of Holika, the sister of the evil king Hiranyakashyap. According to Hindu Mythology, Hiranyakashyap, was a ruthless ruler of the ancient times, who with his repeated triumphs and a special boon from Lord Shiva, began to consider himself over God and especially Lord Vishnu whom he despised greatly. But to his dismay, his very own son Prahalad turned out to be an ardent devotee of Lord Vishnu.Hiranyakashyap tried all that he could to turn his son against his faith but he failed each time, and therefore, he ultimately decided to kill his own son. His sister Holika had a special robe with which she could enter a burning pyre and come out unscathed. Sensing a perfect opportunity to get rid of little Prahalad Holika and Hiranyakashyap schemed a vicious plan to arrange a massive bonfire where they can kill Prahalad, while Holika can walk out unharmed. But fate had other plans, a strong gush of wind blew away Holika's robe and she was burnt into ashes while Prahalad walked out of the fire untouched.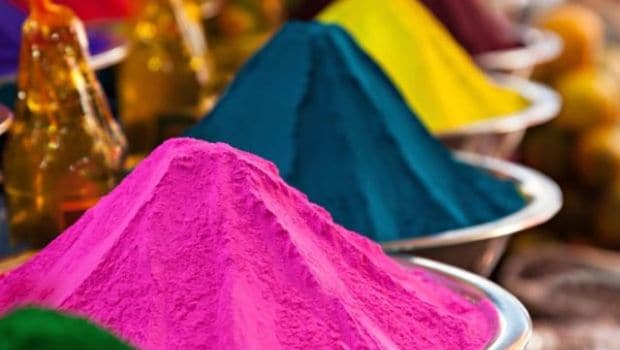 His strong devotion in Lord Vishnu saved Prahalad from the mighty fire. This legend is of pivotal importance for Hindus, preaching the power of devotion, faith and victory of good over evil.
People imitate the great legend by organizing a great bonfire which they call Holika Dahan. They go on collecting waste wood piles and cow dung a week in advance. On the day of the Dahan, People arrange a huge pile of wood in the centre which is surrounded with beads, garlands and little toys made of cow dung. At the top of this heap they place idols of Prahlada and Holika again made of cow dung. Once the Dahan starts, the idol of Prahlad is carefully taken out in the beginning itself while the idol of Holika keeps burning, thus marking the symbolic recreation of the legend. Next morning people go and collect the ashes and apply it on their foreheads, to keep them safe from inauspicious energies. The next day we celebrate the Rangpanchami or Rangwali Holi with colours, water and traditional Holi delicacies like
Gujiyas
, Malpua and
Thandai
. Celebrated across the country, Holi is associated with the eternal love of Lord Krishna and Radha, and the play of colours between the lovers. This is the reason why in cities like Mathura and Vridavan, the festival of Holi is so significant and is celebrated for a period of five days.In the adjacent state of Mathura, Lath-Maar Holi is a popular way of celebrating this festival. It is believed, that Krishna, an incarnation of Lord Vishnu would chase Radha to smear her beloved's face in vibrant colours, and also playfully splash some water over his Gopis (daughters of cowherds). Borrowing from this game, people gather in huge numbers to celebrate the festival of colours with
Gulaal
and Pichkaris.(Also read:
8 Ways You Can Protect Your Skin from Harmful Colours
)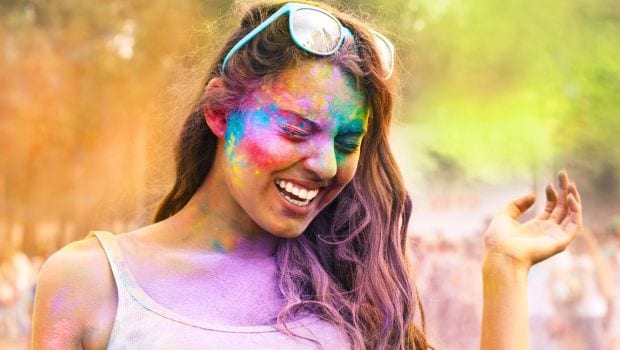 (Also read:
5 Natural Ways to Remove Holi Colours Easily
)In the southern part of India, another signature legend of Holi is very popular and is about Kaamdeva and Lord Shiva. When Lord Shiva was immersed in deep meditation, and the entire world was in a state of mayhem it was the sacrifice of Kaamdev, the lord of Passion, who revoked Lord Shiva from meditation to save the world. For this, he had to pay the price of Lord Shiva's angst and was burnt Kaamdev into ashes for disturbing his deep meditation. People in South India celebrate Lord Kammdev's sacrifice on the occasion of Holi. In Bengal, the festival of Holi is celebrated as the "Swing Festival" called "Dolyatra" where icons of Krishna and Radha are placed on swings and worshiped. Women and men dance around the swings and play with colours.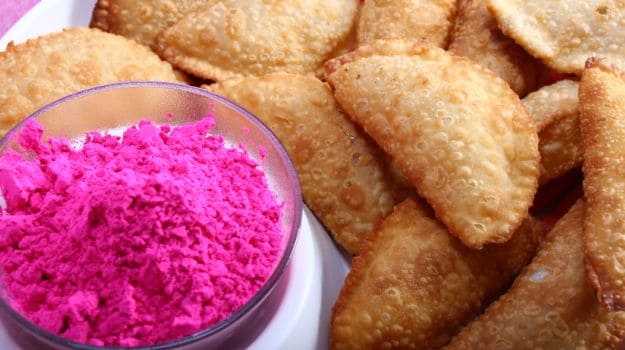 The festival of Holi is as much about color, happiness and revelry, as it is about indulging in mouthwatering
signature delicacies
. The most special and symbolic Holi sweet is the delicious '
Gujiya
', Native to Rajasthan, gujiyas are sweet dumplings made of maida or flour and filled with rich khoya and dry fruits. Malpuas (the pancake-like Indian dessert, dipped in sugar syrup and fried in oodles of ghee) along with Dal Kachori, Thandai,
Bhang ke Pakore
and
Dahi Vada
are other popular Holi bites. Gorge on and have a great Holi!(Also read:
Top 5 Holi Dishes for Your Party
)
About Sushmita SenguptaSharing a strong penchant for food, Sushmita loves all things good, cheesy and greasy. Her other favourite pastime activities other than discussing food includes, reading, watching movies and binge-watching TV shows.