You would all agree that we wait for Meethi
Eid
to gorge on our favourite milky, sweet and extremely delectable sweet vermicelli or seviyan; not that we cannot savour it on other days, but relishing
sweets
on festivals has its own charm. As the holy month of
Ramadan
begins, everyone is set to celebrate this festival with pomp and show and we couldn't be more excited. While growing up for most of us, Eid has always been synonymous with Meethi Eid and how. Let us go back to its cultural significance and our suggestions of different variations to try this Eid.
Significance of Seviyan in Eid-Ul-Fitr
Chef Osama Jalali from Noida shares that there are two types of seviyan that are cooked on Eid, one is Ksheer and the other is Kimami Seviyan. Ksheer is the milky and denser version of seviyan, while Kimami seviyan is the dry seviyan cooked in sugar syrup. "Ksheer has always been an intrinsic part of our festival. It is generally savoured first thing in the morning after the first namaz (prayer) of the day on Eid. Although there is no set rule, but most people in India love to start it with Ksheer. That's how important it is. People come to my house to have my special ksheer, which they love and relish on this day. So, the significance lies in starting the holy day with something sweet and as good as ksheer or kimami seviyan, which have been a tradition since decades."
(Also read:
The Significance of Preparing Seviyan
)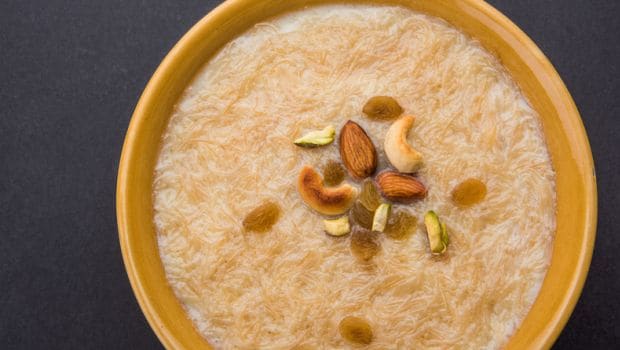 Ksheer has always been an intrinsic part of Eid-Ul-Fitr
How to Make the Perfect Seviyan?
When asked about what it takes to make a perfect ksheer and kimami seviyan, Chef Osama explained, "It is all in the hard work. To make a perfect dense ksheer you will have to cook it overnight. I never sleep on the eve of Eid, as I am usually busy cooking ksheer to make it just perfect. As a young kid, on the night before Eid, my mother used to give me a job to grate a large number of coconuts to put in the ksheer, while she used to be busy with other chores. To make the perfect kimami seviyan is a tedious task. In olden times, there was this concept of double and triple sugar (do guna and teen guna cheeni) to make perfect kimami seviyan. So the amount of sugar would be double or triple the amount of seviyan, which obviously is not followed nowadays as people are more health conscious. However, this concept actually helped make a sumptuous sweet dish."
Different Variations of Seviyan that You Would Love to Try!
We know there is no comparison between the original versions of ksheer and kimami seviyan, however, once in a while you could give them a slight taste and we bet you would not regret. Here are our two variations of the seviyan to savour on Eid.
Blackcurrant Ksheer Khurma
Recipe by Chef Arun Sundararaj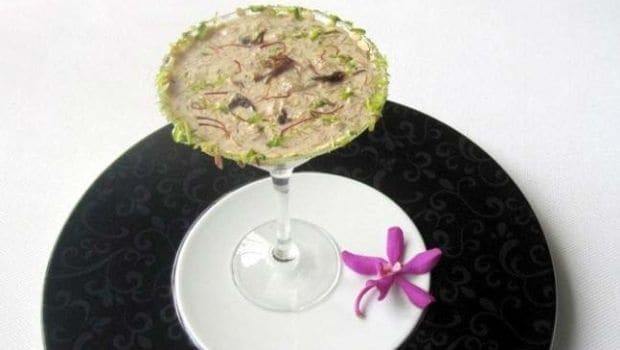 Blackcurrant Ksheer Khurma |

Photo Credit: Foodreipesofworld.com/Blogspot
Ingredients
2 Tbsp of butter
1/4 cup of vermicelli (seviyan)
1/2 cup of sugar
3 cups of milk
2 Tbsp of raisins (kismish)
2 Tbsp of dates (khajur)
1 tsp of chirongi nuts (charoli)
1/2 tsp cardamom (elaichi) powder
2 Tbsp of rose water
Method
Heat the butter in a deep pan, add the vermicelli and cook till it turns golden brown.
Add the sugar and milk and cook till the sugar dissolves.
Add the dry fruits and raisins, mix well and allow it to simmer for 3 to 4 minutes.
Add the fresh dates, charoli, cardamom powder and rose water and simmer for another 1 to 2 minutes. If the sheer korma is too thick, add a little hot water and mix gently.
Remove from the flame and serve hot or cold garnished with cardamom powder.
Add blackcurrant and mix it well.
Seviyan with a peach Murabba
Recipe by Chef Poppy Agha
Ingredients
500 g butter
3 Tbsp desi ghee
1/2 kg sugar
6 green cardamoms
10 strands of saffron
4 Tbsp jaggery
1 packet vermicelli (seviyan)
One and a half ltr milk
4 Tbsp icing sugar
1 stick cinnamon
6 peaches
1 Tbsp pine nuts (chilkoza)
1 Tbsp cashews
3 cloves
6 Tbsp double cream
Method
Make stock syrup of butter, ghee, sugar, green cardamom and jaggery. Bring to a boil and reduce.
Add the seviyan in and cook. Take out and layer in a circle on a baking tray.
Boil milk and sugar with cinnamon, cardamom, saffron and reduce.
Chop peach and cook with sugar and jaggery till peach dissolves. Add in dried fruit.
Add in butter, cardamom and cloves and blend in.
Fuse peach with milk and mix in heavy cream.
Layer on top of seviyan and serve.
Chef Osama tells us, "We make at least 20-25 liters of ksheer every year on Eid and nothing is left by the end of the festival. Ksheer is my favourite sweet dish and I invite my friends over a ksheer party. We also generally cook shami kebabs, dahi phulki (made out of besan ki pakori), biryani and obviously ksheer that complete the perfect meal.