Indigenous to India, jackfruit or kathal, as it is popularly known in the country, is a tropical fruit that needs no introduction. Eaten across several parts of the country, kathal is enjoyed in many different ways like pickles and subzis. Thorny on the outside and fleshy on the inside, jackfruit also comes packed with many nutrients that make it a super healthy fruit. The fleshy part can be eaten as is or cooked into a vegetarian savoury dish. Popularly known as 'vegetable meat,' the texture of an unripe jackfruit is similar to that of chicken, making it an excellent vegetarian substitute in meat-based recipes. It offers essential nutrients like vitamins A and C, thiamine, riboflavin, calcium, phosphorus, iron, sodium, zinc and niacin, all of which are known to promote overall health. While it may be known for all things good, this fruit is amongst the toughest when it comes to peeling and cutting it. It is not only heavy, but the edible bulbs are tough to cut open. The sticky sap in the fruit too makes everything messy.


Here are some useful and handy tips to buy, cut and store jackfruit, along with some amazing recipes to try.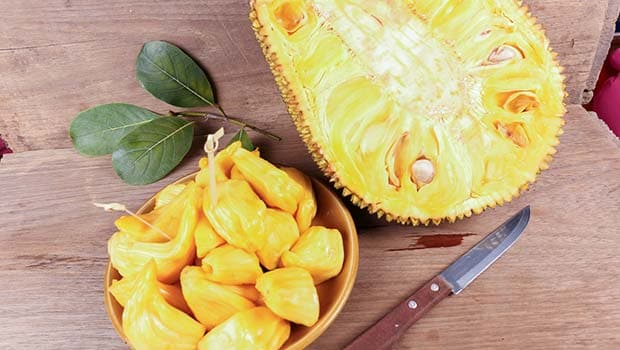 How to Buy and Store Jackfruit? | Best Tips to Buy and Store jackfruit
You will know jackfruit is ready to be consumed when it is ripe and emits a pleasant smell. Here's what you should consider while buying a jackfruit.
In case, you are buying a cut jackfruit, make sure that the flesh is vibrant yellow, without any dark patches.
For those who want to pick the whole fruit, make sure the fruit smells pleasant. The strong smell indicates that the fruit is ripe and you can relish the juicy flesh inside.
Avoid pieces that have a lot of dark spots on them.
If the jackfruit is mostly brown and has numerous dark spots, it's more likely overripe and wouldn't take much time to become stale and unusable.
The skin of the jackfruit should've softened when it's ripe enough to consume. Feel the skin with your hand, pressing gently.
Another way to check if the fruit is good to consume, gently knock on the jackfruit; if you hear a dull, hollow sound, it's most likely ripe.
If you don't want to cut open the jackfruit for a few days, choose a green one. Let it ripen at room temperature for a few days, until it becomes ripe and ready to be cooked.
How to Cut Jackfruit | Best Tips To Cut A Jackfruit
1. Spread some papers on the table, so the sticky sap is not messing your kitchen slab or table. Now, apply a generous amount of oil on your hands and knife, in order to avoid the gum to stick on your hands. From the middle, cut the jackfruit into two halves. Clean the white coloured sap using a tissue.


2. Chop it further into quarters; don't forget to apply oil again and again. Repeat the process. If there's excess gum oozing out of the fruit, clean it using a paper towel.
3. Take a quarter, look for the rotten or soft spots and cut them out.


4. The core of the jackfruit is inedible; therefore, cut it out. This will loosen up the edible portions.


5. Bend back the rind of the jackfruit, spreading the internal threads. You will be able to see the inedible portions more easily.
6. Firmly grasp and twist the arils (extra seed covering that is fleshy) or just cut their bases away from the rind, whichever seems easier to you. This process will make the jackfruit seeds visible.


7. Jackfruit seeds look like big beans. They can be boiled, roasted and enjoyed like chestnuts. Take out the seeds from the rind and keep them in a separate container.


8. Once you have removed the seeds, cutting out bulbs will become easier. There are a lot of fibres present around the fruit, which are edible only if the fruit is ripened properly.
There, you know how to cut the jackfruit and extract the edible bulbs and fibres from it. Now, it's your turn to use it for cooking these delicious recipes.


4. Pulled BBQ Jackfruit Slider Recipe


Now that you have learnt how to cut jackfruit, prepare these delicious delicacies that will ensure a delicious and 'meaty' experience.