Story Progress
Back to home
Pulled BBQ Jackfruit Slider Recipe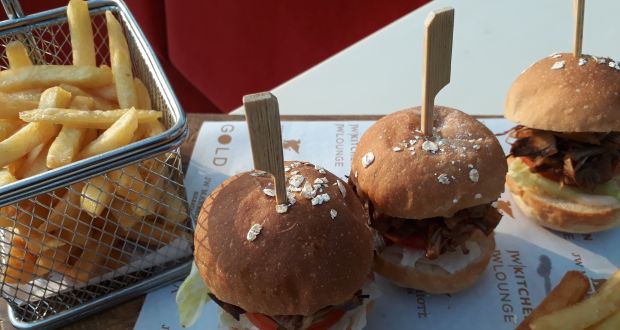 BBQ Jack fruit sliders, the vegetarian alternative to BBQ pulled pork sandwiches is more tender than pork and makes for great healthy bite.

Ingredients of Pulled BBQ Jackfruit Slider
20 burger buns (small)
1200 gms jack fruit
200 ml pineapple juice
3 Tbsp onion
2 Tbsp garlic
1 cup tomato puree
4 tsp cumin powder
4 tsp Tabasco sauce
1 cup apple slaw
1/2 cup mayonnaise
2 cups iceberg lettuce
1 1/2 cups tomato
3 cups fries
3 Tbsp chipotle sauce
1 cup refined oil
1.
Place a large skillet over medium heat and add in the oil.
2.
Once oil is shimmering, add in the onion and season with salt and pepper.
3.
Cook for 7 minutes or until onions are mostly wilted, add in the garlic, Tabasco.
4.
Stir to coat the onion in spice and add in the jack fruit, tomato puree, cumin powder as well as season it again.
5.
Cover and let it cook for 10 minutes or until jack fruit softens and can be pulled apart like pulled meat. At this point, mash with a potato masher or pull apart carefully with two forks.
6.
Assemble the slider with bun, apple slaw, iceberg lettuce and the jack fruit patty.