Image Credits: Dakshin, Sheraton New Delhi

It's true that Indian food is all about flavour and spices, but one of its biggest highlights is the endless variety. You've got Kashmiri wazwan, Punjabi tikkas, Goan sausages, Bengal's fish preparations, Andhra's spicy stir-fries, Kerala's aromatic curries and what not. But one of our favourites from the list is Indian breads. Roti, naan, paratha, and dosa are some of the commonly known ones.

(10 Best Indian Recipes)
(10 Best South Indian Recipes)

There are a few breads that aren't as frequently eaten as the ones mentioned, but are absolutely mind blowing. One such Indian bread is the Neer Dosa, a specialty from the state of Karnataka. There is a version of the Neer Dosa that's made in Tamil Nadu as well but the batter for that needs to be fermented overnight.

(Best Breads from Across the Country)
(Top 10 Dosa Recipes)

Neer Dosa is thin, delicate and needs just three ingredients - rice flour, coconut and a little bit of salt. It pairs best with a light milk-based curry or different kinds of tangy chutneys. Just to give you a taste of this popular South Indian dish, we're going to show you how to make it at home.


Neer Dosa - Recipe by Chef Velu P. Murugan
Dakshin, Sheraton New Delhi
Number of portions: 10
Ingredients for Neer Dosa
1 cup of rice (sona masori or raw)
2 Tbsp of coconut (grated)
Salt according to taste How to Make Neer Dosa
1. Soak the rice for 2 hours.
2. Grind with other ingredients into a fine batter
3. Add extra water and make the batter consistent.
4. Heat a pan, add oil and smear it with the help of an onion. 5. Pour the batter and tilt the pan to form an even thin layer. Cover it with a lid. 6. Once the dosa is cooked and leaves the edges, remove it.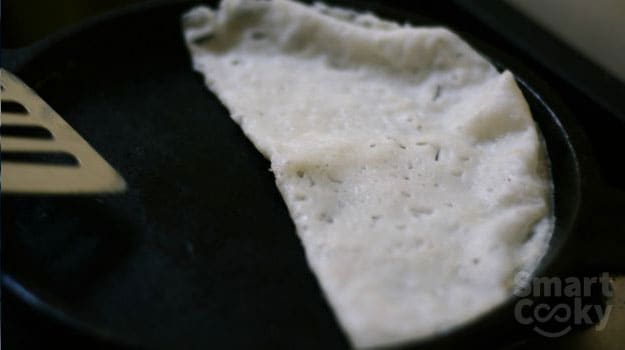 7. Serve hot with Mangalore chicken curry or coconut chutney.

Comments