A staple ingredient of our cuisine, breads are reflective of the intrinsic character of Indian cuisine. The history of bread dates back to as long as 30,000 years, with traces in the Paleolithic European diets. Initially, it was created from a simple mix of water and grains, but the recipe has evolved over time. A large part of it can be credited to the discovery of yeast which acts as a leavening agent that makes the bread dough fluffy and gives it a certain character and density.
The use of Indian breads is believed to have originally evolved during the Aryan and Dravidian period. Since then, the journey of bread has witnessed a heavy influence from other cuisines like Moghul, European, Asian, Mongolian, Persian and Portuguese. We tried to trace the personality of the Indian bread and its various regional varieties.
One of the early variations of bread, that is widely popular in the Northern part of our country, is the Naan. When the Moghuls and Persians came to India, breads changed not just in the size and shape, but also in flavor. The method of cooking Naan has also changed over the years. Traditionally, it was cooked in a tandoor or clay oven, but today they can be baked in any regular oven. This is different from the cooking Roti or Chappati, which is usually rolled out thin and then cooked on a tawa (a flat or slightly concave iron griddle). (How to Make the Perfect Naan)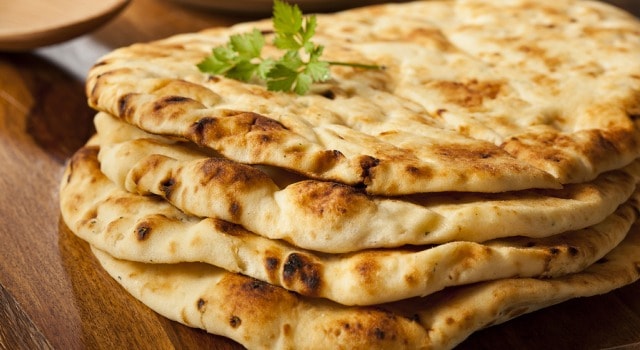 The concept of stuffing Naans with different veggies or sometimes even meat also became popular around that time. The Kashmiri or Peshawari Naan is a flamboyant bread studded with dry fruits and aromatic spices. A variant of this Kashmiri Naan is the Punjabi specialty called Kulcha, where the naan is prepared by either pan-frying or grilling in the oven. The Amritsari Kulcha is quite a delight. It is stuffed with mashed potatoes and a host of spices. Nothing beats the comfort of steaming hot paranthas and kulchas served with tangy pickles and soothing curd. (Our Best Paratha Recipes)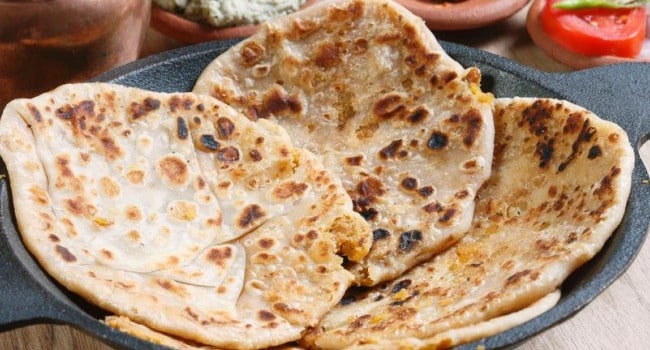 Next on the menu are the top restaurant favourites, the first one being Missi Roti which is prepared with a mix of gram flour (besan) and whole wheat flour. It is often ordered along with curries and Dal Makhni. Another type of bread that is relished with most Indian curries is the Lachcha Paratha; it is crispy with several layers and goes well with those hearty meaty curries. (How to Make Feather-Soft Roomali Rotis)
The Roomali Roti is one that has created many fans across the globe. It goes best with the famous Punjabi curry, Butter Chicken. Essentially a mix of refined flour and whole wheat flour, the dough is rolled out and folded like a large handkerchief that gives it a soft texture. (Missi Roti with Chicken Salad by Chef Roopa Gulati)
While talking about Indian breads, how can we not mention about the much-loved Chole-Bhature or Aloo-Puri? In most Punjabi households, you'll find them for brunch on those lovely Sunday mornings. Puri or Bhatura is a type of bread that is deep fried and made crisp. (The Art of Making Crisp Masala Puris)
Though the eastern side of the country is known for its love for rice, a variety of puri called Luchi is commonly served there. Matar ki Luchi is a notable variety where it is stuffed with green peas. Other types of breads, usually eaten in western India, include Gakhar and Bhakri. Gakhar is a Mughlai bread which is high on oil, where the dough is made with oil rather than using water. Bhakri is a rustic relish from the Maharashtrian and Gujarati platter. It is a biscuit-like piece of bread, made with millets and sorghum (jowar). (Luchi Recipe from Bengal)
Maharashtra boasts of a variety of street foods that include various breads like the fermented buns known as 'pav'. Pav is served with a spicy mix of vegetables called bhaji.Pooran poli is another popular snack which is a sweet flat bread made with jaggery. A crispy addition to the Gujarati cuisine is the crunchy accompaniment called Khakhra. It is usually served for breakfast and tastes great with the home-made Gujarati pickles. From the deserts of Rajasthan, comes the famed Baati. It is a hard, unleavened bread made with whole wheat flour and is served with Dal, popularly known as Dal-Baati. (Stuffed Baati from Rajasthan)
Moving down South, breads are completely transformed. From the conventional mixture of flour and water, we switch to batters made with rice flour, lentil flour and semolina. Appams, Uttapams and Dosas are the highlight of the Southern cuisine. Dosas may be served plain or stuffed with combination of vegetables and chutneys. The batter, made with a mix of rice and lentils, is poured on a pan and evenly spread to obtain the shape of a pancake. Rava Dosa, Masala Dosa and Mysore Dosa - the varieties are endless. One of the variations is the Pesarattu from Andhra Pradesh. Prepared like a dosa, it differs in the composition of ingredients. It is made with green gram and is usually eaten as a snack or a breakfast meal. (Indian Fast Food - Top 10 Dosas)
Then we have the Uttapam which is like a thick savoury pancake that may be topped with onions and tomatoes. Dosas and Uttapams are usually accompanied with a steaming bowl of sambhar and beautiful chutneys made with coconut, coriander and tomatoes. Talk about Kerala and you'll hear about Appams quite often. Usually relished with a spicy vegetable or meat stew, Appams are made with a fermented rice batter and the delicate flavour of coconut milk.
Parathas, which are quite popular in North India, have also found their way down South but with a distinct texture. The Malabari Parotta is the layered flat bread of Kerala which goes best with their chicken curries. It is a variant of the Lachcha Paratha from North India and is made with refined flour, egg and oil. (Malabari Parotta by Chef Niru Gupta)
So, we can easily say that India is home to an overwhelming range of exquisite varieties of breads that is testament to its rich history of culture and customs.