Pumpkins aren't just for Halloween - these tasty tapas will go down a treat on any autumn night
It's not right that when Halloween has passed, pumpkins become instantly redundant. More fool us; we are only halfway through the British pumpkin growing season and children love the taste of these bright, fleshy vegetables. I was recently given a whole crateful of pumpkin and squash of various shapes and sizes and after all the soups, pies and roasted pumpkins, I made these pumpkin croquetas as a tapa. Bechamel is easy to make and a great thing to have on standby in the fridge or freezer. By all means make it from scratch for this recipe, but be sure to keep any leftovers in future - with the sauce already made, these croquetas take no time to assemble.
For the bechamel sauce:
600ml milk
A few slices of onion
A bay leaf
½ tsp peppercorns
30g butter
50g flour
Salt and pepper
Freshly grated nutmeg, to taste
Bring the milk to the boil in a saucepan with the onion, bay and peppercorns, and simmer for a few minutes. Remove from the heat and allow to infuse for 10 minutes.
Meanwhile, in another pan, make a roux by melting the butter, adding the flour and cooking over a low heat for a couple of minutes, stirring occasionally.
Strain the milk.
Make sure that the milk and roux are hot, and start gradually whisking the milk into the roux. Whisk vigorously to make sure that no lumps form. (If you do get lumps, they will often whisk out, or you can strain the sauce through a fine sieve and begin whisking again in a new pan).
Cook the sauce very slowly for about 15-20 minutes, stirring gently, until it has thickened and is velvety.
Season with salt , freshly ground pepper and nutmeg.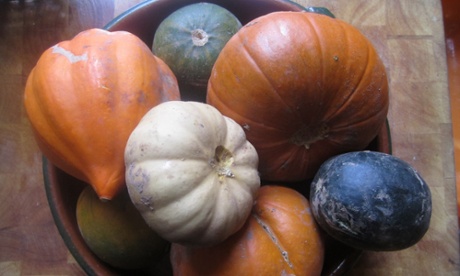 For the croquetas:
(Makes 15-18)
450g peeled pumpkin, diced to 1cm
2 tbsp olive oil
Salt
10 chopped sage leaves
250g thick bechamel sauce
80g melting cheese, grated (mozzarella or gruyere)
20g parmesan, grated
Pepper
Nutmeg, for grating
3 tbsp plain flour
1 egg
150g breadcrumbs
A splash of milk
Oil, for frying
Heat the oven to 180C/350F/gas mark four. Put the pumpkin on a baking tray with the olive oil, a little salt and the sage, and roast for 15 minutes until soft and cooked through. Leave to cool.
In a bowl, mix the bechamel with the two cheeses. Add the cooled pumpkin cubes, mashing them in with a fork as you go. Taste the mix for seasoning - it might need extra salt, freshly ground black pepper and grated nutmeg.
Refrigerate the mix while you prepare the flour, egg and breadcrumbs.
Get three plates. Cover the first with plain flour. Crack an egg on the second, add a tablespoon of milk and give it a quick mix with a fork. Cover the third plate with breadcrumbs, 1cm deep.
With wet hands, take a ping-pong ball-sized amount of the croqueta mix and shape it into a sausage. Roll this in the flour, then the egg wash, then the breadcrumbs.
Put the coated croqueta on a plate and repeat with the remaining mix until you have rolled them all.
Heat the oil in a large pan or wok to 180C/350F. Fry the croquetas in batches of four or five, rolling them over in the oil with a slotted spoon for a couple of minutes until crisp and golden.
When ready, remove with a slotted spoon and place on a plate lined with kitchen paper. Serve immediately (but beware; they will be piping hot).
• Follow Claire Thomson on Twitter or get more recipes at 5o'clockapron.com.

Pumpkin croquetas. Photograph: Claire Thompson/Guardian